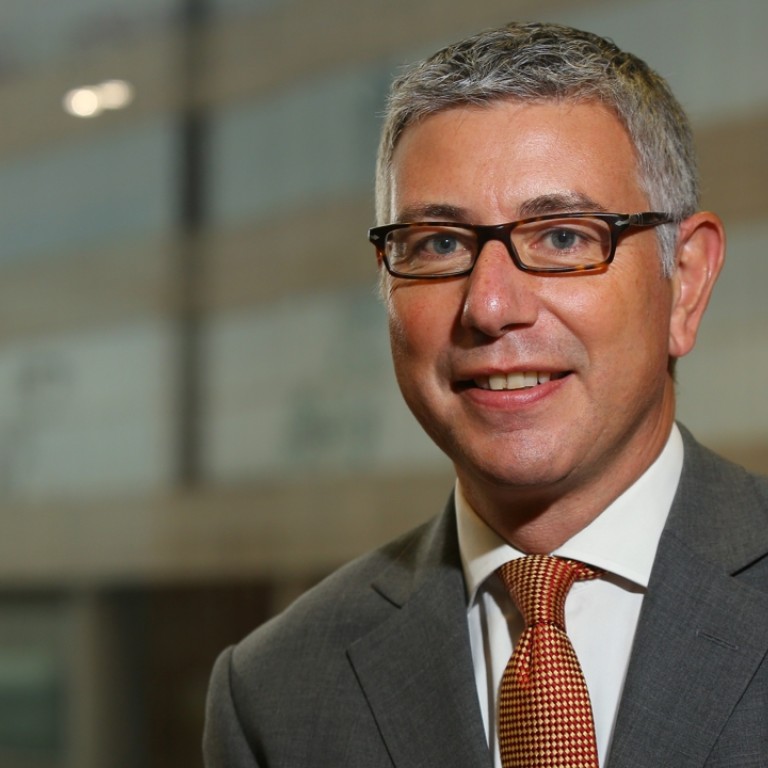 New
Knight Frank CEO keen on luring Chinese customers
Having spent 26 years in the real estate industry, Piers Brunner, aged 48, spent 20 of those years at Colliers International.
He left Colliers last year where he held down the post of chief executive officer for Asia and joined Knight Frank as chief executive officer for Greater China, based in Hong Kong, with the writ to further develop Knight Frank's business across Greater China amid the growing cross border trade between Chinese and international investors.
Q: How to capture the growing Chinese outbound market?
A: Its both domestic and outbound investment sectors. We need to be able to transact domestic market deals. Chinese outbound investment is on the rise. We have got a team of two. That has been set up four to five months ago and their jobs are speaking to Chinese outbound money. They are Chinese developers, Chinese insurance companies, high net worth individuals and institutional funds such as sovereign funds.
People in Knight Frank did it before. Now they are more specific in it.
We are tracking and expanding (the business). We try to understand what they are looking for and trying to match. Knight Frank got a very good capital markets team in Australia and in Europe. They have qualified products to offer. When Chinese look for trophy assets such as Grade A office and even residential assets, we can offer to show them.
We also have a domestic team to do domestic business.
The other area that I think is growing is inbound investment. International funds have started looking at China again. This little trend becomes more active. International funds have been raising quite a lot of money in America and Europe. Part of the placement will be back to China.
Q:What made the funds change the strategy?
A: China's market itself slowed a bit. The general call in the market is quality asset with reasonable price.
Overseas funds continue to look for reasonable return. China is one of the areas that can show you reasonable return. It is also partly because these funds are for Pan Asia platform that includes China as well.
Q: What is the outlook of mainland property market amid the slowing economy?
A: The central government has reserves of 2.3 trillion yuan. They have got many flexibilities when having such a big reserve . They can continue to do stimulus relaxation, easing monetary policies, reducing interest rates and helping domestic businesses. One area they could closely look at is to help themselves in productivity, increasing enterprises' productivity. That will help the economy without having to do anything. They can still get the economy (to grow) six plus per cent.
China's property market is taking a breather. They are not correcting. We are looking at it positively. We try to grab market share.
Q: Which sectors have a good outlook? Is logistics a hot market to look at?
A; Logistics market is attractive as China has a massive market and a growing middle class. Internet shopping continues to grow even in a tough market. Meanwhile, the ports are growing so quickly in every different region, not only the Pearl River Delta.
Q: Is it bad news to traditional retail landlords?
A: I don't think it is a zero-to-one rule. I think both can grow as the middle class is growing. But the growth rate in internet shopping will outpace traditional shopping malls. What is happening is that the traditional property developers are doing configuration. (They are thinking) what their positions are in the market right now.
Q: What is your view on the Hong Kong property market?
A: We are fairly neutral on it. The Central office market is full and rents are pushed up. But next year we will get quite a lot of supply coming on the Kowloon side. That will have an impact on the Kowloon market when supply comes. But that will be business opportunities for us.
In the residential market, there is no real driver to push the market down. If there is more supply coming, the market could see a correction. But not for 2016. There is not a massive correction in the market.
The challenge is in the retail sector. Luxury retail sales is likely to see a drop. I think some retailers are looking at a lot of strategies. They may hand back their spaces, may renegotiate rental rates or try to consolidate their stores.
Q: How do you see mainland companies buying en bloc office towers in Hong Kong?
A: My personal opinion on the mainland companies buying on bloc is to get an asset base in Hong Kong and their corporate intent for the long term. It make sense for insurance companies and banks to buy assets to underwrite their liabilities. It's the same as multinational companies, say Manulife (which bought a 21-storey en bloc office tower in Kowloon East for HK$4.5 billion). I think it shows a long term commitment to Hong Kong too, particularly when Grade A office en blocs are hard to find.
I would not say there is a wave. From time to time, Chinese or multinational companies also buy properties.
There are still mainland individuals who are looking Hong Kong as a place of investment. It is safe for them as it is a market they understand.