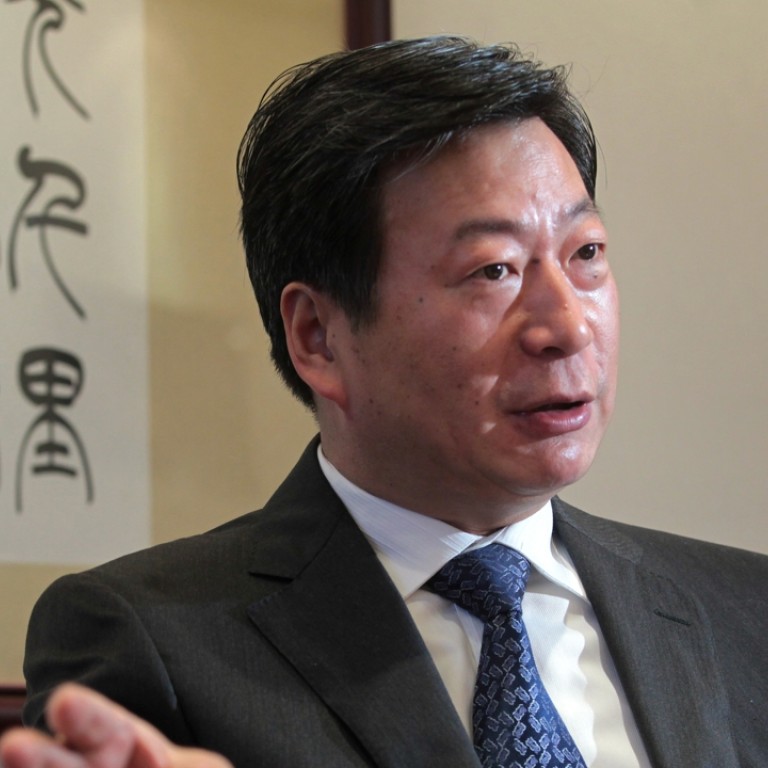 China New City Commercial Development expanding into three non-property businesses
Homestay tourism, medical and health services and agriculture seen as offering scope for growth
Shi Kancheng, a tax official turned entrepreneur, spun off China New City Commercial Development via a separate listing on the Hong Kong stock exchange's main board in July of last year, raising net proceeds of HK$550.8 million.
That was almost seven years after Shi, now in his 50s, listed Zhong An Real Estate, which he founded in 1997, in Hong Kong.
The projects of his firms are mostly in the mainland's better developed Yangtze River Delta.
The spin-off is just one of a number of similar moves by mainland developers as they venture into new businesses as part of their restructuring efforts to survive a slowdown in China's once sizzling real estate market.
Q: The spin-off means China New City Commercial Development will mainly be involved in non-residential property development, right? What exactly is that, office, retail or some other new business?
A: In our strategic arrangement, China New City will invest in "one old, three new" businesses. The one old refers to existing commercial property development and management, including office and retail. China's urbanisation is progressing fast and new town centres need clusters of commercial buildings. We target those with a population of over 100,000 and in economically developed regions. We will also expand to China's vast numbers of communities, of several tens of thousands of households, in urban areas, where there are few facilities such as shopping malls. There is still big room to grow.
Q: So what are the three new businesses?
A: One is tourism, or homestay business to be more specific. The company launched an online-to-offline platform, including a website and an end-user mobile app under the brand name of "Zhong Jia Le Homestay Travel Web" in September.
We summarise our strategy in three aspects: to connect online and offline, urban and rural, as well as domestic and global homestay travel resources.
We aim to grow the number of homestay hotels to 40,000 rooms by the end of this year, and then to 100,000 rooms next year, and eventually to 300,000 rooms in three years.
Q: That doesn't mean China New City will invest in every room, right?
A: No. What we offer mainly to our partners (existing or new homestay travel operators) is offline professional standards, management and services. We also offer an online platform to help boost their sales.
We will not invest in every homestay hotel. But we will invest in some sample projects. We find some places that offer a good homestay environment and then redesign and improve the living facilities and experience.
Q: Do you have some examples?
A: Yes, in Hangzhou, Cixi, and Zhoushan of Zhejiang province. Our homestay project in Zhoushan is part of the city's global Buddist cultural exchange centre.
Q: And you will also expand overseas, right? For example, Taiwan is very well known for homestay hotels.
A: We build an online platform. We can include homestay hotels in Japan and Europe, where such services are already well developed, onto our platform, so that Chinese tourists can stay there when they are travelling in these places.
We have a full team to reach partnerships with these overseas homestay operators. This is a huge market.
We launched our 1.0 version in September and will soon kick off our 2.0 version of the app.
Q: So what are the other two new businesses?
A: The second is medical and health services, mainly about retirement and rehabilitation. We are strongly pushing ahead with this business because China's industries arising from the ageing population are developing fast.
We have one project launched on Hangzhou's city fringe, and are investing in other projects in cities such as Fenghua and Tonglu (in Zhejiang province).
Q: I know many Chinese institutions, including insurance firms and other developers, have been testing senior housing services for many years. Some foreign investors have also been here for a long time. But we have yet to see any kind of massive expansion because most of them have not finalised a sustainable profit model. What do you think?
A: Every operator needs to understanding what Chinese old people really want. They want love from families and friends, without which they will feel very unhappy. If they can't see their grandchildren, they will feel very uneasy. If the third generation is around, it doesn't matter whether their own sons and daughters and in-laws are there.
Second, they need to live with their old friends so that they can talk to each other. Dialects are part of their life and they will feel very uncomfortable to speak Mandarin. For example, old people from Shaoxing city will not go to live a retired life in Wenzhou (although the two cities are both in Zhejiang province, the local people speak totally different dialects).
That means our projects need to have hospitals, schools, shopping streets, senior activity centres and travel services. They need to be within half an hour's distance from their families and friends. To put old people together with their grandchildren, they will feel still young. On the other hand, the old people and the kids share the same habit of sleeping and waking up early. After putting kids in school, old people can have their own life. When school is over, old people can then take care of the kids before their parents are off work. They are perfect matches.
I don't agree with the idea to take senior housing services as a property business.
Q: And the third new business?
A: That involves the sixth industrialisation of agriculture, including modern farming, processing and delivery. Chinese cities bear a heavy burden in water supply and sewage disposal, because supplies from the rural areas to cities are unprocessed, which produces a lot of waste. We aim to supply cities with food that can be 100 per cent eaten, without much waste, because they will be processed in rural areas and the waste will be recycled.
We have been investing in the past three years, inviting experts from Japan and within China.
These will involve O2O platforms. For example, we enable students to order food, which they must eat all of. Otherwise, they will be penalised with price hikes.
The market is huge, as Chinese people have grown more aware of food safety.
Meanwhile, that will create more jobs in the rural areas and encourage migrant workers to return home where they will probably be earning more.