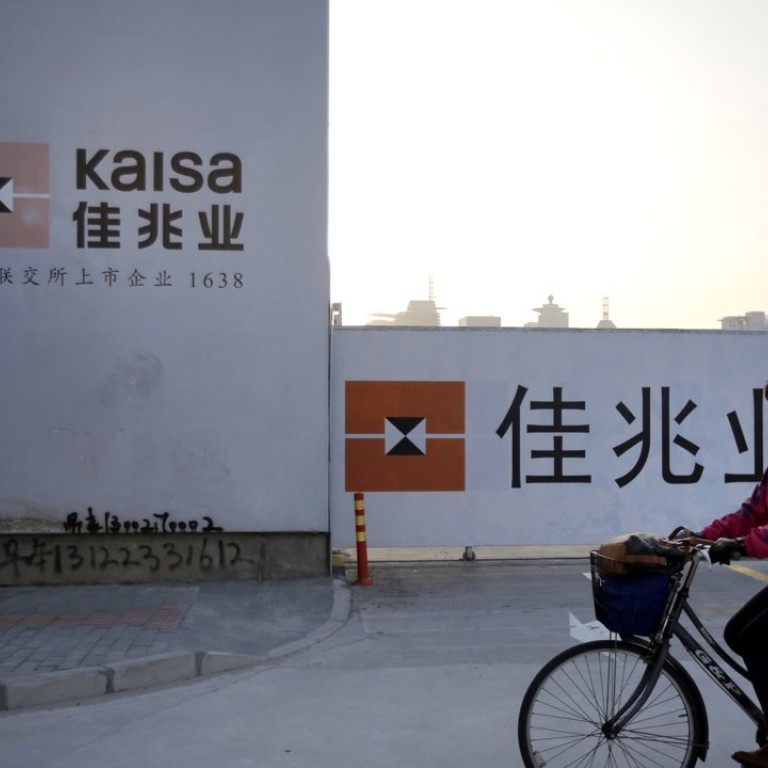 Distressed real estate opportunities in China to remain elusive for foreign investors
Chinese rivals hold the upper hand in highly competitive market
Industry oversupply and a continuing anti-graft campaign are pushing up expectations that a rising number of property firms, particularly those that are financially stretched, will have to sell assets cheaply in mainland China. But experts say foreign investors will still find it hard to take advantage of such opportunities.
They are keenly watching how US hedge fund Farallon Capital Management will push ahead with its recapitalisation of debt-ridden developer Kaisa Group Holdings, once a top redevelopment specialist in Shenzhen but now fighting for survival after local authorities banned presales of some of its property projects a year ago.
The property development business, still lucrative even though margins are dwindling, is a key target in Communist Party general secretary Xi Jinping efforts to rid the party of corruption.
Kaisa is the first mainland developer to have defaulted on its offshore debts. But it will not be the last, with the once-sizzling real estate market mired in a glut and the broader economy slowing more rapidly than expected, hitting demand for housing. The situation is especially serious in smaller cities
Just last month, Zhejiang developer Hangzhou Yundu Real Estate entered bankruptcy proceedings, according to a local court. Hangzhou is the city where the latest property market correction started early last year when two small developers, facing strains on their cash flow, slashed prices to boost sales.
Such cases often create distressed asset opportunities for investors including Farallon, Oaktree Capital Management and Och-Ziff Capital Management. They are coming back to Asia, in the grips of a China-led economic slowdown, after focusing on the United States and Europe in the wake of the 2008 global financial crisis.
But Paul Guan, a partner in the real estate practise of global law firm Paul Hastings, said foreign investors, with their investment committees sitting far from China, would find it very challenging to prevail over Chinese rivals in a highly competitive market.
"Some distressed assets are auctioned by Chinese courts and transactions need to be done in two weeks, which make it almost impossible for foreign investors to conduct sufficient due diligence," he said.
Apart from the four state-owned asset management companies – Cinda, Huarong, Great Wall and Orient – other Chinese firms including trust companies and private equity firms are increasingly looking at distressed asset opportunities.
A report published last week by the Urban Land Institute and PwC, based on a survey of 343 real estate professionals in Asia, said investors looking to pick up distressed assets in Asia after the global financial crisis had been walking away empty handed for years.
"This was largely because Asia's relationship-driven markets tend to deal with defaults via connected parties or as part of some compromise with lenders rather than by way of sales in the open market," the report said. "Distress has therefore disappeared from the radar for most fund managers."
In their ratings of investment prospects for 2016, distressed debt is marked at 1.79, down from the previous survey's 2.79, in a range from one to five, with five meaning excellent. Meanwhile, the rating for distressed properties fell to 2.53 from 2.93.
The report cited one unnamed interviewee as saying that the central government would try to contain the market's role in distressed asset disposals.
"They'll probably go back to the asset management companies and it'll be a repeat of 2002, when everyone thought there would be a ton of broad-based distress, and there was, but it just got swept under the carpet."