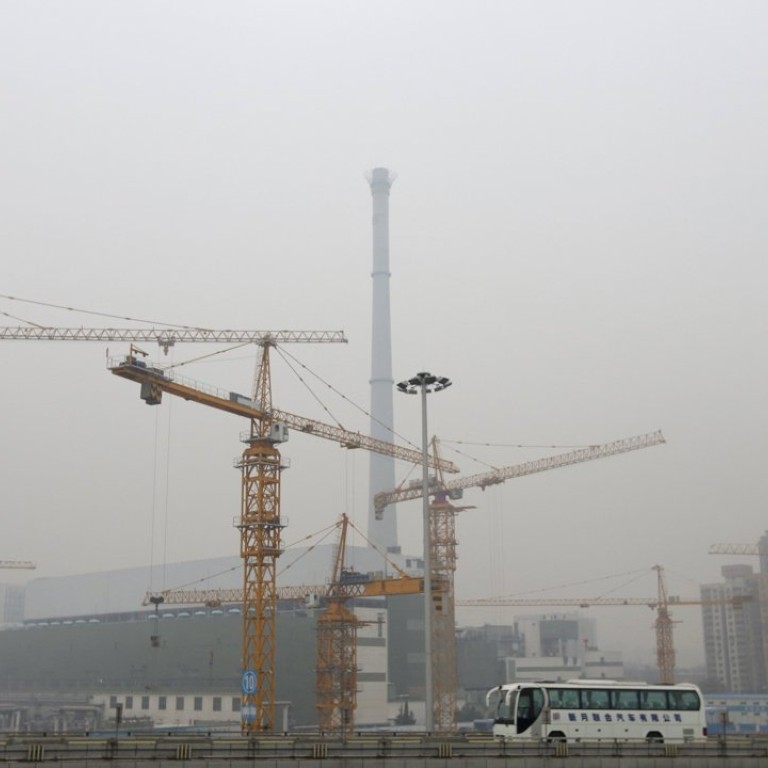 Chinese insurers spark off buying spree in mainland property firms
Most eye-catching deal is the share buying by Shenzhen property and insurance group Baoneng in China Vanke
Chinese insurance companies have sparked off a buying spree in mainland property firms' shares, a move seen by analysts as a "good marriage" that benefits both industries.
They say the pace of buying will accelerate as Chinese insurers need to diversify their asset allocation and have a thirst for property companies with quality assets.
Mainland insurance companies have invested in at least 30 Hong Kong and mainland-listed property firms, according to consultancy China Real Estate Information.
Among the major deals, Ping An Insurance, the mainland's second-largest insurer, has invested in small developer Landsea and bought shares in the fifth-largest developer, Country Garden. It now owns 9.9 per cent of both developers.
Meanwhile, Anbang Insurance Group and China Life Insurance have invested in Sino Ocean Land, with Anbang owning 29.98 per cent of the developer and China Life 29.99 per cent.
Other insurers with substantial stakes in developers include New China Life Insurance with 9.5 per cent of Jinmao and Hexie Health Insurance and An Bang Life Insurance with stakes of 15.88 per cent and 13.35 per cent, respectively, in Financial Street Holdings.
"The number will continue to increase," said David Hong, head of research at China Real Estate Information's Hong Kong office.
Insurance companies were cash rich and looking for investments that could provide stable, long-term income returns of more than 6 per cent, he said, making mainland property firms with quality assets suitable targets.
Alan Chiang, head of residential at DTZ/Cushman& Wakefield, said the investment would strengthen the competitiveness of mainland property firms, which were facing liquidity problems.
Property companies welcomed insurance companies' investments because they were always happy to be silent partners, he said.
That does not, however, appear to be the case in the most eye-catching deal: the share buying by Shenzhen property and insurance group Baoneng in China Vanke.
Baoneng, controlled by Yao Zhenhua, became Vanke's biggest shareholder after its subsidiary Shenzhen Jushenghua and affiliate Foresea Life Insurance bought a combined 20 per cent stake in China's biggest homebuilder, which has since been raised to 24.26 per cent
Analysts say that as the Baoneng group acquired Vanke shares though high margin financing, it has been widely speculated that it intends to enter Vanke's board , manage the firm and use it as funding platform to alleviate financing pressure or use it as a vehicle to diversify into other business.
Vanke chairman Wang Shi and his team raised concerns over Baoneng's purchase, sparking off a battle for control that has heated up since December 4, when Baoneng became Vanke's biggest shareholder, overtaking China Resources.
On December 18, Vanke asked that its Hong Kong and Shenzhen shares be suspended from trading pending a planned share issue for acquisitions. Two days later, Vanke said in a filing that it would disclose the restructuring plan before January 18.
On Thursday, Anbang Insurance Group, a significant shareholder of Vanke, expressed its support for Wang and his management team to run Vanke and fend off Baoneng's hostile takeover bid.
Anbang's support took the percentage of shares backing Wang to about 30 per cent. Wang has rebuffed Baoneng's interest in Vanke, citing differences in corporate culture.
Hong said that it was difficult to predict the outcome of the takeover battle or whether Anbang would further increase its stake in Vanke.
But he said it was an exceptional case.
In long run, Chinese insurers would continue to invest in property stocks, but as silent investors, he said.
UOB Kay Securities property analyst Edison Bian said that in the near term, short-term trading opportunities arising from Chinese insurers' need for asset diversification and thirst for China property stocks would dominate.