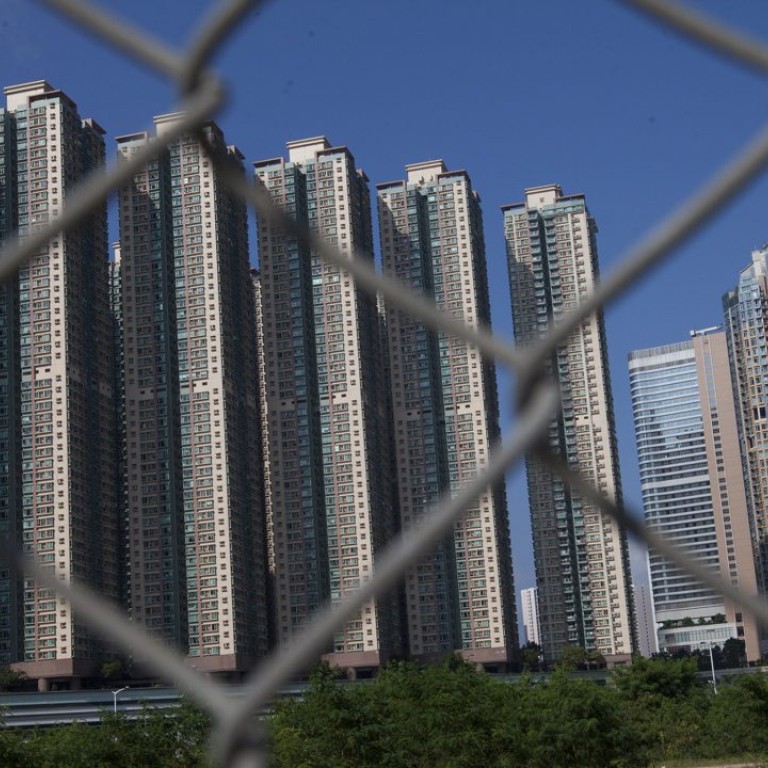 Update

|
Hong Kong home price index drops to 11-month low as land prices reel from worsening sentiment
Flats on Hong Kong island see biggest price falls
Hong Kong official home price index dropped to an 11-month low in December as a growing number of individual home owners became willing to cut their prices, with land prices dropping much faster as market sentiment deteriorated, says industry experts.
On Thursday, MTR Corp opened phase 10 of its Lohas Park project to potential bidders to develop a site that analysts say could carry a land premium of more than HK$1.65 billion.
The residential site, near Tseung Kwan O, will yield a total gross floor area of 811,605 square foot, or HK$2,044 per square foot. The tender will be closed at 2 pm on March 7.
Land prices had tumbled 19.68 per cent within a month as MTR Corp awarded the phase nine development to Wheelock & Co at HK$2,545 per square foot in December.
The Rating and Valuation Department's monthly supplement released on Thursday showed the general price index for private homes has declined for three straight months to 285.2 in December, down 2.82 per cent from 293.5 a month earlier and the lowest since January last year.
Rating and Valuation data indicates flats smaller than 430 square feet in New Territories saw a year on year decline of 4.4 per cent in December.
Midland Realty chief analyst Buggle Lau expects home prices would continue to fall in 2016.
'Six out of 10 major housing estates we monitored recorded a more than 10 per cent decline in January," he said.
The overall average home prices fell 1.9 per cent in January to HK$10,029 per square foot from December, he said.
Home prices have lost 8.6 per cent from their peak in August, said Lau.
Ricacorp Properties head of research Derek Chan said home prices have not bottomed out in the wake of the recent stock market rout and the weakening in Hong Kong's currency have hurt buying confidence.
"The secondary residential market is still locked in the chilly winter weather. It will not be a surprise to see property transaction volume drop to a new low in February," he said.
As a rash of negative news enveloped the Hong Kong property market, he said the number of transactions for apartments which cost about HK$7 million to HK$10 million plunged 23 per cent in January to 155 from their month ago levels, he said.
Home buyers have stayed on the sidelines due to fear of a further fall in prices in view of new rounds of interest rate increases and the poor performance of the stock market which has dampened investment sentiment, said Chan.
The number of transactions in the secondary residential market registered a month on month 15 per cent fall in January to 1,684 deals, he said.
The total transaction value amounted to HK$10.04 billion in January, down 15 per cent from December.
The government data from Rating and Valuation Department indicates flats ranging from 753 to 1,075 square feet on Hong Kong island registered the largest fall of 11 per cent from November to December to an average of HK$13,860 per square foot.
Similar-sized units in Kowloon fell 4.8 per cent from November to December to an average of HK$12,055 per square foot.
Prices for flats smaller than 430 sq ft continue to fall with those on Hong Kong island seeing the steepest decline of 4.1 per cent from November to December to an average price of about HK$12,581 per square foot.