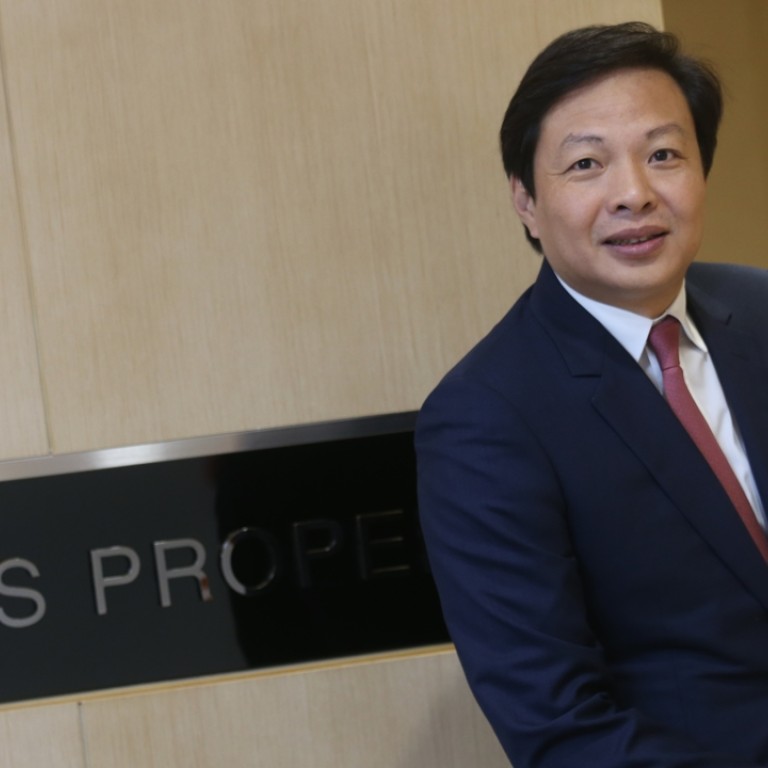 Guangzhou-based Times Property aims to be leading developer in Pearl River Delta
In the short term Times Property is focused on achieving regional leadership in the Pearl River Delta, but longer term the Guangzhou developer has its sights set on the national market
Michael Shum, who established Times Property in Guangzhou 16 years ago, has experienced several cycles in China's real estate industry and is accustomed to the related government policy changes. With his understanding of the industry, 45-year-old Shum oversees decisions on important land acquisitions as well as guiding the whole investment strategy and future positioning of the developer. Longer term, Shum's goal is to build Times Property into a leader in the industry nationwide.
The company has already achieved scale of 20 billion yuan (HK$23.7 billion). What is the next target?
First we want to focus on and become a regional leader in the Pearl River Delta, the area with the most dynamic economy in the country and [the area] we are most familiar with. We are confident that we can expand our sales to 50 to 60 billion in this region. And our long-term goal is to become the national industry leader. It will take some time for us.
How do you see the mainland China property market this year?
I'm positive about the market this year as the central government has issued a number of policies recently, from interest rate cuts to property tax cuts, which shows the government's determination to stimulate transactions in the home market. Among the policies, rate cuts and the reduction in bank down payment requirements are the most direct ways to make it easier for consumers to buy a home.
And I think there is room for more easing policies if you compare current policies to the policy environment back in 2009. For example, the interest rate and tax can be further cut.
The sales figures in February were better than we expected. But as many of the sales recorded in January and February were actually purchased at the end of last year, and there were the Chinese New Year holidays in February, March would be the first month to reflect the real housing market for this year.
Many major developers have rushed to Foshan market to buy land. Are you worried about the increasing competition?
The land price in Foshan will surely go up as developers have started to change their perspective on this region, from a third-tier city to one that is part of the Guangzhou market. We won't change our goal of expanding market share in this region. For us, bidding for land from the government is not the only way to get land.
We have also increased our land bank through redevelopment, project acquisition and joint development. We are continuing to look for redevelopment and acquisition opportunities while will continue to purchase land from the open market if the price is reasonable. This year we tend to do more redevelopment and acquisitions. We plan to add three to four redevelopment projects to our land bank with a total of 600,000 to 700,000 square metres this year. Most of them are in Guangzhou.
Will the company slow the launch of projects or land purchases in response to the government's call to reduce inventory?
In the region we are in, destocking is not the biggest concern. Guangzhou is even short of supply of new homes and needs more supply. Our projects in Zhuhai also sell well, attracting buyers from the mainland, Macau and Hong Kong. We will continue to focus on the Pearl River Delta area.
In the face of the market slowdown many developers are seeking to transition, such as into asset-light business. What about your company?
Yes, we do have an asset-light business, and that is the property management service. I don't view it as a transition, but an extension of our core business that can make our industrial chain more complete.
We have sped up the development of this part, including property management, community O2O (online to offline), decoration and custom furniture, in a hope to provide better solutions to community inhabitants.
Compared to cultural property or senior living property, the need for community services is much wider. It is also an area where we have know-how so we want to focus it. We take care of property management for all of our projects. In the future, we can outsource our service to other communities, or acquire other property management companies to manage their communities. Asset-light business has a very positive profit outlook. This business currently contributes less than 10 per cent of our revenue. We hope to expand it to 20 to 30 per cent but that will take some time.
What is the biggest risk for China's property market?
That would be policy risk, meaning if the government issues any extreme policies to regulate the market. But it is not very likely to happen given that the government doesn't want to see the industry and companies in the industry face many difficulties at this point.