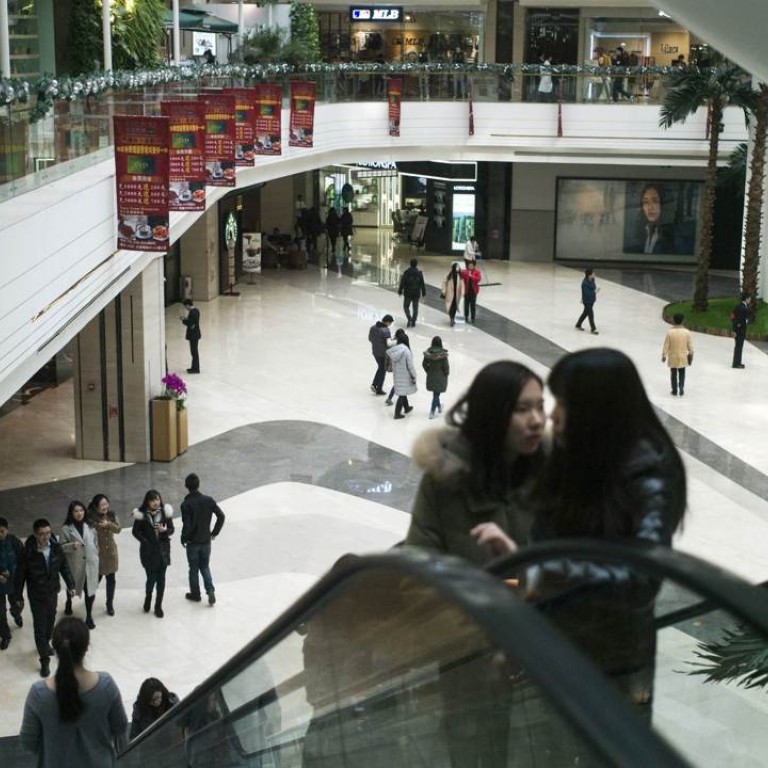 Mainland China shopping malls and department stores struggling as economy slows
More restaurants, entertainment venues and fast-fashion flagship stores being added to attract young shoppers
A number of Chinese mall operators and department store chains have posted profit warnings in the past few weeks, reflecting weaker retail sales amid an economic slowdown and an e-commerce boom, with analysts predicting few will survive as competition heats up.
Joy City Property, a leading shopping mall developer targeting younger consumers and the property arm of state-owned food giant Cofco, said last week that rental growth had slowed and warned investors of a prospective 50 per cent to 60 per cent fall in net profit for last year due to a decrease in the revaluation of investment properties and exchange losses.
Traditional department stores are faring even worse. Maoye International, a Shenzhen-based department store operator, said it expected its net profit for 2015 to drop more than 80 per cent due to sluggish retail sales. Moody's downgraded Maoye from B1 to Caa1.
Life Style International, which operates the Jiuguang chain of upmarket department stores on the mainland, closed its store in Shenyang in December, just two years after it opened. Life Style saw its net profit fall 10 per cent last year due to weak consumer sentiment in second- and third-tier cities.
"China's economic slowdown has dragged retail sales growth down from double digit to single digit," said Lee Wee Liat, Hong Kong-based head of Asia property research at BNP Paribas.
Shopping malls and department stores are adding more restaurants, entertainment venues and fast-fashion flagship stores to compete with e-commerce operators and attract young shoppers.
Lee said the pace of repositioning picked up last year and that had also affected malls' profits as occupancy was not stable.
Lee said he expected shopping mall operators such as Joy City, Wanda Plaza and China Resources Land's MixC mall would see rental growth recover this year after improving their tenant mix, while 2016 would be a tougher year for department stores as they had little room to provide space for entertainment.
"Department stores are doomed," said David Hong, head of research at China Real Estate Information Corp, adding that even among shopping malls, only those located in prime areas of bigger cities would be able to survive due to population inflows.
Despite the increasing challenges, China has seen more shopping malls open. There are nearly 4,000 malls in mainland China, and Deloitte estimates the figure will reach 10,000 by 2025.
Lee said he expected China's shopping mall market would come to be dominated by a few big names.
"You need to have strong bargaining power and maintain good relationships with tenants and that should be backed by the number of stores and branding," Lee said.
But Lee says there is some hope in smaller cities, with some having a shortage of neighbourhood shopping malls.
"Mid-mass market malls would be much more competitive," he said.
Hong Kong developer Hang Lung, which focuses on investment in luxury shopping malls on the mainland, said in its annual report that sales of upmarket goods continued to slide as many brands had frozen expansion plans.
"Negative rental reversions and falling occupancy are inevitable," it said.