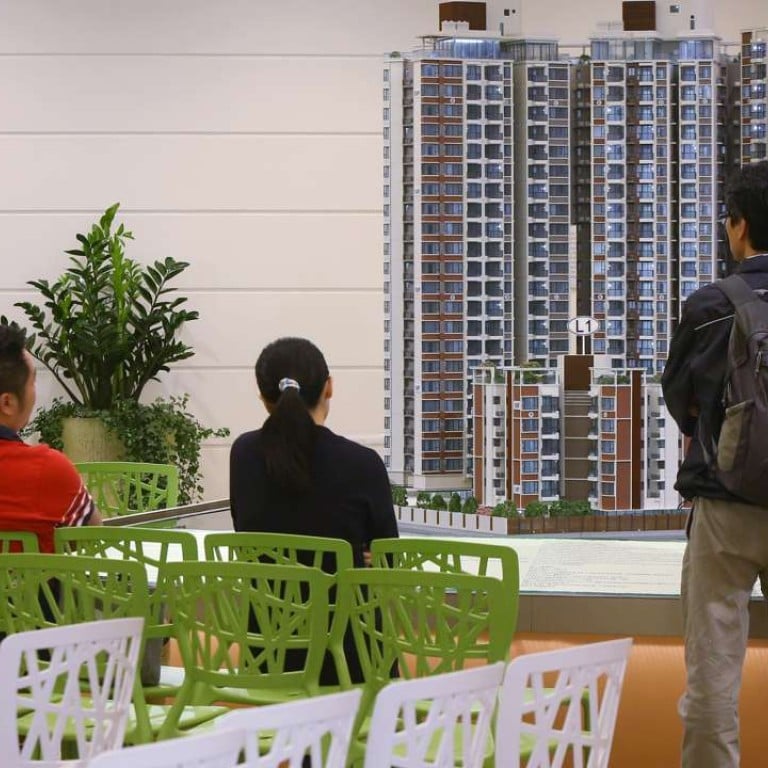 Poor sales at housing projects a blow to buying sentiment
Kerry Properties sells just 31 per cent of units on offer at luxury residential project in Ho Man Tin
Recent poor sales at some private residential projects as well as a subsidised development indicate rich and not so rich homebuyers are staying out of the market, pushing up expectations that a price correction could accelerate.
On Saturday, Mantin Heights in Ho Man Tin, built by Kerry Properties, became the third private project to see disappointing sales, with just 31 per cent – 34 units out of 108 – sold at the luxury residential project in the first two days following their launch.
A 338-unit subsidised housing project in Kai Tak, De Novo, also received a subdued response with just 61 flats sold by the Urban Renewal Authority in the first four days of sales to Friday. The authority received 12,685 applications for subsidised flats in the De Novo project in January.
Wong Leung-sing, associate director of research at Centaline Property Agency, said the failure of the subsidised housing project to drum up sales despite being offered at affordable prices would negatively affect overall market sentiment.
"The majority of these eligible buyers decided to abandon their purchase rights as they expect home prices will fall further," he said.
Wong said the Kai Tak area, where three new projects involving a potential supply of 2,900 units are due to be launched later, would be hit the hardest.
Late last year, the URA revised the eligibility criteria for its first subsidised housing project, allowing single people – originally excluded from the scheme – to buy the homes, while almost halving their income eligibility requirements, from HK$60,000 to HK$33,500.
Flats at De Novo were offered at 20 per cent discount to prevailing market prices.
In the private residential market, defaults have been rising for both mass-market and luxury homes, especially in Ho Man Tin and Yuen Long.
"But developers did not slow down the launch pace," said Alfred Lau, a property analyst at Bocom, adding they had instead opted to offer more favourable terms and prices in an attempt to attract buyers.
"We believe developers will accelerate turnover even at the cost of lower margin, rather than sitting on the land bank, given the abundant pipeline and pessimistic outlook," he said.
The market sentiment was significantly lower than last year, when discounted new projects were usually well-received, he said.
"This year, take-up of over 90 per cent has become rare, and some projects could not even boost volume with low prices," Lau said.
On March 18, The Spectra, a mass housing project jointly built by K Wah International and Sino Land in Yuen Long, sold 130 units, or 38 per cent of the first batch of 338 units on sale. So far, about 195 flats have been snapped up by buyers.
A week later, Wheelock Properties sold 30 of the 148 units at One Homantin, in Ho Man Tin, on the first day of launch.
Individual owners have joined the price cuts in a bid to speed up sales. with more secondary market transactions concluded at bargain prices.
A 442 sq ft unit at Kingswood Villa in Tin Shui Wai had changed hands for just HK$2.8 million, or HK$6,335 per square foot, an agent said.
Herman Po, a senior sales manager at Hong Kong Property's Taikoo Shing branch, said a 598 sq ft unit at Po Shan Mansion, Taikoo Shing, had changed hands for HK$7.8 million, or HK$13,043 per square foot.
"The vendor offered the unit for HK$9 million in December but only found a buyer after reducing the asking prices by HK$1.2 million," he said.
In Mo On Shan, a 550 sq ft unit at Sunshine City sold for HK$6 million, or HK$10,889 per square foot.

"It is the lowest transaction price in the housing estate in the past 12 months," said Kenny Cheung, a senior manager at Midland Realty's Ma On Shan branch.