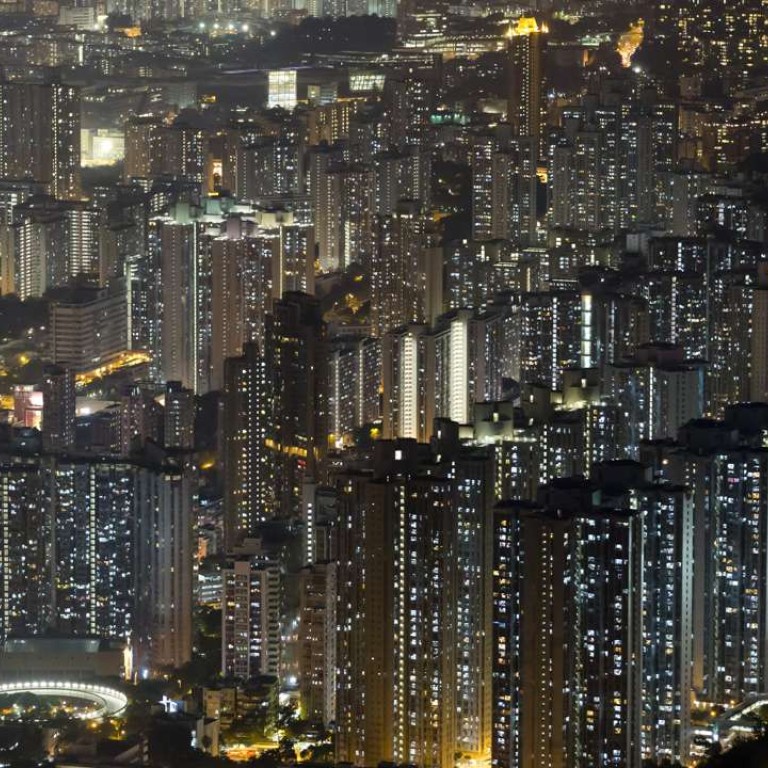 Ways to ensure land resources in Hong Kong respond to the city's social and economic needs
We're not short of land in Hong Kong but we are lacking an aspirational vision for the city's future
There has been much written regarding the "shortage of land" in Hong Kong and many suggestions as to how government should make more land available to meet Hong Kong's residential, commercial, recreational and innovation/technology needs.
However, few, in my view, address the nub of the problem and I would therefore like to put forward my own views on what a determined administration could and should do to address the issue of land supply in the city in ways that do not undermine the existing platform of values yet provide a more reliable and measurable stream of supply to meet the ever-widening range of uses that defines an international city of the reputation of Hong Kong.
First things first – we are not short of land in Hong Kong (assuming adoption of sustainable population growth policies). However, due to the prescriptive nature of our land-conversion processes, the failure of the administration properly to manage land resources and, in particular, the absence of an aspirational vision for the future of the city, it has proved impossible to persuade the community that some degree of inconvenience, even sacrifice, in the short/medium term, will result in a better future for all and this has led to strong public resistance to many new development proposals.
In his 2016 policy address, Chief Executive Leung Chun-ying acknowledged: "What Hong Kong lacks is not land but land that is developable. The root of many social, economic and livelihood issues often lies in the fact that land planning and development fail to keep pace with the growth in demand".
As background, the current long-term housing target is 460,000 units between 2016 and 2025 with 40 per cent (i.e. 180,000 units or 18,000 per year) being built by the private sector and 60 per cent (280,000 units ) being provided by the public sector, of which 200,000 will be rental and 80,000 subsidised purchase. However, in 2015-2016 the anticipated completion of Public Rental Housing units is 34,500 (c/f the target of 40,000) and of subsidised flats for sale the expected completion is 3,000 (c/f the 18,000 unit target). Land sold for private sector development during 2015-2016 will deliver a total of 20,300 units as and when these are completed, i.e. above the annual target but not for two to three years.
Residential sales in 2015 totalled some 56,000 units, with 15,000 primary market and 43,000 secondary market transactions, while resales of Home Ownership Scheme (HOS) units totalled 4,196 units, down 30 per cent on the 2014 figure. In addition to this supply, the Urban Renewal Authority offered units in its Kai Tak development at 20 per cent below the market and targeted relocation and singles, while the Housing Society introduced Tanner Hill, its lifelong rental scheme targeted at the over 60s. In addition, 25,000 private sector units could potentially be launched this year.
So where will all the land come from to meet the new targets?
•Tung Chung – population to be tripled by 2030 with 48,000 new residential units plus 500,000 square metres of office space, over 300,000 square metres of retail and 50,000 square metres of hotel accommodation;
•New development areas – Hung Shui Kiu, Yuen Long South, Kwu Tung North and South with 197,000 residential units plus 7,700,000 square metres of commercial and residential development;
•Area 137 Tseung Kwan O – 80 hectares of commercial/residential;
•Three quarries – Anderson, Cha Kwo Ling and Lamma Island
•East Lantau Metropolis – 1,000 hectares of reclaimed land for commercial, residential and other central business district (CBD) uses;
•Queensway, Murray Road and Wan Chai government sites.
In addition there is further underutilised land across the northern New Territories in the hands of the city's developers – some 92 million square feet according to recent calculations.
So, what can be done to unlock developable land supply and meet, so far as possible, the various land use demands we have, while also respecting increased environmental and sustainability standards and public aspirations for a more balanced way of life?
An integrated policy approach is essential and I would start with a move to a scheme based on premium assessments rather than highest and best-use pricing, for example in respect of lease modifications where a proponent has a specific proposal which has secured S.16 approval and in particular where such a proposal meets social as well as development demands. We should also consider a more market-driven approach to land use such as the Singapore "white" site zoning which could reduce planning debate and streamline the land sales programme. A review of building covenants, in particular in the context of start dates, and revisiting the premium arbitration initiative to place emphasis on resolving the issue of value through a panel of valuation experts could also speed up delivery.
I believe also that in order to accelerate the applications for lease modification, the Lands Department should be required to issue an initial offer of basic terms within six months, then upon acceptance of these to make an initial offer of premium within three months and similarly to handle premium appeals within three months. We should also consider re-establishing a compliance/enforcement task force to tackle illegal and/or tolerated uses of brownfield sites. Similarly, to handle land resumption in the New Territories, I would like to propose the establishment of a land acquisition agency, independent of the Lands Department, with authority to negotiate terms which would reflect value of time and money in any settlement – the Lands Department and the current resumption process should only be used as a final resort.
The industrial building conversion scheme should also be extended and at the same time further thought be given to allowing "in transition" starter homes with communal facilities as an alternative to cubicle living as well as the currently permitted office and hotel uses. We should encourage developers, through appropriate waivers, to use underutilised industrial space for co-location and innovation/start-up centres and office/studio use by defined small and medium-sized enterprises and, given current market conditions, consider reintroducing stratification of two- to three-star hotels for conversion into long-term residential accommodation, subject to en bloc management.
Review of certain outline zoning plan use allocations could also be helpful:
•Agriculture – 4,000 hectares but only 15 per cent activity – could be rezoned to an intermediary use to encourage early rationalisation;
•Recreation – applied largely to sites where the use is undetermined – rezone to a specific other use (e.g. recreation, sports ground) or use "white" sites to encourage innovative uses
•Commercial development areas – revisit, as required response is often onerous and requires a master plan and other detailed submissions
Promote more housing for the elderly as per the Housing Society lifelong rental model but also introduce some form of sharing of any capital appreciation in the value of the property at the end of the tenancy; encourage developers to include one or two specially designed blocks for seniors in larger schemes and adjust the premium level accordingly.
These are some of the changes that I believe would enhance the land use and development environment in Hong Kong but there is clearly much more that could be done if a less traditional and more proactive, forward looking approach were to be adopted.
Nicholas Brooke is chairman of Professional Property Services Group