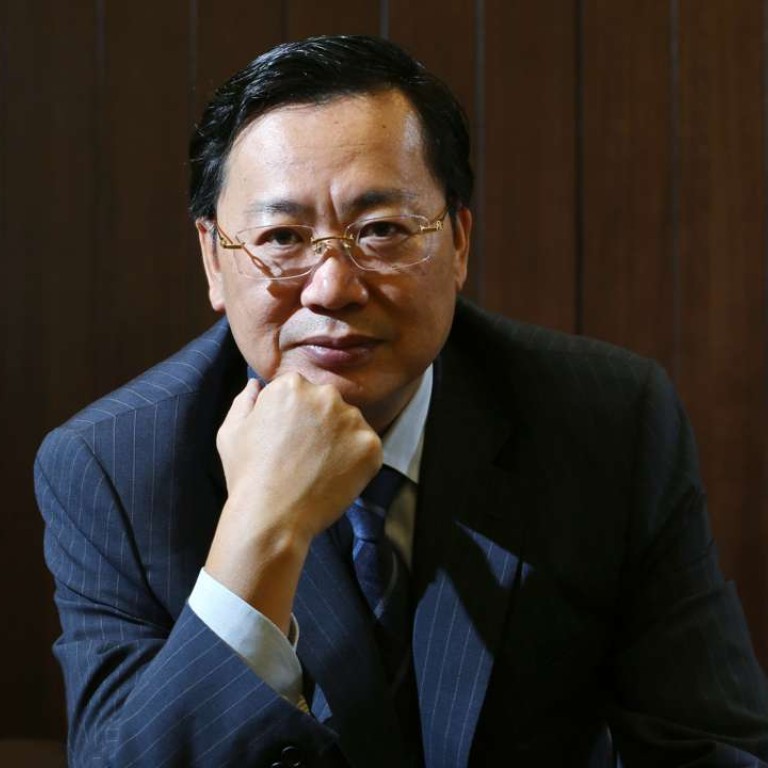 CIFI bets on countercyclical investment strategy in China's property market
After an aggressive year of land acquisition, Lin Zhong, the founder and chairman of CIFI Holdings (Group), will slow the pace of expansion but quicken sales this year. With more than 20 years' experience in the industry, Lin shows full confidence in his countercyclical strategy.
Why would your company slow down acquisition of land when the market is recovering?
This year is not a good year for buying land. We have purchased six land parcels so far this year, far fewer than what we bought in the same period last year. The real estate market is volatile, and we don't want to buy high, like stocks. Investments should be counter-cyclical, so we invest heavily when the market is bad. When the market is good, we hurry to sell flats.
We don't set a budget for buying land, it all depends on opportunities. We only require that the annual land cost should not be over 30-40 per cent of the sales that year.
Will CIFI enter new cities this year?
We might only enter one new city. There are not many good opportunities in the cities we haven't entered. For example, we have a team in Shenzhen, but the land market there is too hot now, we just want to pay the price we think is reasonable. So I don't think we would have any real investment there this year.
Last year, you bought 25 land parcels and the price was not cheap. Are you worried about policy risks?
We purchased land at a good time last year. The costs were comparatively low and offered a high margin of safety for us.
The prices of land in the same areas that we bought last year have doubled this year. For example, we bought land in Suzhou New District on December 31, 2014, with an average price of 3,600 yuan (HK$4,323) per square metre. That compares to land sold nearby at 14,000 yuan per square metre last month. In Hexi of Nanjing we acquired land in the first half of last year at 21,000 yuan per square metre, and land sold this year nearby at 42,000 per square metre.
And home prices are growing faster than land prices, which could help improve our margins. The Suzhou project I've mentioned is selling at 14,000-18,000 per square metre now. I expect our profit ratio this year and next year would outperform last year.
You have bought several expensive land parcels in Hefei city, how do you see the market there? Is it building up into a bubble?
The cost is not very expensive and we acquired jointly with other developers. Although some land cost surpassed 10,000 yuan per square meter, our average selling price could be over 20,000 yuan per square metre. Currently average home prices in Hefei are more than 10,000 yuan per square metre. From our perspective, in a provincial capital city in China with a population of millions, there wouldn't be a bubble if home prices are over 10,000 yuan per square metre.
We are very positive about the performance of Hefei this year as the market is heating up in second-tier cities. You may have noticed that home prices have risen faster in second-tier cities than in first-tier cities in recent months.
You also bought a land parcel in Shenyang city in northeastern China. Many people say the market there is struggling due to the economic downturn, so why did you invest there?
[Just because] the market is not good doesn't mean there is no chance. The land we took in Shenzhen is in the city's downtown and is for upgraders. This kind of project is still rare in Shenyang.
CIFI's contracted sales have already reached more than 10 billion yuan in the first quarter. Will you raise your full year sales target from the current 36.5 billion yuan?
We don't have a plan to lift our sales target in the short term but we will review it after announcing our interim results. We are very confident that we would exceed our target.
What is your vision of the company's position in China's property market in the future?
We aim to become one of the top 10 developers, to lead the market. But we are not in a hurry to expand and won't increase our debt for expansion. Our principle is to make sure we have stable growth in profit, as well as a stable decline in gearing.