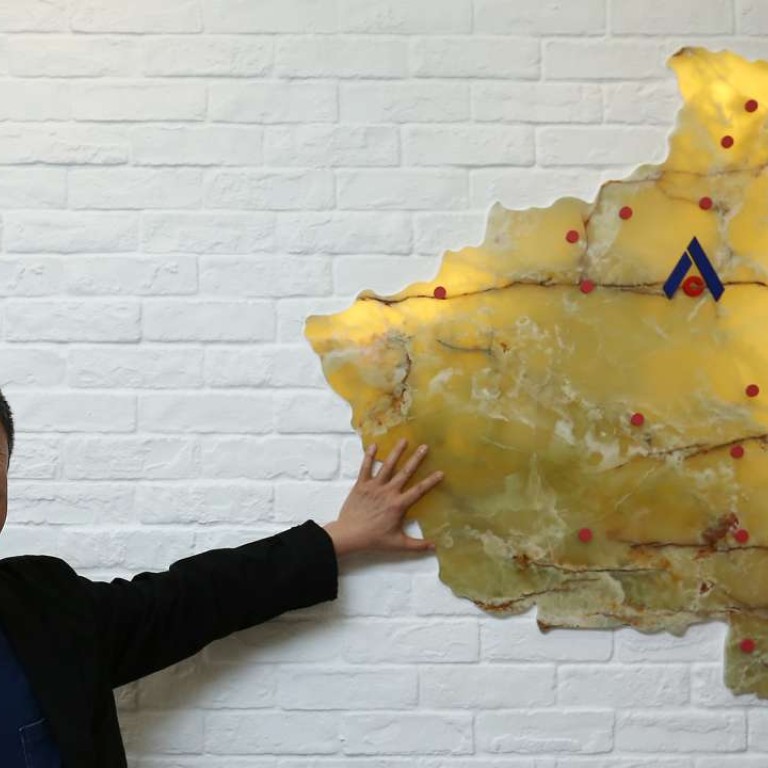 Central China Real Estate aims to boost profit next year
The inventory of unsold housing in China's third- and fourth- tier cities needs an average of five years to clear, company's chairman said
Hu Baosen's first trip to Hong Kong was in the 1980s as an employee of the Henan Provincial Foreign Trade Department. Hu, who speaks English and Cantonese fluently, worked in Hong Kong before returning to Henan in 1992 to set up Central China Real Estate. The 60-year old, who has been based in Henan since that date, has helped CCRE become the biggest Henan-based real estate developer.
Hu is currently on a mission to transform CCRE into a company that can offer construction and management services for real estate projects without necessarily investing in them.
Does Central China prefer to invest or not invest its own capital in a light-asset business?
We don't have a preference. It depends on the project.
Branding and management outsourcing is a must. Capital is flexible.
For high quality projects, we would like to inject capital or even take the control rights. The capital can be provided by us, via a merger or acquisition fund or through other banking facilities. In this case, we will gain a royalty fee, performance fee, plus a return on equity.
For these types of projects, ROE (return on equity) will be more than 30 per cent.
While ROE is uncountable for projects with no equity interest, the return will be pretty considerable as it is a purely management entrustment without any capital cost.
For example, we estimate the total profit for a prospective 50 projects will be 2.5 billion yuan for the brand loyalty fee alone. The profit will be booked in progress, as it takes about five years to complete these projects. The annual profit will be 400-500 million yuan, which will contribute around 30 per cent of the company's total profit annually.
Our profit has declined in 2014 and 2015, we aim to turn that around in 2017 through an asset-light business.
The inventory (of unsold housing) in China's third- and fourth- tier cities needs an average of five years to clear. We want to take advantage of this period to expand into a light-asset business and hope to shift the focus on a light-asset model after five years.
You said the financial system has been improved in China and that allows developers to concentrate on light-asset business models, what does it mean?
Ten years ago, China didn't have a yuan-denominated private equity fund, and trust companies were not allowed to lend money for property projects.
Developers had to rely on their own capital and bank loans to develop properties.
Gradually fund and trust companies have been able to involve themselves in property investments. Now insurance firms are also allowed to participate in real estate deals. We have other channels including overseas financing, asset backed securitisation and crowd funding. There are more and more financial products we can make use of in the real estate sector.
Are you worried the light asset model will not be appreciated by the capital markets as they are concerned the income might not be stable, like Wanda. Its shares plunged after it announced its own asset-light plan?
Capital markets hope an enterprise can achieve stable growth as well as sustained profitability. This is a high standard and I think Wanda has done a good job. It is quite normal for capital markets to have concerns, as Wanda is still transforming itself.
A light-asset model needs a fresh valuation system because they don't have a precedent. On top of that, the Hong Kong capital markets are a bit too cautious. The caution stems from a limited understanding of the mainland market.
How does the market look for Henan Province?
The biggest feel-good factor is transport. Zhengzhou (the provincial capital of Henan) will be a transportation and logistics hub within 5 years. After the completion of a high-speed railroad it will take around 2 hours from Zhengzhou to reach a market of over 300 million, 3 hours from Zhengzhou and that figure rises to over 500 million. It is expected the population in Zhengzhou will nearly double by 2020, from the current 8 million to 15 million.
As a brand serving Henan for more than 20 years, CCRE will benefit from the provincial strategy when the Henan market gets stronger.
Will you expand you light-asset business to other provinces?
Our brand influence is mainly in Henan, so we don't plan to expand outside Henan.
You have also developed your property management service, how is that going?
The property management company is not in the listed CCRE company. Our property management team now has over 5,000 staff, managing 120 communities including 80 of CCRE's own projects. Since last year, we have been upgrading our services. We have provided more than 20 value-added services, such as laundry, express collection, food delivery and ferrying children to and from school. We have developed an e+ application for our online to offline platform.
Recently, the property management company issued a 0.9 billion yuan domestic bond. It is backed by property management fees. The average cost is about 5.5 per cent a year. This is a very new trial for us.