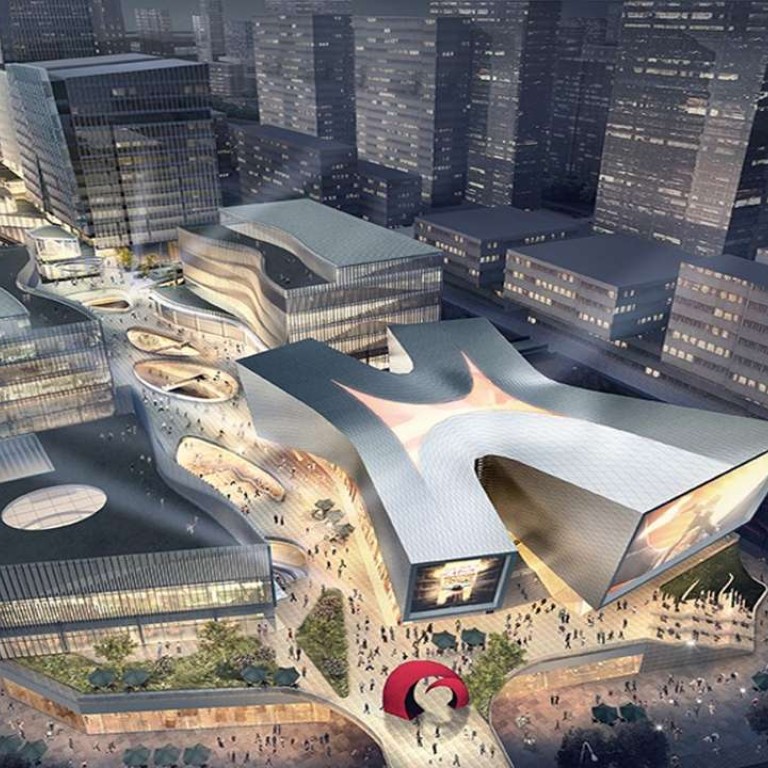 Shanghai Dream Centre reflects the city's new ambitions of creating cultural highland
China Media Capital (CMC), a government-backed investment fund, plans to officially launch the Shanghai Dream Centre, an entertainment complex on the western bank of Huangpu River, in 2018, pledging to create a new landmark for the mainland's commercial capital.
Chen Jingfeng, president of CMC, said the 460,000 square metre project in the city's southwestern Xuhui district, would embody Shanghai's ambitions of becoming a regional cultural centre, or a magnet for artists and tourists.
The investment fund has partnered with US animation company DreamWorks Animation, Lan Kwai Fong Group, developer of Hong Kong's namesake entertainment hub, and China Development Bank to build what CMC perceives as a world-class cultural highland that could match Shanghai's increasing profile.
"We have to make sure the project will be a
world-class one," Chen said. "All the partners have the consensus that it's our mission to create a landmark in Shanghai which has rich cultural value and can impress visitors."
CMC, founded by China's media mogul Li Ruigang, envisions making Shanghai Dream Centre a combination of New York's Broadway and Times Square.
It includes office buildings, studios, art museums, theatres, cinemas, performing squares, retail outlets, restaurants and bars.
The initial investment has amounted to more than 10 billion yuan (HK11.85 billion).
Property development in Shanghai has been buoyant in the past decades amid the city's move to transform itself into a global elite metropolis.
Chen said the project of Dream Centre would be more than a property development because it would help the city boost its soft power such as production of blockbuster movies around the globe, creation of a Lan Kwai Fong-style entertainment hub and a popular tourist destination.
Dream Centre is located at the midpoint between the Shanghai Disneyland and Shanghai International Circuit where the Formula One auto race is held.
All the three sites can be linked by Shanghai's Metro Line 11.
Lan Kwai Fong chairman Allan Zeman said the Shanghai Dream Centre would be "a new lifestyle area," adding that the piece of land on the riverfront area in the city's downtown Xuhui district was "very special."
Chen said the Oriental DreamWorks, a joint venture between DreamWorks and three Shanghai government-backed investors including CMC, would continue to make more movies following the successful animation film Kung Fu Panda 3 earlier in 2016.
According to Chen, the investment fund which has completed a clutch of high-profile deals including buying stakes of Premier League side Manchester City and Hong Kong Television Broadcasts believed that the mainland's entertainment sector would witness an explosive growth in the coming years buoyed by people's rising affluence.
In C Suite on P3, Chen explains the driving forces to build Shanghai dream Centre and his company's plan to expand footprint in China's cultural sector