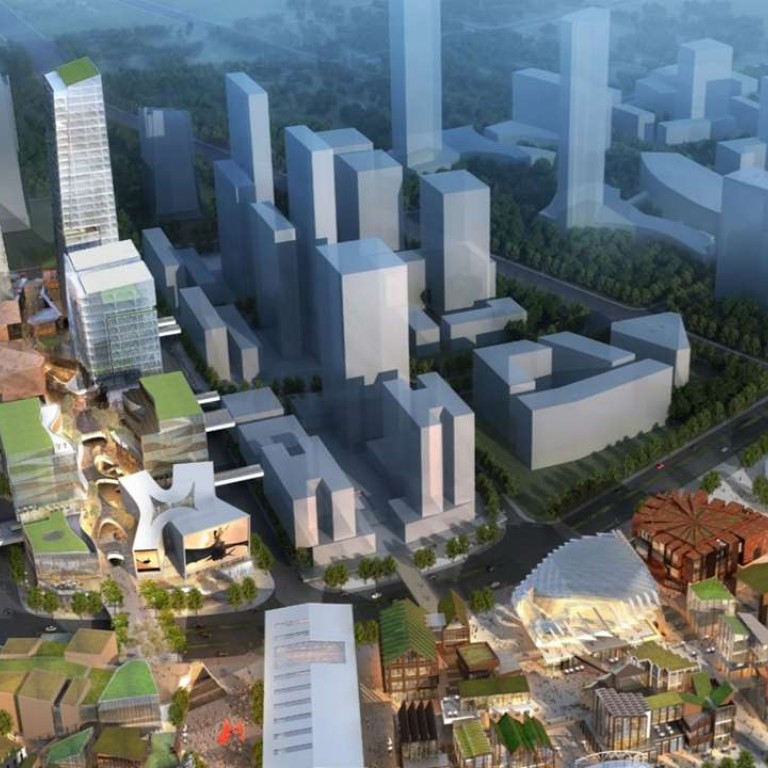 CMC looks to expand footprint in China's cultural sector
Chen Jingfeng, 48, is the president of China Media Capital (CMC), the country's government-backed private equity fund focusing on media and entertainment.
He earned a master's degree of history at Fudan University and a MBA degree granted by China Europe International Business School.
In 2002, Chen became president of Shanghai-listed Dazhong Public Utilities (Group) in June 2002 and also took charge of Dazhong Capital since 2010.
He joined CMC last year.
Q: What are the major driving forces for China Media Capital (CMC), known as a fund specialising in media and entertainment sectors, to develop a real estate project like Shanghai Dream Centre?
A: We hope to help Shanghai return to its past glory in 1930s to 1940s. At that time, Shanghai was not only the commercial and financial centre in the Far East, but a cultural hub in the region. Hollywood movies, following their premiere in the United States, would be screened in Shanghai the next one or two days. We believe that Shanghai's ambitions of becoming one of the world's centres for economic development, finance, shipping and commerce isn't enough. As an elite metropolis in the world, Shanghai has to display its cultural might.
Q: How will you define the Shanghai Dream Centre? Is it just a mega real estate project with a prime location or a cultural landmark in the city?
A: The name of Shanghai Dream Centre embodies our goal of adding cultural value to the city amid its flourishing economic growth. It is the mission of CMC. What we envision is not just a commercial project of Shanghai Dream Centre, but a real estate complex with a focus on culture and creativity. Yes, I think we are trying to establish a cultural landmark. The location is unique. It is in the heart of the city and built along the coastal area of Huangpu River. It has all the making of a first-class mixed-use entertainment complex and gives visitors a unique cultural experience.
Q: Could you be more specific about the term of cultural landmark. What will the project look like after completion?
A: By defining it as a cultural landmark, we will make the Shanghai Dream Centre a combination of New York's Broadway and Times Square. In terms of geographic size, our centre is no match to them. But we hope to have the same functions, which include studios, art museums, theatres, cinemas and performing squares. Venues and buildings are not the answer to a cultural hub. We need to have the ability to produce quality cultural products for people. After all, it is the content that falls into the category of culture. CMC definitely wants to play a leading role in driving production of cultural products here.
Q: What roles the partners, Lan Kwai Fong Group and DreamWorks will play in the project?
A: First of all, we have a consensus that it is of historic importance to bolster Chinese culture at this moment. Lan Kwai Fong is one of Asia's best-known brands in running bar and restaurant businesses. It has rich experience of managing entertainment complex. DreamWorks, with its resources in Hollywood, will bring the best products and latest technologies from the US to Shanghai. CMC has a strong background in media and entertainment. We are going to not only import foreign movies and shows, but cultivate local talents to create cultural products with Chinese characteristics, all the way from movies and shows to other art pieces such as paintings. A fund slated for supporting local artists will be set up to speed up productions.
Q: When will the project be put in operation and apart from construction, what are you doing now to make it a commercial success?
A: Construction is expected to complete in the third quarter of next year. A soft opening is likely to take place in early 2018, followed by a grand opening in the middle of that year. The entertainment sector in China is witnessing an explosive growth now. Box-office takings jumped more than 40 per cent last year and the hefty growth would continue. Given people's increasing demand for cultural products and willingness to spend on movies, concerts and musicals, the Shanghai Dream Centre is definitely a top beneficiary. We are determined to build a world-class cultural project.
Q: After the Dream Centre, will CMC engage in more real estate projects of its kind?
A: We were approached by other local governments which showed keen interest in developing cultural centres, rather than commercial centres in the cities' prime locations. Real estate developments for commercial use are no longer what they are chasing now. They hope the new projects can have cultural value. I think we will develop more cultural centres similar to the Shanghai project in future.
Q: Who will be the targeted visitors to the Dream Centre in Shanghai?
A: Middle-class locals will be attracted to the Dream Centre. But visitors from other parts of the country or abroad will also view it as a tourist destination. For those who come to Shanghai for the Disney theme park or the Formula One auto race, the public transportation is also convenient for them to pay a visit to the Dream Centre to get a joyful experience.
Q: What retail brands will land at the Shanghai Dream Centre?
A: We have started the process of choosing tenants. We will be quite picky on the brand names and the products. But it doesn't mean that only luxury brands will have a presence here. We are looking for the best of the best retailers which are favoured by the visitors and shoppers.