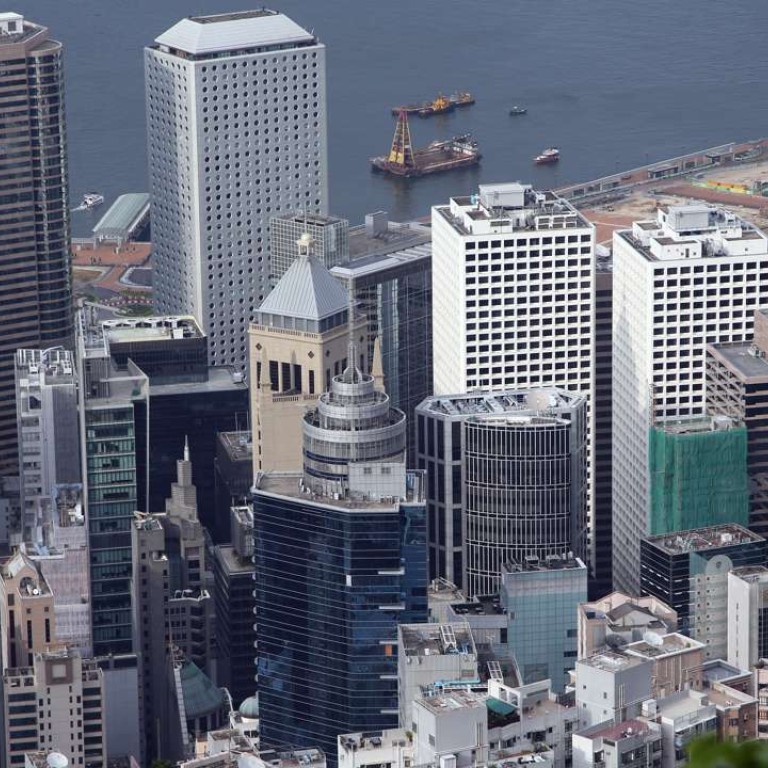 Hong Kong office rental market showing signs of slowdown
Growth rate may decline as more multinational financial firms scale back operations in city despite an increase in office spaces
Hong Kong's traditionally resilient office rental market is showing signs of a slowdown as several multinational financial companies are downsizing operations, dragging demand while office supply is on the rise.
Office rental growth rate in Hong Kong is set to fall in the next 12 months, compared to an average 1.3 per cent growth in the past four quarters, according to analysts from S&P Global Ratings.
"We think the good performance of office rental market may not continue as we see signs of slowdown lately," said Matthew Chow, associate director of corporate ratings at S&P Global Ratings.
Demand for office space in greater Central – which includes Central, Admiralty and Sheung Wan – has slowed down noticeably in the first quarter of this year, according to figures from real estate consultancy CBRE.
Offices in greater Central saw a negative net take-up of 26,000 square foot in office rental space in the first quarter this year. This is compared to a 216,000 square foot net take-up in the same period in 2015.
Net take-up refers to the amount of office space taken up by corporations minus the amount of office space vacated.
"If you look at the component of office demand, the bulk of it, or a significant portion of it, is still coming from the multinational financial corporations. This part of the demand is shrinking," Chow said. "They're cutting headcounts and downsizing. As a result, they would not need so much of office space."
Several major investment banks such as Bank of America, Goldman Sachs and BNP Paribas announced earlier this year that they will layoff staff amid a weakening global economy and turbulence in equity markets.
In Hong Kong, Bank of East Asia said on Thursday that it would eliminate 180 jobs, or 3.8 per cent of its total workforce, to reduce costs and consolidate operations.
Analysts at CBRE, however, said that the corporate downsizing will have a minimal spillover effect on the overall office rental market in Hong Kong.
"We haven't seen [an impact] yet," said Darren Nugent, executive director of advisory and transaction services at CBRE. "[Corporations] are not dropping space, [they're] moving to more cost effective locations."
The city is expected to see an increase of 2.8 million square foot in net floor area in 2017, most of which will be in the relatively cheaper Kowloon East area, according to CBRE.