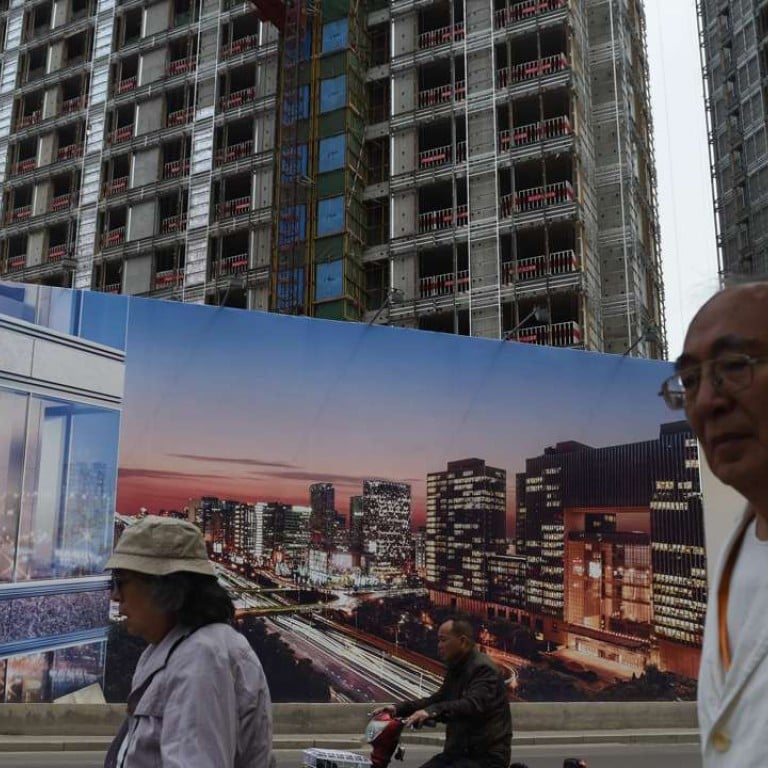 Land kings, developers rake in the moolah as property market continues to sizzle in China
Companies post 80pc growth in home sales on the mainland during the first five months of 2016
China's property market continued to sizzle during the first five months of the year, generating "land kings" at the fastest pace since 2009 and companies posting an 80 per cent jump in home sales on the mainland during the first five months of the year.
The record growth has left industry watchers perplexed and most developers sitting on piles of cash, said industry sources.
According to data provided by Centaline Property, during the first five months of the year, the combined sales of 21 listed real estate companies stood at 684.8 billion yuan (HK$809.3 billion), up 83.8 per cent over same period in 2015. During the same period they issued US$69.32 billion of debt and equity, up from $25.8 billion a year ago, according to data provided by Dealogic.
Brokerage firm Mizuho Securities said in a recent report that in top cities like Beijing, Shanghai, Guangzhou and Shenzhen, land parcels were being sold at prices that was 140 per cent higher than the government's reserve price in May. It likened the situation to the heydays of the property market in late 2009.
Mizuho said in the 30 tier-2 cities, land parcels were sold at a 128 per cent premium in April and at 86 per cent in May, significantly higher than the 50 per cent premium seen in the second half of 2009.
"The eagerness and frenzy among developers to acquire land parcels has raised doubts on whether it is the final frenzy of an already stretched bull market," ifeng.com, a news portal, said in a recent analysis.
Such questions have risen after the bidding frenzy in top cities made many developers land kings at a time when prices continued to languish in third and fourth-tier cities, due to sluggish sales and oversupply.
On Wednesday afternoon, a parcel of land was sold in Shenzhen for a record price. Shenzhen-based Logan Property outbid 10 competitors to wrest control over a commercial cum residential property in the city's Guangming New District for 14.06 billion yuan at public auction. That deal made the company the undisputed "land king" in the mainland as it was by far the biggest amount paid for a site this year. The 14.06 billion yuan price is also a 160 per cent premium from the starting price, with average price hitting 27,620 yuan per square metre.
On May 27, Cinda Real Estate, a developer owned by one of China's biggest asset managers, outbid 17 others to offer 12.3 billion yuan for a plot of land in Hangzhou. . A few days later it offered 5.8 billion yuan for a plot in suburban Shanghai. The record 303 per cent premium over the auction reserve price drove the cost per square metre of buildable area in the area closer to 48,000 yuan.
A day later, a consortium led by Powerchina Real Estate, another central government-owned enterprise, paid 8.28 billion yuan for a plot in Shenzhen, which translated to a 56,800 yuan price tag for every buildable sq m.
Similar developments have been taking place in second-tier cities such as Xiamen, Nanjing and Hefei. Centaline Property data showed that as of May 31, 105 "land kings", defined as companies paying in excess of 1.5 billion yuan for a plot, spent a record 328.8 billion yuan for land purchases in China. Out of this 52 are deep-pocket State-owned enterprises. It is also a sharp growth over the 60 "land kings" in 2013, the previous peak year for the property sector.
But there is also flip side to the story. For example, the 48,000 yuan per sq m that Cinda paid for the Shanghai plot compares with 46,000 yuan per sq m cost for homes in the area. Industry experts said that Cinda would need to sell units in the property for around 80,000 yuan per sq m to make a standard profit.
"Most people blame developers for the skyrocketing home prices, but the real beneficiary has been the local governments," said a Centaline official on condition of anonymity.
Local governments are the prime movers for higher land prices, analysts said. They said in cities like Beijing and Shanghai where home demand is robust and land supply limited, developers tend to pay high prices to outbid competition.
Land sales make up 24 per cent of local governments' total revenue, while property-related tax accounts for 40 per cent of their tax receipts, according to Moody's Investors Service.
Though soaring land price are feeding the local governments' pockets, it is squeezing developers' margin and in some cases jeopardising a company's survival, especially if developers fail to transfer land costs to consumers. Despite "stable" outlook for the industry, Moody's has cut the outlook of 44 per cent of its rated property companies to "negative", the highest ratio since 2012, citing developers' expansion and rising leverage.
However, industry sources said developers have to, despite their grudges, foot the bill because without land reserves in first and second-tier cities, they are doom to be kicked out a few years later.
"We dare not touch the third and other smaller cities now (because of the downturn). To survive, we have to stack land in first and second-tier cities. It is an existential matter," an executive with a major developer, who declined to be identified said.
"Adequate land reserves can relieve developers' anxiety," said Xie Yifeng, president of the Realty Association of Asia-Pacific Cities.
Additional reporting by Summer Zhen