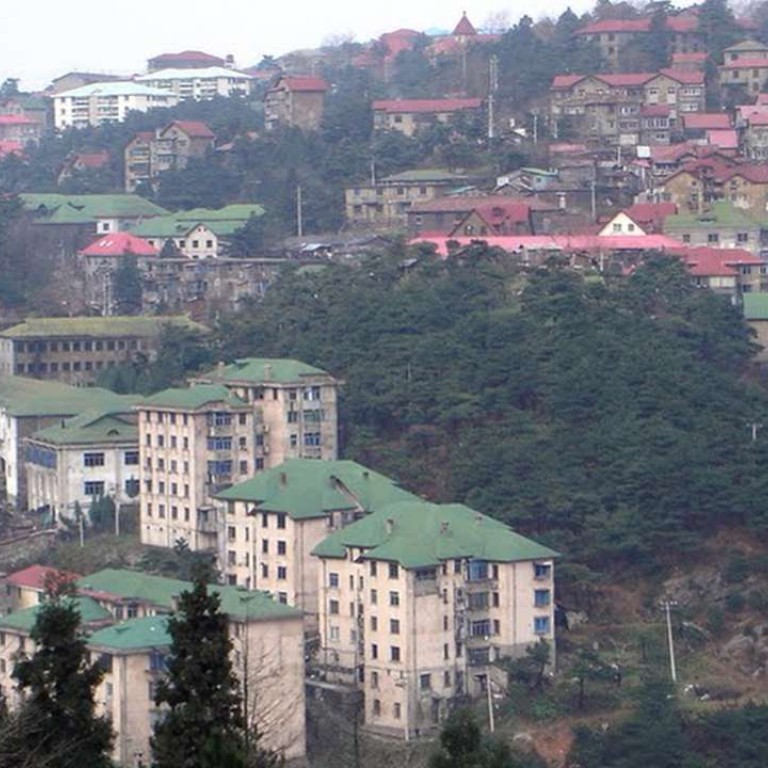 Chengdu's Lushan adds its name to China's growing list of 'fund towns'
Venture capitalists and private equity professions are being gathered together to create specialist financial communities across the country
An hour's drive from the centre of Sichuan provincial capital Chengdu is a quiet town, which at this time of year basks in hot summer sunshine.
But last month, the almost Mediterranean-style Lushan, quietly rebranded itself "a fund town", and the name change came at such a pace, that it took even many of its own residents by surprise.
Lushan is an international community, boasting exclusive villas, golf courses and private schools, and is home to some of Chengdu's burgeoning nouveaux riches.
What few of its residents had realised is that local developers have been working hard behind the scenes to attract a new breed of residents, and that's where the "fund" element comes in.
A commercial site next to the town has been refashioned, and it's there that developers have already started luring venture capital and private equity businesses, who want to combine finance and commerce with a better way of life.
A visit to the Lushan Fund Town project's showroom shows just how ambitious its local developers are.
By the end of next year, officials there say it will be home to 150 private equity funds, mutual funds and ancillary service firms, who collectively will be managing total assets worth 200 billion yuan.
And by 2030, they expect more than 1,200 institutions to be based there.
Jiang Tao, who heads the project, said around ten venture capital firms have already settled in.
They have rented space in low-rise houses built on a gentle slope behind the showroom.
There still aren't that many actually workers toiling at desks, just the thick smell of formaldehyde, suggesting decoration is still ongoing.
But Jiang says his new "fund town" has lofty goals.
Put simply, he wants it to be China's answer to Greenwich — in the US state of Connecticut — which plays host to around 380 hedge funds with a total asset under management of $150 billion.
Nearly half of the world's hedge funds with an asset under management of over $1 billion are headquartered there.
Jiang's vision, however, for his new fund town isn't unique in China.
In recent years similar sites have sprouted up in Beijing, Zhejiang, Tianjin, Xinjiang and Fujian.
In affluent Hangzhou, in Zhejiang province, there's the Yuhuangshan resort, a fund town which has attracted 500 venture capital, private equity, quantitative investment funds with a total asset under management of 320 billion yuan, in just two years.
Last year Yuhuangshan earned 400 million yuan in tax revenue, and in the first quarter of this year. already its taxes collected topped 300 million yuan.
In Zhejiang alone, there are at least six fund towns now.
Around the country, local governments have rolled out generous subsidies and favourable policies to attract financial services tenants to move in.
In Beijing's Fangshan fund town, for example, office subsidies of 2,000 yuan per square meter, with a 1 million yuan ceiling, are available if companies want to buy offices or apartments
Jiang said his company, the Tianfu Fund Town, is developing in Lushan because of its proximity to an affluent community of 8,000 wealthy families, which he estimates at being worth 300 billion yuan in assets, and which he hopes will provide huge wealth management demand.
Although he is reluctant to detail exactly the subsidies on offer, in another central business district in Chengdu, financial institutions opening headquarters there are offered a 1,000 yuan per sq m if they buy a property.
Rental subsidies are offered with a more modest 20 yuan per sq m per month, with a ceiling of 5 million yuan in total. Other policies include housing subsidies for executives and school admission for their children.
The whole concept of so-called "makerspaces" such as these, often called incubators in the West, is very much in vogue in China, falling under Premier Li Keqiang's repeated calls for grassroots entrepreneurship to be nurtured.
Feng Lun, a real estate tycoon who chairs Vantone Holdings, lamented at the recent Caijing Future Cities Conference in Beijing, however, that so far local governments have played too excessive a role in their development, and that many of their so-called "grand designs" are not backed up by realistic and robust business plans.
"Many of China's cities look the same because they are the products of officials' ideas," he said.
"If the market and the firms themselves are the determinant forces, each fund city could become an organic, effective and beautiful town in their own right, with their own distinctive features."