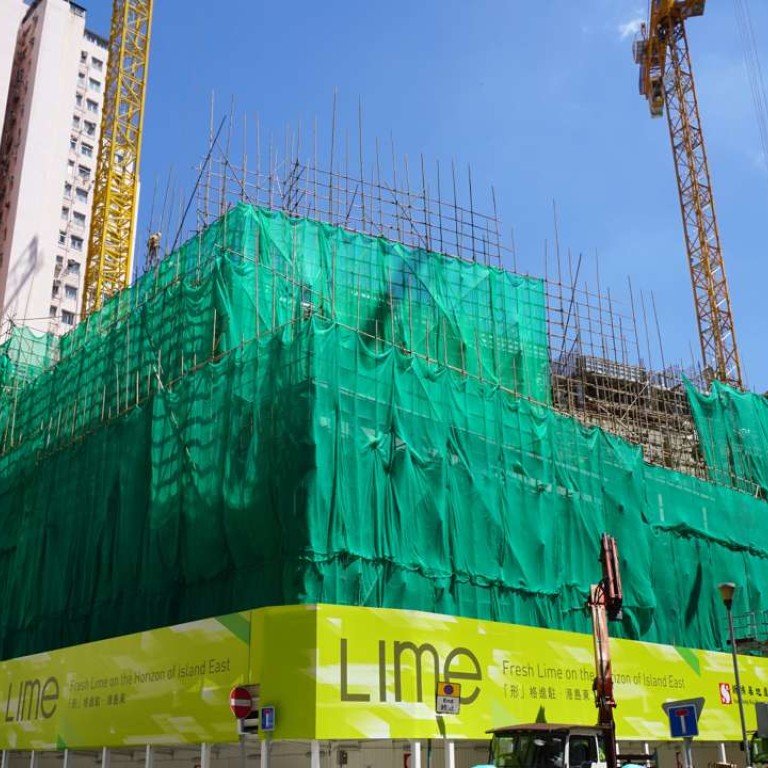 SHK's Lime Gala in Shau Kei Wan tipped to attract huge interest
At between HK$5 million and HK$10 million, unit prices are low compared with nearby projects, say agents
Sun Hung Kai Properties
has listed the first 143 units of its new estate in the north east of Hong Kong island at a discounted average of HK$17,732 per sq ft, a price experts say will attract both investors and first-time buyers.
Hong Kong's largest developer has priced the flats at the Lime Gala estate in Shau Kei Wan at between HK$5 million and HK$10 million, as local developers speed up project launches to cash in the current positive market sentiment.
Property agents say the prices at Lime Gala are low compared with nearby projects.
Henderson Land Developmen
t 's Parker 33 was sold last year at an average HK$20,200, while Wheelock Properties' Island Residence was offered at HK$18,388 per sq ft at its launch in September.
Danny Ho, principal sales manager at property agency Centaline Property Agency, said the flats, with good views and facilities, are likely to draw strong response from buyers.
"We haven't seen any new big housing estates in the east of the island for a long time.
"Most projects are single buildings," Ho said. "Lime Gala has an outdoor swimming pool and a club, which can be built only in big projects."
Ho said secondary transactions in the area may have seen a temporary drop as buyers waited for the sales arrangements for Lime Gala to be announced.
The estate's smallest unit, a 289 sq ft studio, was priced at about HK$5 million after discount, or HK$17,802 per sq ft.
"It is a bargain," said Larry Chow, Midland Realty's chief senior sales manager at Shau Kei Wan.
"Some 20-year-old, second-hand flats are being sold at HK$16,000 to HK$17,000 per sq ft."
With a basic discount of 9 per cent, 80 studio units are selling at an average price of HK$17,031 per sq ft, while 63 two-bedroom flats were listed at an average HK$18,322 per sq ft.
Overall property sales in Hong Kong fell 11.3 per cent in July from the previous month, but industry experts still expect buyer interest to improve with another six to seven new projects being released this month.
Secondary property prices rose 1.6 per cent in the second quarter of this year, compared with a drop of 4.8 per cent in the first quarter, the latest government data shows.
Centaline's Ho said both sales volume and home price have recovered slightly in the east of Hong Kong island.
"The sentiment in the financial market is improving," Ho said.
"Many of the wait-and-see buyers may decide to grab a piece right now."
This article appeared in the South China Morning Post print edition as: SHKP's Lime Gala tipped to fare well