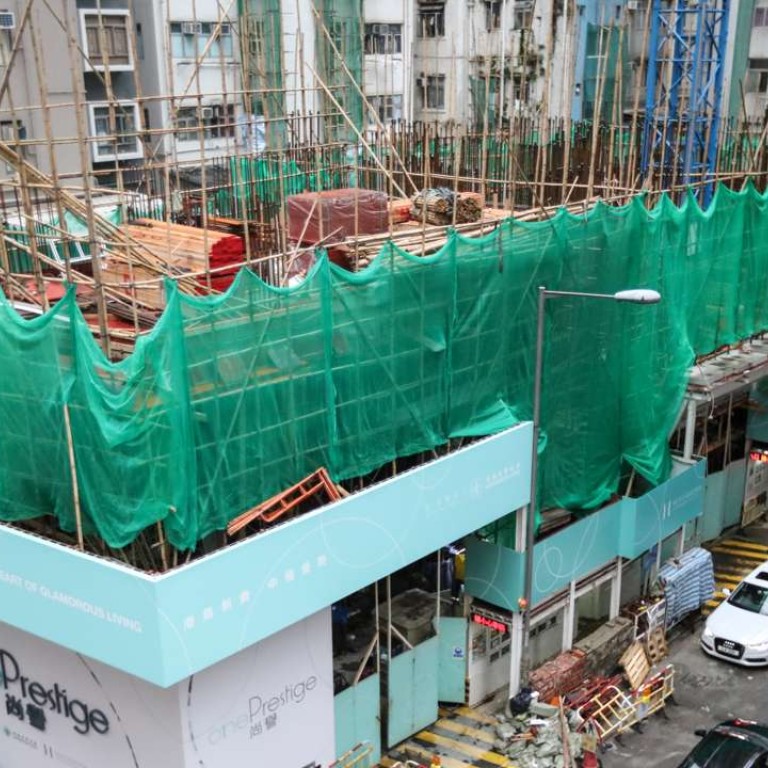 Hong Kong developers rush to build ever smaller homes, but buyer beware
As the old saying goes, "small is beautiful", but in the case of Hong Kong's shift to smaller flats, it could get ugly as far as investors are concerned.
At first glance, owning a small flat may be the only option for Hong Kong home buyers on a tight budget, especially after prices peaked late last year.
However, industry experts warn that while mortgaging a small flat may feel light on the pocket, it could turn into a financial disaster that burns a hole instead.
Henry Mok, regional director of capital markets at JLL, said most buyers of small flats have lower affordability and are somewhat reliant on favourable mortgage incentives and payment terms offered by the developers.
"Once the interest rate rises, these buyers will take the biggest hit," he said.
Last week, comments by US Federal Reserve officials raised concerns that a rise in interest rates could come as early as next month.
Undeterred, some of Hong Kong largest developers are building ever tinier units to meet a surge in demand for diminutive apartments, which have been registering the fastest growth.
Henderson Land Development
, Hong Kong's third largest developer, and controlled by tycoon Lee Shau-kee, unveiled on Tuesday its One Prestige project at Yuet Yuen Street in North Point.
Measuring 163 sq ft in floor area, the apartment will be the tiniest available on Hong Kong island when completed in August 2018. Each studio unit comprises a 60 sq ft bedroom that doubles as a dining area, a 20 sq ft bathroom, and an open kitchen. Half of the studio's available space is taken up by a standard bed measuring 6 feet by 4, plus a sofa.
Prices for the 33-storey apartment with 207 units have not been revealed.
However, One Prestige is not even the title holder for smallest unit size in the Hong Kong SAR.
That dubious honour goes to the AVA62 apartments in Jordan, north of Victoria Harbour in Kowloon. Each unit in AVA62, built by Wisdom Gaining, measures 152 sq ft, including a 21 sq ft balcony. Despite its size, AVA62 sells for about HK$20,000 per square feet, putting the average unit at about HK$3 million.
Oddly, Hong Kong's smaller apartments are selling much faster than bigger units measuring 1,000 sq ft, that are much sought after by mainland Chinese buyers.
As many as 5,000 small apartments will be completed every year until 2019, almost triple the average in the previous decade, according to a JLL projection in its Hong Kong residential sales report.
It said a total of 20,000 flats measuring 431 square feet or less are expected to come on the market during the period. According to the Rating and Valuation Department's private housing classification, a small, or Class A unit, is one measuring less than 431 sq ft
Nicholas Brooke, chairman of the Professional Property Services Group, believes the supply of new small flats may be more than the market expected.
"Given the success that developers are achieving with selling these smaller units, there is a risk that we are likely to (see) more and more developments focused on this sector of the residential market and JLL's estimate could well be exceeded," he said.
Under current mortgage rules, only flats valued below HK$4 million are eligible for a maximum loan-to-value ratio of 90 per cent.
But the trend, also encouraged by the government which put size restrictions on sites sold from 2011 to 2015 to increase flat supply, has further aggravated the lack of living space in Hong Kong, which has been the world's least affordable housing market for four years in a row, according to US consulting firm Demographia.
Brooke said it was undoubtedly not a healthy development. "But it is driven largely by affordability considerations. We should be seeking to try and cater for all stages of home ownership with an overall objective of responding to the aspirations of potential purchasers by encouraging developers to respond and move up rather than down the size chain," he said.
"If we have too large a stock of small units, and housing becomes more affordable over time, there is a real risk that they could become the ghettos of the future," he said.
Tom Gaffney, CBRE managing director for Hong Kong, Macau and Taiwan, believes the increase in the number of mini flats will reduce the share of medium sized units and reduce options for potential upgraders.
"As such a situation will force many households to stay in their current premises, it will also affect liquidity in the secondary [residential] market, further undermining transactions," he said. "This was on top of the austerity measures which have been discouraging upgrading and investment purchases in recent years."
Since the government imposed cooling measures in 2012 to crack down on speculation, sales of second-hand homes have plunged by more than 50 per cent to 4,400 deals from March that year to August this year.
In contrast to the lukewarm secondary market, most home seekers are flocking to the primary market which registered brisk sales of small flats priced between HK$2 million and HK$5 million.
Last month, Nan Fung Development sold 80 per cent of its 370-unit Ori development in Tuen Mun on the first launch day. The unit sizes range from 253 sq ft to 627 sq ft.
It was the best selling new project since Cheung Kong Property sold 450 new flats at Yucci Square in Yuen Long in November 2015. The 253 sq ft units were sold for HK$1.97 million after factoring in a maximum 20 per cent discount.
A buyer surnamed Chan said he bought two flats at Ori for a total of HK$4 million, according to Chinese paper Apple Daily. "It's hard to find new units costing about HK$2 million nowadays. One is for my son. I helped him pay the initial down payment so he only needs to take care of the monthly mortgage instalment in future. The other unit is for my own investment," he said.
Whether Chan's investment will generate a profit remains uncertain but those who entered the market earlier could see a better return.
A 165 sq ft unit at Mont Vert in Tai Po, currently occupied by a tenant, changed hands for HK$2.3 million, or HK$13,939 per square foot, in early August, according to data from the Land Registry. The buyer, who bought it for HK$1.4 million in 2014, earned a gross profit of HK$910,000 from the sale. The tiny flat is currently rented out for HK$6,500 per month.
Prices for Hong Kong island units under 341 sq ft in size are seeing the fastest growth, gaining 3.1 per cent month on month in July, compared to a 1.9 per cent increase in the overall market, according to data from the Rating and Valuation Department.
Small developers such as Hong Kong-listed property firm
Rykaden Capital
are also jostling for a slice of market share in the lucrative small flat sector. In December 2014 the firm won a government tender for a 2,920 square foot site, the size of a basketball court, at 7 Kwun Chung Street, Jordon for HK$194 million.
Rykaden built a 66-unit development, The Paseo, with each flat slightly more than 200 sq ft. Last year it generated more than HK$390 million in sales after all units sold out within a week for HK$5 million to HK$7 million each, or HK$25,000 to HK$30,000 per sq ft.
"The marketability for flats with a smaller price tag is certainly better than large flats," said Billy Hung, vice president of Rykaden Capital. "It is because banks have tightened the mortgage lending for large size flats."
Due to the good location, he said nearly 70 per cent of buyers were investors, while the balance were end users. "Among the end users, there are some born in the 90s who received financing aid from their parents. Some of them paid in cash," he said.
He said the firm had used as a reference the boutique size apartments in New York and Japan, which are sized from 100 to 300 sq ft.
"We spent a lot of effort to make the apartments more spacious, like giving up the balcony. The construction cost for a project with small flats will be more expensive. As each floor can squeeze in more tiny units, it requires more concrete walls to divide the units as well as more toilet bowls," he said.
This article appeared in the South China Morning Post print edition as: Tiny flats, big problems