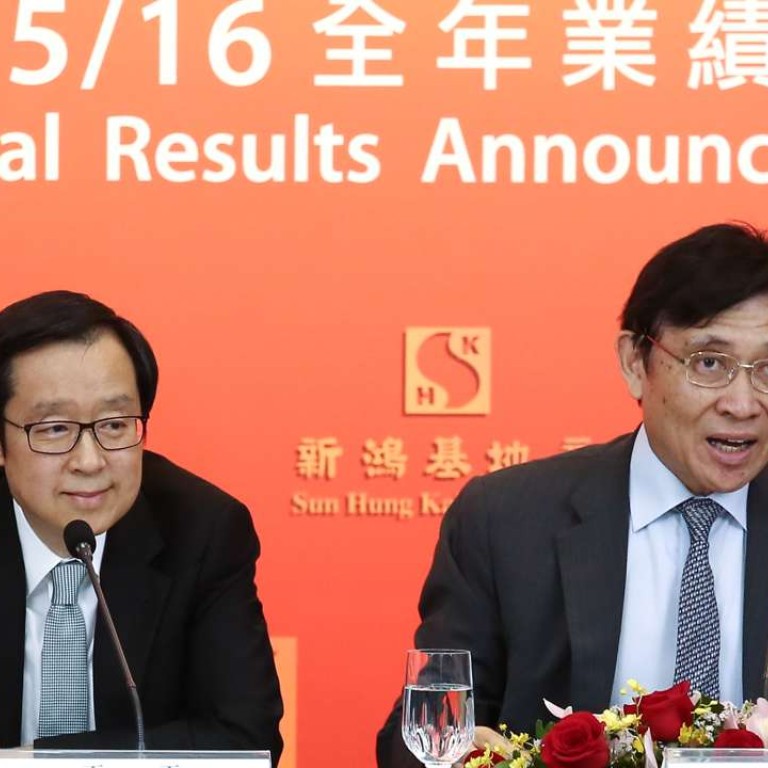 Hong Kong developer SHKP has no overseas expansion plans after reaching record HK$40 billion in contract sales
Developer reports a 22 per cent rise in core earnings to HK$24.17 billion for the full year to June
Sun Hung Kai Properties
, Hong Kong's largest developer by market value, said it has no immediate plans to embark on an overseas expansion after it achieved record contract sales of HK$40.7 billion for the year to June amid a property market correction.
"We will focus on Hong Kong and the mainland [property market]," said chairman and managing director Raymond Kwok Ping-luen.
His remarks come after
Cheung Kong Property Holding
s chairman Li Ka-shing said in August that "the [CK] group will also pursue other global investments to extend its reach in new business areas" given the challenges it faces in identifying investments with reasonable returns in the current cyclical stage in the property market.
Kwok said the Hong Kong property market has experienced several rounds of difficult periods since he returned to the city in 1978.
"As our recurrent income is growing, it will strengthen our position. The firm will maintain our dividend payout ratio of 40 to 50 per cent," he said.
Kwok hopes the government will release more residential and office sites for tender so that "developers will have more opportunities to participate in government land sales".
SHKP's former co-chairman Thomas Kwok Ping-kwong did not attend Thursday's media results briefing. He was convicted of offering HK$8.5 million in bribes to former No 2 government official Rafael Hui Si-yan and released on HK$10 million cash bail in July after having served 18 months behind bars.
"Thomas is busy preparing for the appeal which is scheduled for May next year. He can't return to the company before settling the appeal case," said Raymond Kwok, Thomas' younger brother. "Thomas always dines with [our] mother and is spending time with family. He always emphasises the importance of health and family."
Commenting on the performance of the third generation working in the company, Raymond Kwok said both Adam Kwok and Christopher Kwok are hardworking and full of passion and curiosity about their work.
"They are learning step by step... I have confidence they will catch up," he said
Christopher Kwok, the second son of Raymond Kwok and executive director of SHKP, made his first appearance at a company media briefing on Thursday. Adam Kwok, the son of Thomas Kwok, is also executive director.
Shares of SHKP rose 2.28 per cent and closed at a 52-week high of HK$120.8 ahead of the firm's full year results announcement.
It reported its core earnings for the full year to June 30 had climbed 22 per cent from the previous year, as profits from the Hong Kong and mainland property markets increased.
Excluding revaluation gains on investment properties, underlying profit came to HK$24.17 billion, or HK$8.37 per share, in line with the expectations of seven analysts polled by the South China Morning Post who forecast core earnings of HK$22.5 billion to HK$25 billion. The profit compared with HK$19.8 billion a year earlier.
SHKP said turnover was up 36.54 per cent to HK$91.18 billion from a year ago. SHKP's directors announced a final dividend of HK$2.8 a share, up 16.66 per cent from a year ago.
Eva Lee, an analyst at UBS, said SHKP had achieved its original sales target after accelerating its project launches.
"But its margin could be hurt by the lower pricing power amid a softening market," she added.
Victor Lui, deputy managing director, expects the firm could achieve the same sales target of HK$40 billion for the year to June 2017.

SHKP will have more than three million square feet of residential gross floor area, mostly small -to-medium sized flats, to be completed annually in Hong Kong over the next three financial years, Liu said.
This article appeared in the South China Morning Post print edition as: Record contract sales drive up earnings at SHKP