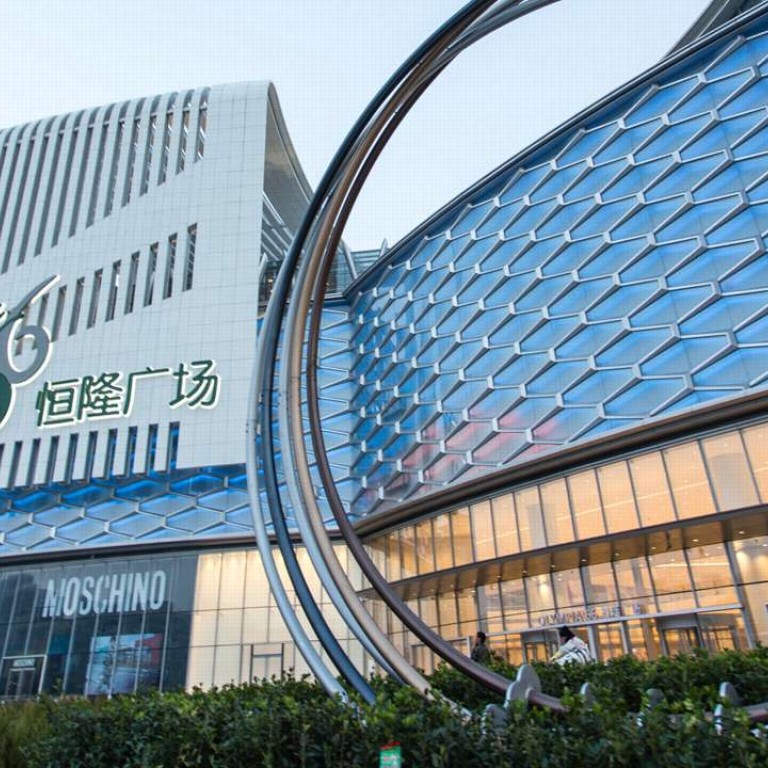 Hang Lung opens giant new Dalian mall at its "most difficult time" in 20 years
The 7 billion yuan, 220,000 sq m Olympia 66 is firm's largest yet in the mainland
Hang Lung Properties officially opened its largest shopping mall yet in the mainland on Friday, in northeast Dalian, despite a glut of large retail outlets, a flagging local economy and a fall in demand for luxury brands due to the country's ongoing anti-corruption campaign.
The high-end site, offering 220,000 square metres of retail floor space, is the company's eighth mainland mall, after others Shanghai, Wuxi, Tianjin, Jinan and Shenyang.
The new Olympia 66 is at the intersection of the city's most prominent thoroughfares. It features a 300-meter-long facade decorated with about 3,000 fish scale-shaped glass ornaments.
Speaking at the opening ceremony, chairman Ronnie Chan admitted the new mall was being launched at the "most difficult time" for his company in more than 20 years after it first started its mainland adventure in early-1990s. But he adding, that in the past that some of "the most difficult times have proved to be the best times" for Hang Lung.
The company's mainland rental revenue declined 4 per cent in the first half of 2016 to HK$2 billion, according to its recent interim results announcement.
Excluding the effect of currency movements, revenue rose just 2 per cent and net profit fell 3 per cent.
Chan insisted, however, that while the Hong Kong market had offered the best investment opportunities in the past 50 years, "the best over the next 20 to 30 years lie in the mainland".
JPMorgan Asset Management (Asia) Inc said in a research note after the company's interims that the occupancy rates of its malls in China were lower compared with Dec-2015 except Centre 66 (in Wuxi).
"The drop in occupancy and rental reduction for certain malls and RMB depreciation all led to a drop in China rental revenue," it added.
Billy Chau, head of investment for northern China at real-estate brokerage firm Savills, said: "There is no lack of malls in Dalian. The most prominent, Parkland, attracts much of the high-end demand in the city.
"Olympia 66 is well located, but it might find it hard to attract visitors, a particularly acute problem for a mall of 200,000+ square metres in size.
"Luxury brands are retrenching in China due to the anti-corruption campaign and high-end operators like Hang Lung are finding it difficult to attract brants to their ground floors.
"Wealthy people dare not buy (because of the campaign) while ordinary people can't afford to. But Hang Lung wouldn't compromise its tenant quality due to branding concern," Chau said.
The 5.9 million-population city's economy grew 5 per cent in the first half, against 6.7 per cent growth nationwide, and 1 per cent contraction in the wider Liaoning province.
Retail sales in the city fell 4.7 per cent in the same period, compared with 10.3 per cent growth nationwide.
C.F. Kwan, assistant director of corporate communications at Hang Lung, admitted the market for luxury brands is difficult, especially for jewellery and watches, and that's taken its toll on the company.
But he added the "worst times" may be behind it, and many of the country's top mall operators have become a lot more selective in their choice of luxury tenants.
He refuted the speculation that the company had actually delayed its latest opening because of the grim outlook.
Hang Lung bought the site in 2009, and Kwan said it is normal to take 5-6 years to complete a project of this size.
The Dalian project has cost the company 7 billion yuan to develop, and it has earned 50 million yuan in rental income since the start of its trial operation, in December 2015.
It claims to have 70 per cent occupancy, although the interim report revealed it to have 62 per cent at June 30. The vacancy rate for the ground floor is high, but is much lower on the higher floors.
As well as retail outlets, the building features theatres, fitness centres and "online-offline connections", within a marketing strategy officials are calling "experience, service and technology".
Elsewhere in the company's mall portfolio in China, Chan said Forum 66 in Shenyang still faces considerable downward pressure on rents, and that will take time to improve, while its other property in Shenyang, Palace 66, has seen a pickup in visitors and rental returns.
He said the Dalian site had performed "on a par with" expectation.
The company still expects to open further projects in Kunming and Wuhan, in 2018 and 2019.
Liu Yan, a restaurant chain operator in Olympia 66, said she was attracted to the city after the success of Hang Lung's Tianjin project.
Unlike other businesses, which have been hit hard by the emergence of e-commerce, she added that restaurants have been less affected.