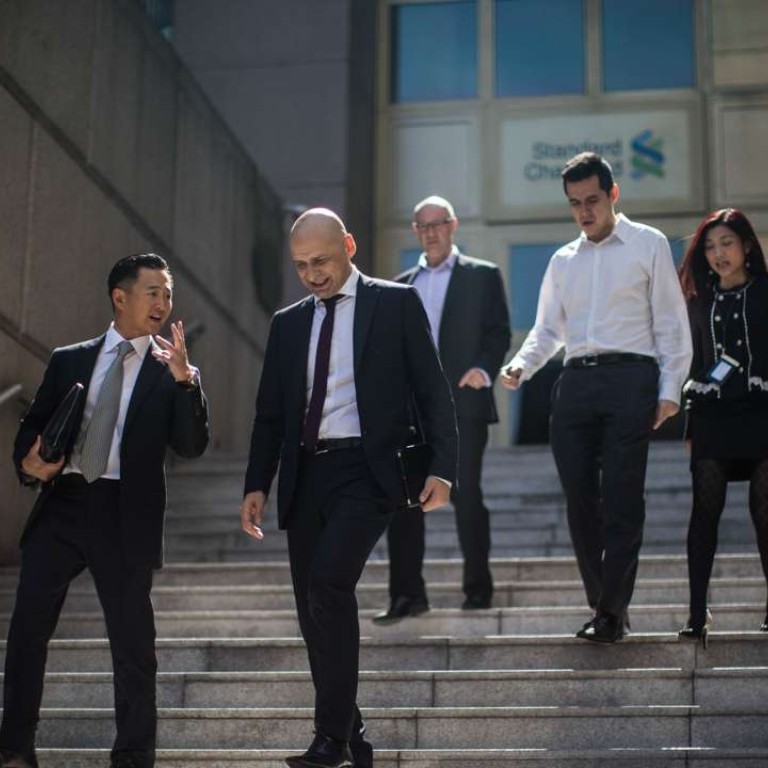 Banks in Hong Kong turn to hot desks to better utilise expensive office space
The owner of a prime office complex in the city's Central financial district says some banks have switched to hot desks for more efficient use of space as their finance teams become more mobile and location costs stand at historically high levels.
The trend is happening at the same time that global lenders such as HSBC and Standard Chartered are scrambling to lay out big cost cutting plans in the face of stalled economic growth as well as rising compliance related expenses.
"Certain banks are likely to launch hot desks, as a number of staff need to travel or have meetings from time to time and they may not need permanent desks," said Ada Wong Ka-ki, chief executive of Champion Reit, a Hong Kong-based real estate investment trust which owns Three Garden Road at the heart of the city's financial hub.
The glass and steel office high rise tower, formerly known as Citibank Plaza, is home to many multinational banking, legal and financial services firms such as the Industrial and Commercial Bank of China's Hong Kong head office.
"More and more banks in Central will launch hot desks to save space,"said Wong, a former Citibank and JP Morgan investment banker, who predicts that mainland companies will remain a pillar of support for the office market in the city's most prominent business district.
Mainland Chinese tenants, especially banks, securities and asset management houses expanding overseas, have been a key driver of demand for Central's Grade A office rental space in an attempt to secure prestigious locations and make "a bit of splash" in the market.
Mainland corporates account for about 21 per cent of the overall floor space leased in Central's Grade A office market, up from 10 per cent in 2009, according to a report by global real estate consultant JLL released in January this year.
"Given the tepid growth of foreign corporates in recent years, the uptick in mainland demand has been a blessing to landlords," the JLL report said.
In June, Grade A office rents in Central hit HK$107.4 per square foot, their highest level since the Global Financial Crisis in 2008.
Although property consultants such as Colliers International expect the price growth to stabilise due to a bleak global economic outlook, they said vacancy rates in Central still remain low thanks to slower but still active demand from mainland companies.
"Recently we keep seeing mainlandasset management firms coming into Hong Kong," Wong said.
However, market watchers including S&P Global Ratings warn of a slowdown in the city's office rental market as multinational corporations scale back operations.
Several major investment banks such as Bank of America, Goldman Sachs and BNP Paribas indicated earlier this year that they planned to lay off staff amid a sagging global economy and stock market volatilities.
In Hong Kong, Bank of East Asia said in June it would eliminate 180 jobs, or 3.8 per cent of its total workforce, to reduce costs and consolidate operations.
The need for cost efficiency is seeing more financial services firms worldwide adopt desk sharing, especially those that have considerable space that is under utilised because their staff are often travelling or attending outside meetings.
Wong said the hot desking trend can be seen in evidence at the club-house like event space occupying an entire floor of Three Garden Road, where some executives in suits and ties were spotted working on their laptop computers while others were chatting over coffee.
Although acknowledging that "the demand shrank a bit" after some companies moved out of prime Central locations and more banks set up hot desks, Wong said that the additional vacancies won't do much to meet the growing demand from mainland clients.
"The mainland companies value Central as a location that can boost their reputation," Wong said. "Hong Kong is integrating closely into China and the mainland firms' 'renting spree' is going to become a long term trend."
This article appeared in the South China Morning Post print edition as: Hot desks can help companies to cut office costs in HK