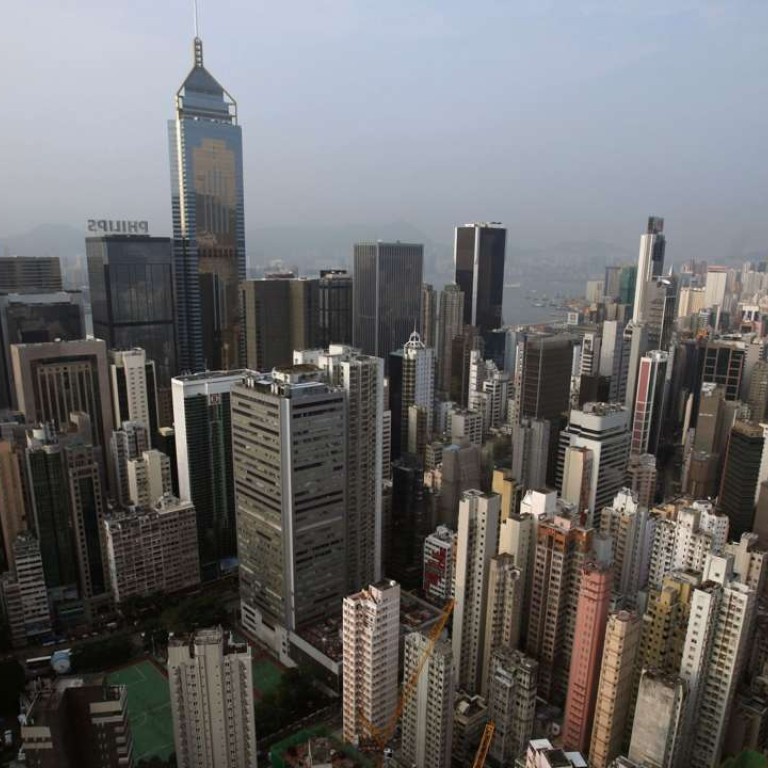 New
Hong Kong office space is the most expensive in the world, at nearly double New York rates
Knight Frank's Skyscraper Index places Hong Kong at the top of 31 leading cities surveyed, with office lease rates 76 per cent more expensive than runner up New York
Hong Kong has retained its title as world's most expensive office leasing market and is expected to stay on top for the forseeable future, according to a report released Thursday.
Hong Kong ranked No 1 in a survey of 31 cities around the world, with prime office space leasing for an average of US$278.5 per square foot per annum, according to Knight Frank's Skyscraper Index, which compiled figures for the 9-month period ended June 30.
It's the second year running that Hong Kong has come out on top of the Knight Frank index, which debuted in 2015.
Office lease rates in the city are 76 per cent higher than runner up Manhattan, New York, where top-grade office space fetches an average of US$158 per square foot per annum.
Tokyo, London and San Francisco rounded out the top five places, while Shanghai and Beijing made it into the top 10. Shanghai experienced the strongest growth in office rental rates in the first six months of the year.
For US$100 million or HK$775.8 million, a potential buyer can get 13,966 square feet of prime office space in Hong Kong - significantly less than the second most expensive city to buy, Tokyo, where the same amount of money can get a buyer 32,694 square feet, according to prime capital values from the second quarter this year.
Mainland Chinese companies expanding into Hong Kong were the main factor pushing up prices, as they made up 64 per cent of all prime office leasing transactions, the report said.
"Hong Kong is increasingly being used as the first stop for Chinese outbound capital and a springboard to world markets," the report said.
Hong Kong was likely to continue seeing the highest prime office rents for the foreseeable future – at least the next three-to-five years – owing to its huge lead and the consistent demand for space from new companies setting up shop in the city, Knight Frank senior director Thomas Lam said.
"I don't see any other cities that can compete with Hong Kong rents. But I can't say it's forever."
Hong Kong's rents are forecast to increase 4.5 per cent each year between 2015 and 2019, but the city doesn't need to worry about the high rents scaring businesses away, Lam told the Post.
"I don't see them moving away, they just move to other areas in Hong Kong," he said.
High prices in the central business district will see businesses moving to Kowloon East, which is expected to become Hong Kong's second central business district, surpassing Central Hong Kong's level of Grade-A office stock by 2020, Lam said.
Ricky Lau, senior director and head of office leasing at Savills, agreed that expensive rents would not put off businesses coming to Hong Kong as the city had a wider rental range available than other Asian cities, from cheap offices to sky-high rents.
"You can opt for a humble rent if you don't mind staying in other districts," he said. "It's not every building [where we are] talking about such a high rent."
A spokesman from InvestHK, a Hong Kong government organisation which works with businesses wanting to set up in the city, said foreign companies would consider a number of factors including rental price.
"More importantly they will look at the long term business prospects of the city. Hong Kong, with the unique advantage of being the gateway to the mainland economy, has continued to appeal to foreign companies and will continue to do so," the spokesman said.
Hong Kong faces an office space shortage over the next four years with an estimated shortfall of around 2 million square feet by 2020 – equivalent to Hong Kong's 88-storey Two International Finance Centre, the Knight Frank report found.
Other Asia-Pacific cities are likely to see faster growth in leasing rates over the period, with Sydney and Shanghai to gain 27.5 per cent and 19.2 per cent growth respectively, according to the report.
The success of e-commerce and technology companies are behind Shanghai's growth, with companies moving from the city's outskirts to more traditional premium locations as business takes off.
"Maybe [Shanghai] has found its own niche, apart from being the financial centre of China," said David Ji, Knight Frank's head of research of greater China.
The trend is expected to continue, with the number of technology, media and telecommunications employees in Shanghai to increase from 350,000 in 2015 to 400,000 in 2020, he said.
But Ji said Shanghai would be under pressure from tech hub Shenzhen, which was not included in the report.
Separately, the world's largest provider of serviced offices, Regus, still has a growth strategy in Hong Kong and plans to open a new location at Windsor House, Causeway Bay, in the coming months, said Natina Wong, the company's manager for Hong Kong.
This article appeared in the South China Morning Post print edition as: hk 'most expensive' to rent offices