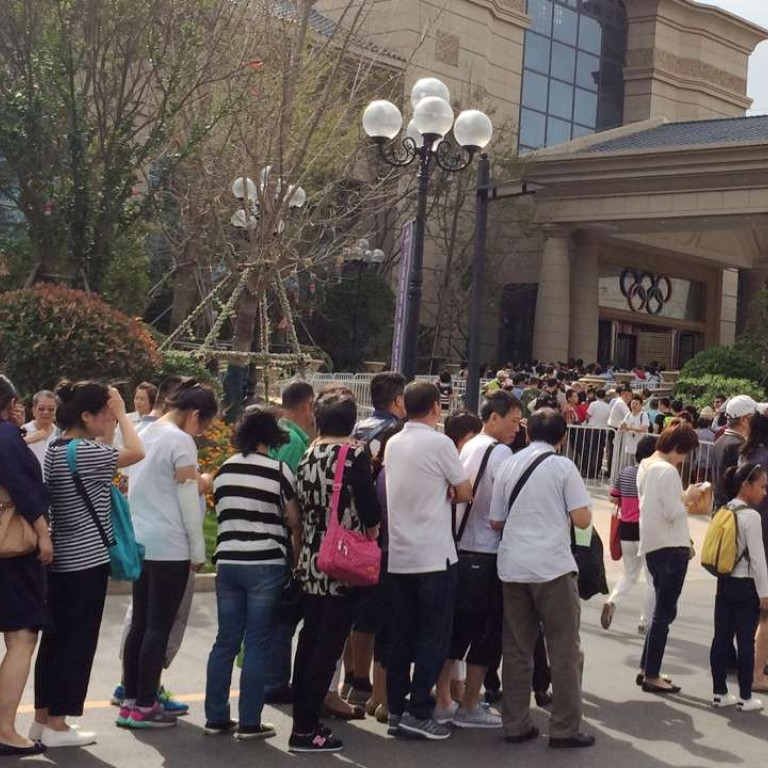 Shanghai investors rush to buy homes China Evergrande's project near Chongming Island
Ordinary Shanghainese, unable to afford the city's spiralling home prices, are looking for bargains out of town
Hundreds of investors and retirees from Shanghai swamped
China Evergrande Group's
sales office in Qidong, Jiangsu province, as the developer launched a new batch of homes at its Sea Venice project on Thursday for as little as 350,000 yuan.
Drawn by prices that are a fraction of those in Shanghai, hoards of potential buyers undertook the two-hour journey from the city on 75 coaches laid on by Evergrande as the developer released 500 new units at an average price of 6,100 yuan per square metre. The latest homes at the tourism-cum-residential development ranged in size from 50 to 140 square metres and are due for completion in 2019.
About 90 per cent of the new units had sold within three hours of the sales office opening at 10am, with all of the smaller apartments being snapped up in the first hour. Only larger units of 130 to 140 sq metres, costing 800,000 to 900,000 yuan, remained unsold in the afternoon.
"For this amount you cannot buy four square metres in Shanghai city centre, where it costs 100,000 yuan per square metre," said Zhang Fan, who runs a small restaurant in Shanghai.
He had bought a 60 sq metre property in Sea Venice for about 400,000 yuan, which he intends to use as a holiday home before selling it on for a profit when a proposed high-speed train commences services to Chongming.
Prices at the project have already increased rapidly. Fan said his friend bought a similar sized property - part of a previous batch released for sale - for 300,000 yuan earlier this year.
The buying mania at Sea Venice came less than 48 hours after two other first-tier cities - Shenzhen and Guangzhou - rolled out a raft of new measures to cool home prices by raising minimum down payment requirements and introducing a more stringent threshold for non-locals to buy properties.
Alan Jin, a property analyst at Mizuho Securities, said: "They [buyers] were not so keen until this year. The project has been for sale for many years but sales in the past were lukewarm.
"But buying an apartment in Shanghai has become so unaffordable for the general public, and Evergrande's Sea Venice has a big selling point of a low price starting at 350,000 yuan. This is an affordable investment for ordinary Shanghainese."
Located at Qidong, Jiangsu has no restrictions on home purchases, said Wang Fung, a sales agent at Evergrande's exhibition centre.
With such a small lump sum required, 80 per cent of units in the development were sold to buyers in Shanghai, he said, while some of the remainder were bought by people from Hong Kong , Japan and the United States.
Jin believes the recent buying fever in the mainland may place more pressure on Beijing to curb price growth. "The intense tightening measures announced by the local governments in the last few days means something," he said.
Joe Zhou, head of research at JLL, said Shanghai's government had ordered the cancellation of a property exhibition and trade fair on October 1 with the aim of discouraging buyers and damping soaring prices.
"The market is flooded with capital and has limited investment alternatives," he added. "Investing in real estate is still the most favourable option among investors."
Fuelled by spiralling land prices and a limited new supply of flats, home prices in Shanghai in August advanced 5.2 per cent month-on-month, or 37.8 per cent year-on-year, the fastest monthly growth among first-tier Chinese cities, according to the National Statistic Bureau.
Zhou said prices in Shanghai city centre had reached 100,000 yuan per sq metre.
"Cash-rich investors have been rushing to neighbouring cities such as Jiaxing, Hangzhou, Suzhou and Wuxi to look for a bargain," he said. Prices in these cities - within one hour by high-speed train from Shanghai - have surged more than 20 per cent in a year, he said.
On Monday, Chengdu, Jinan, Wuhan and Zhengzhou announced new restrictions on property purchases. Other cities including Tianjin, Hefei and Suzhou also recently rolled out countermeasures to limit purchases as property prices jumped.
Albert Lau, chief executive of Savills China, predicted that prices would jump sharply two years after every new set of cooling measures was introduced by the mainland authorities.
"It becomes a self-fulfilling cycle. Shanghai is China's finance centre, so people across the nation will invest here when they become rich," he said.
Lau said increasing the land supply is the long-term solution to containing price growth. He said there was a looming property bubble everywhere on the mainland as a result of a home buying frenzy.
"But the question is will, or when will the bubble burst? Home prices may dip after a rapid increase. It may help to lose some air ," he said.
This article appeared in the South China Morning Post print edition as: Evergrande's cheap island living draws hundreds Hundreds in line for Evergrande project