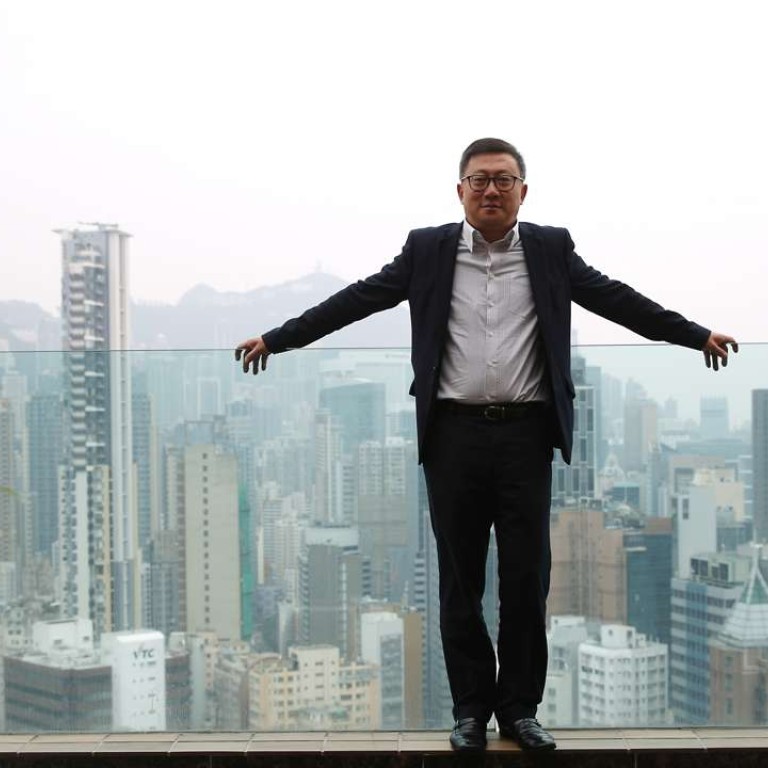 Hong Kong hotel market still has enough room for growth, says Magnificent Hotel chairman
Company looking to expand overseas presence with more hotels in London
William Cheng Kai-ming had always been inspired by the tall buildings and skyscrapers that dotted the Hong Kong skyline.
Perhaps it was that love of buildings and the passion to excel that led him to a career in the Hong Kong real estate industry – the most lucrative market in the world as the densely populated city always faced an acute shortage of land.
Though Cheng did find his passion, he realised that it was not easy for small developers to survive in an industry that was dominated by heavyweights, especially those who could afford to pay big premiums to the government. During the last three decades, he saw just 20 per cent of his peers still in operation.
Unfazed Cheng decided to change tack and venture into the less competitive markets like hotel development. Though the intervening years have been a mix of good and bad times, the 54-year old Cheng, chairman of Magnificent Hotel Investments, said his faith in the hotel market at home and aboard has remained largely unchanged.
Starting with just one hotel, Magnificent now has eight properties and 2,500 rooms, including the recently acquired 408 room Travelodge London Kings Cross Royal Scot Hotel in London.
Cheng says that rather than the ten fold growth in net asset value to HK$10 billion, he is proud of the fact that Magnificent is now recognised as an important hotel company in Hong Kong.
During the first eight months of this year, tourist inflows into Hong Kong fell by 6.4 per cent to 37.29 million from the same period a year ago, according to data from the Hong Kong Tourism Board. Out of this, mainland tourist numbers – accounting for 76 per cent of the total travellers visiting Hong Kong – dropped 9.2 per cent for the period from January to August.
Overnight visitors from the mainland – the main source of hotel guests – declined by 5.5 per cent during the period, while the remaining were same day visitors.
However, the tough operating environment has not sapped Cheng's zeal and passion for investment at home and aboard.
What are your future expansion plans in the hotel market?
Currently Magnificent has a healthy cash position and a portfolio worth HK$10 billion comprising of eight hotels. Out of this six are in Hong Kong and one each in Shanghai and London.
We are in an advantageous position as we have enough cash in hand to expand when suitable opportunities arise. We are also actively seeking hotel acquisitions opportunities to bolster our footprint in Hong Kong. In the overseas markets, we plan to step up our presence in London to five hotels over the next five years.
The hotel market has been facing tough times due to the sharp decline in tourist numbers and falling room rates , amid growing pressure to attract more customers. How is it that you still remain optimistic about the market outlook?
The incredible success of the hotel industry in Hong Kong comes from the sheer numbers, or rather the 26.68 million overnight visitors it had last year. That is far more than Thailand's 21 million and UK's 19 million visitors.
But to maintain the growth momentum this year, it is important that we significantly boost the number of overnight visitors from the mainland. There are already signs that this market is making tremendous improvement due to the huge drop in "zero-fee" tour groups (where tourists are forced to make purchases). The travellers coming in now are individual travellers who can really boost local retail sales.
How do hotels benefit from the change in traveller profiles?
Changes in the traveller profile are important as they help gauge the future growth potential of the hotel industry. The steady growth in the number of mainland tourists, especially overnight/frequent individual travellers is proof of the continuing attractiveness of Hong Kong.
Those who say that Hong Kong has lost its attractiveness are wrong and naive. We have already seen 18 million overnight tourists coming from the mainland last year under the individual travel schemes in 46 mainland cities. Overnight tourists from the mainland could rise to 50 million a year if the rule is extended to more mainland cities in the future. This is also the key for a bright tourism future in Hong Kong. I believe that one day the restrictions would be lifted.
Have your hotels been affected by the tourism downturn?
Not really. During the National Day golden week holiday, our hotels enjoyed 100 per cent occupancy on October 6 and 7, while hotel revenue increased by 50 per cent on October 1 and 2. So far this year, we have achieved 99 per cent occupancies, far above the industry's average of 88 per cent.
In May, 2013, Cheung Kong (Holdings), now renamed as Cheung Kong Property, had been forced to cancel the HK$1.4 billion sale of 360 hotel units at its Apex Horizon project in Kwai Chung after Securities and Futures Commissions found the deal to be in violation of laws.
The SFC investigation had found that the hotel unit sale was a collective investment scheme (CIS) – a project involving a group of small investors. To do this under local laws, Cheung Kong must first seek SFC approval for promotional documents to make sure that they disclose all investment features and risks before any sales. Do you think your proposal for sale of hotel units may not be accepted by the SFC and the government?
Now, the market is different from three years ago. Today, there is a great demand for tiny flats.