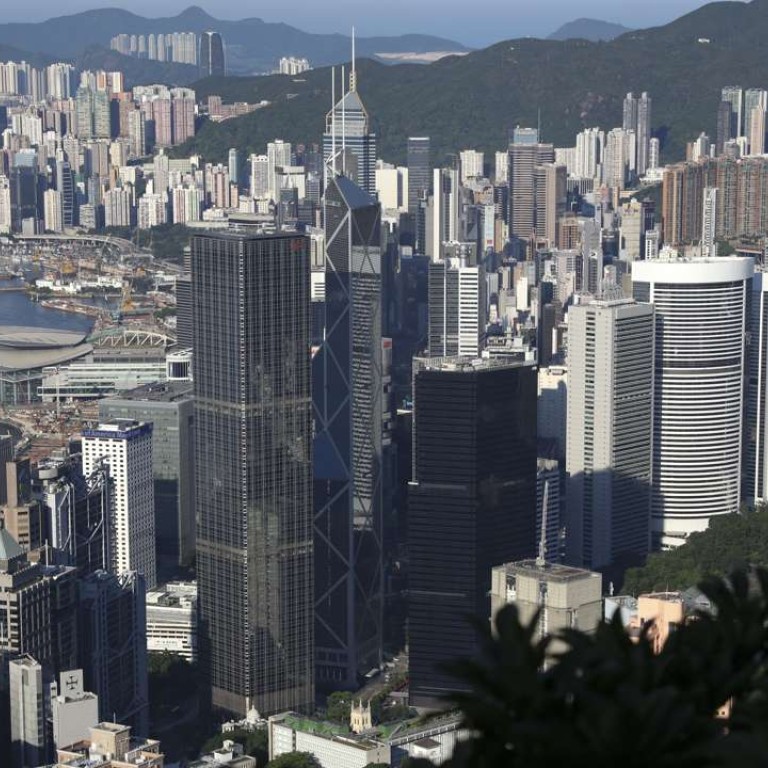 Mainlanders snap up Hong Kong luxury homes as China tightens market restrictions
Chinese investors are also being drawn by developers' incentives such as stamp duty rebates, according to property agents
The pace at which mainland capital is flowing into Hong Kong's luxury residential market has increased after more Chinese cities introduced or tightened curbs on house buying, according to industry experts.
For the first two weeks of this month, realtors said about 30 per cent of Hong Kong's new luxury homes were purchased by mainland buyers. According to data from Centaline Property Agency, mainland buyers accounted for 14.8 per cent of total home sales in the second quarter of the year.
"Mainland investors have started to look for investment alternatives as property prices soar in most Chinese cities. The trend became obvious after the Chinese government stepped up tightening policies to dampen buying desires," said Louis Chan Wing-kit, managing director of Centaline's residential department.
Lured by an array of incentives being offered by Hong Kong developers, such as discounts and stamp duty rebates, Chan said mainland investors were focusing on buying homes priced above HK$30 million in new projects.
Recently, mainland investors have snapped up 20 to 30 per cent of the units on sale in two new luxury residential projects - Marina South in Aberdeen and The Zumurud in Ma Tau Kok.
In addition, a mainland developer was in talks to buy collection of villas offered by Shun Tak in Chung Hom Kok, Stanley, for HK$1.8 billion, according to sources familiar with the matter.
Buying momentum from the mainland has accelerated amid a tightening of restrictions on home purchases nationwide as the authorities try to cool the sizzling property market. Starting with Beijing on September 30, the eve of National Day and the beginning of the golden week holiday, more than 10 cities imposed restrictive measures ranging from raising down-payment requirements to barring non-local buyers, in the space of seven days.
Including those that had already introduced cooling measures, a total of 21 cities now have buying curbs in place, a drastic increase from just eight cities a month ago.
Chan said most Hong Kong developers would offer stamp duty rebates to encourage non-permanent residents including mainlanders to invest.
"It's bound to reduce the transaction cost," said Chan.
Since the Hong Kong government rolled out its own cooling measures to contain price growth in February 2013, buyers who are not permanent residents of Hong Kong face a maximum 8.5 per cent double stamp duty (DSD), compared with the 4.25 per cent paid by locals, when purchasing properties in the city.
On top of this, a 15 per cent Buyers' Stamp Duty (BSD) is charged to both corporate and non-permanent residents who made property purchase after October 27, 2012.
In the absence of developers' tax subsidies, Chan said mainland buyers have to pay as much as 23.5 per cent tax, which would dampen demand.
Chan said mainland investors' enthusiasm for buying overseas properties was also being fuelled by low interest rates and the depreciation of the yuan.
David Ji, head of research and consultancy for greater China at Knight Frank, said the Chinese authorities are likely to impose further restrictive measures to contain the red-hot property market in the mainland.
"Rich people are parking their capital overseas whenever opportunities arise. We felt individuals or corporates in the mainland have expressed interest in buying properties in Hong Kong," he said.
He said today's mainland buyers know the Hong Kong market very well, and are tending to go for developments in traditional luxury addresses built by major developers.
"They no longer pursue blind investments. Today, mainland investors study the market and identify where could provide the best investment return," he said.
Luella Guo, an analyst at Bocom International, said that according to Inland Revenue Department figures, the number of DSD and BSD registrations in September were 4,317 and 250, respectively, the highest since June, 2015.
"We believe the increase was mainly due to more new supply and stamp duty rebates provided by the developers," she said.
Guo expects the amount of DSD or BSD transactions to grow further in the next two months, given the increasing number of mainland buyers investing in recent new launches such as Marina South.
This article appeared in the South China Morning Post print edition as: Mainlanders step up buying pace