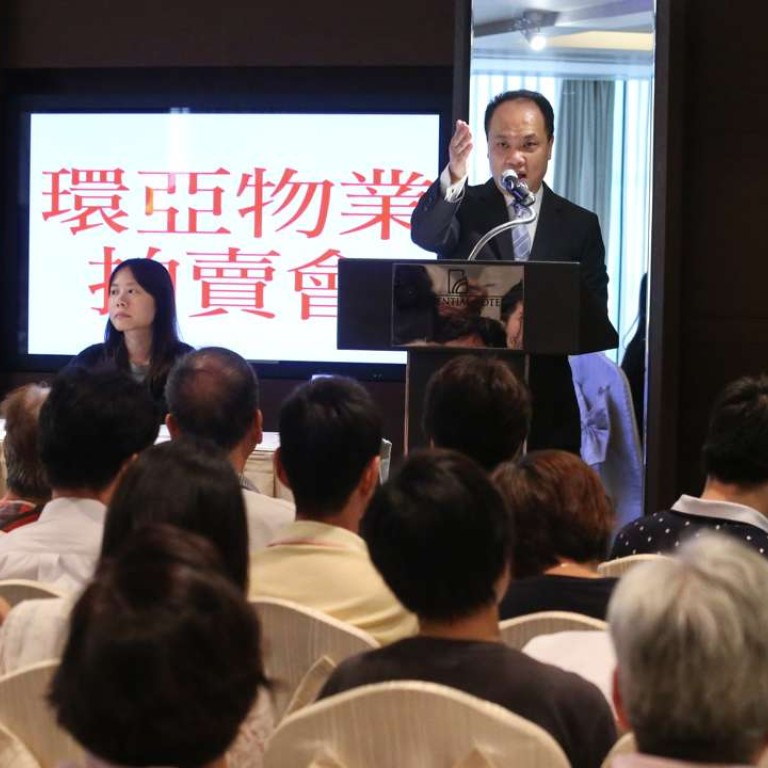 Luxury flat at 39 Conduit Road withdrawn from sale after bids fail to meet reserve price
The distressed flat at the luxury 39 Conduit Road luxury development in Mid-Levels has been withdrawn from auction on Tuesday after bids fell short of the reserve price, the auctioneer said.
The 2,355 square foot Unit A on the 39th floor received an opening bid of HK$105 million, about 22 per cent lower than what the buyer paid in 2014.
A second bidder for the luxury apartment offered HK$108 million, or HK$45,860 per square foot.
Auctioneer Tsang Kit-chun, who is also the managing director at AA Property Auctioneers, decided to withdraw the property from sale as the bids were "below the reserve price".
Vincent Cheung, executive director for valuation and advisory services in Asia at Colliers International, attributed the failure of the auction to the creditors' high asking price.
"People go for distressed assets because they want to pick up bargains. These properties were being foreclosed largely because the owners were caught in financial difficulties. Due to the Fung Shui, most buyers are unwilling to pay market prices," he said.
Tsang said a second auction for the property would be scheduled for November 8.
Cheung said the distressed flat at Unit B, also owned by the same owner, sold for HK$108.3 million in an auction in April.

The poor result is in stark contrast to recent buoyant sales of luxury residential project launches.

Wheelock Properties said it had sold 10 units, with sizes measuring from 4,254 sq ft and 4,569 sq ft, at its joint venture luxury residential development, Mount Nicholson, on The Peak, at an average price of HK$73,556 per square foot. The developers had pulled in sales revenue of HK$3.2 billion when the tender closed on October 17.
Angela Leong, the fourth wife of casino tycoon Stanley Ho, bought four units at Mount Nicholson for a total of HK$1.3 billion.
Tsang said the reserve prices of foreclosed properties have been revised upwards in view of an overall improvement in market sentiment.
"Distressed properties are no longer offered at big discount now," he said ahead of the auction.
In 2014, two adjoining flats, Unit A and B, on the 39th floor were sold to United Asia Properties Development and United Sunrise Properties, which are owned by mainland businessman Ying Cong, for a total HK$270 million.
The owner refinanced the Unit A six times to secure HK$93 million, and ploughed the money into even more properties and securities markets.
The 2,476 square feet unit at Unit B on the 39th floor, featuring four bedrooms and a car parking space, was sold for HK$108.3 million through auctioneer Century 21 Surveyor, which had been asked by the creditor to conduct the auction in April. The selling price was 19.7 per cent or HK$26.6 million below the HK$134.9 million price paid two years ago.
This article appeared in the South China Morning Post print edition as: Luxury flat at 39 Conduit Road withdrawn from sale