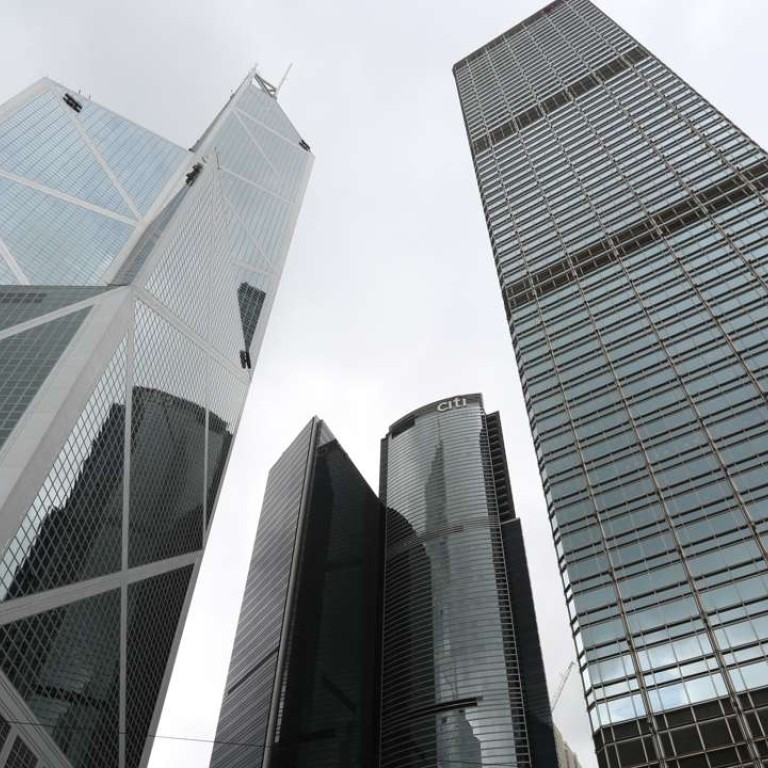 Looking beneath the surface of Hong Kong's architectural landscape
New book traces city's transformation over the years from a tiny island to a modern urban metropolis
There are those who would knock Hong Kong for steamrolling through the past 50 years of urban development: Charlie Xue Qiuli will have none of it.
The trained architect, City University of Hong Kong professor and author of 12 books on Hong Kong architecture thinks our urban planners and architects have done a decent job of the fishing village-to-urban metropolis transformation, and his latest book, a retrospective of half a century of architecture in Hong Kong, explains why.
"I wanted to fill a gap," the author says, about Hong Kong Architecture 1945-2015: From Colonial to Global, his fourth book in English (the others are in Chinese). "There are very few English-language books on architecture in Hong Kong, and most of them are by foreign scholars who know the tangible buildings, but they don't know the internal story."
This story, as Xue tells it, begins as another chapter in Hong Kong's history – the Japanese invasion of 1941–1945 – closed. Following liberation by the British, the city was flooded with refugees and a population devastated by war began to swell. People needed housing, and they needed jobs. Mass-construction was the answer to both. Thus began decades of rapid urbanisation, which Xue views as architecture's equivalent to "crossing the river by touching the stones" (a reference to late Chinese leader Deng Xiaoping's famous saying, loosely interpreted as learning as you go.)
"Hong Kong architecture post-1946 was shaped by government policies, local, social and technical forces, and products created by local and expatriate planners, architects, and builders," he says. "The tiny island took its own path apart from the UK and China. Hong Kong's architecture is the result of a pragmatic economy and property speculation, and is free from political ideology. The independence and uniqueness of its built environment was – I felt – worth exploring."
Immediately after the war, the priority placed on settling the refugees gave rise to large-scale public-housing developments, and community infrastructure such as hospitals and schools. Proceeding with such haste meant that many buildings would be demolished after only 30 years, and those that remained could hardly be regarded as among Hong Kong's finest.
However, the book notes that "an obvious demarcation line can be drawn in 1971", when Hong Kong's own economic miracle was beginning. As private investments surged into this newbie territory of the free capitalist world, manufacturing moved to the mainland, and the space freed up by disused factories gave way to office towers.
Writes Xue: "To support these changes, skyscrapers designed by international architects were erected to soar over the central business district (CBD). Landmark buildings served as headquarters for multinational companies, and were glorified as physical landmarks."
"Old school" architecture firms like Palmer & Turner and Leigh & Orange were already long established, but according to Xue, clients, led by HSBC, were demanding international design expertise. This led to the construction of some of the city's most iconic buildings: the Hong Kong Club by Viennese-born Australian modernist architect Harry Seidler, completed in 1984; the prism-like Bank of China Tower by Chinese-American architect I M Pei (completed in 1990); and Norman Foster's famous HSBC headquarters (completed in 1985).
With the quality of Hong Kong's cityscape now defined, the late 1980s onwards began to shape "everything we see today," Xue said, citing MTR mixed-use developments, satellite CBDs outside of Central, and the creation of new towns. In tandem, the core financial district further evolved, with construction of landmark buildings like the Lippo Centre, designed by American architect Paul Rudolph, and Exchange Square by local firm Palmer & Turner (P&T).
Xue also credits Hong Kong's own "men of ambition and insight" for their architectural contribution: tycoon Li Ka Shing, who built the first curtain-wall building in Hong Kong (China Building, in Central, 1978, by Wong & Ouyang), and Kwok Tak Seng, founder of Sun Hung Kai Properties, which built one of Wan Chai's early skyscrapers, the Sun Hung Kai Centre, in the early 1980s, and would go on to develop the IFC, by US architect Cesar Pelli and Rocco Design, and the ICC, by KPF.
Thirty years after its construction, the Foster-designed HSBC headquarters, Xue says, is still Hong Kong's most significant and symbolic landmark, because it marked a turning point in the city's architectural evolution. He rates the Kowloon Station complex, by British firm TFP Farrells (which also designed the Peak Tower), as the most remarkable construction of the recent era, viewing it as a model of high-efficiency land development.
One change Xue would like to see on the city's architectural scene is more support for creative design among private developers, to shift the focus from maximising profit.
Hong Kong, he says, has proved to the world that high-density living can be both functional and enjoyable for urban populations, if it is skilfully designed. The city's architectural firms are now so well-staffed with local talent that they are no longer so reliant on foreign expertise, but as cities globally reach out to touch their own stones, they could well look to Hong Kong for paving the way.
This article appeared in the South China Morning Post print edition as: Glimpses of the journey that shaped modern landmarks