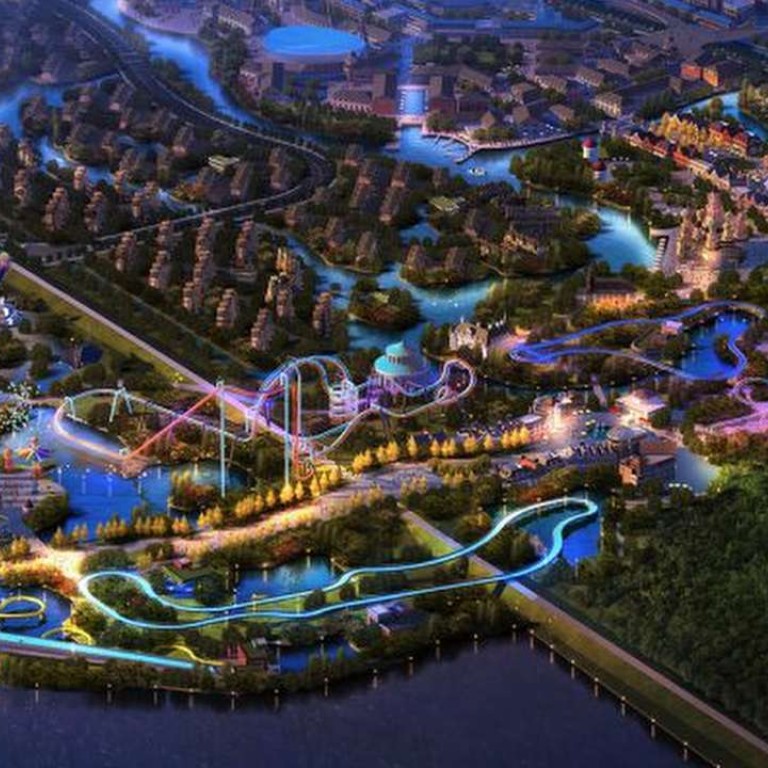 Theme parks, pension homes and malls: China developers turn to niche projects as cooling measures dim outlook
'Specialisation' and 'niche' are the new industry buzzwords as property firms seek ways to add value
Amid heightened government controls on the property market and a dimmer outlook for the sector next year, talk of "transition" and "differentiation" has resurfaced among China's real estate developers.
Discussion about shifting away from homebuilding toward providing property services have dominated every recent industry conference in Beijing and Shanghai, while every developer suddenly seems to have a plan to target niche markets.
The sector is no stranger to the concept of differentiation: when property sales plunged in 2014, many developers announced or accelerated their plans to "diversify".
China Evergrande Group, for example, took the opportunity to launch its grain, oil, dairy products and bottled water business. Then this September, as its home sales bounced back, surpassing 300 billion yuan on a bull market, it quietly sold off those businesses for 2.7 billion yuan.
"I attended the Bo'ao [Economic] Forum every year," Yi Xiaodi, chairman of Sunshine 100 Real Estate Group, said at a recent Caixin Summit. "Last year when the market was not good, developers talked up 'transition'. This year as the market rallied, it was replaced by talks of 'hitting a sale record of 100 billion yuan'."
However, this time around the meanings of transition and differentiation have changed.
Fewer developers are considering "diversification" into entirely new sectors now, aware that homebuilding is what gives them their most important competitive edge.
The industry's new buzz words are "specialisation" and "niche"; instead of building featureless homes for the mass market, they are increasingly aiming tailored products at specific groups.
Zhong Bin, secretary-general of China Real Estate Chamber of Commerce, said specialising while maintaining the core homebuilding business is paramount to success.
"If you can't do well in this [property] market, how can you expect to do well in other markets?" he said.
Many analysts see China's residential property sales growth slowing in 2017 amid a tightening of market restrictions introduced by the government to rein in run-away home prices.
Zhong said there are two options for developers who aspire to survive and flourish in a changing property environment. One is to plough resources into the pre-owned home market; the other is to identify a niche market, and service that group. This could be senior-living communities for pensioners, education towns for middle-class parents, communities rife with sports facilities for exercise lovers, or resorts facilities for holidaymakers.
Hangzhou developer Greentown Holdings, for example, has vowed to build several town-sized communities that will integrate hospitals, schools, senior-care centres and farms.
Song Weiping, Greentown's founder, said he would focus on this sector after he sold the equities he holds in other subsidiary businesses to Greentown Holdings.
Song said Greentown began to build its name-sake primary and middle schools long ago. Many homebuyers choose Greentown's projects specifically in order to ensure a place for their children in its schools.
The senior-care community sector has been drawing in major developers such as China Vanke and Poly Real Estate, as well as big insurance firms.
Vanke last week unveiled a plan to build a portfolio of senior-care flats, rental apartments and service centres in the Yangzi-River Delta.
Tourism and entertainment is another hot area. Riverside Investment Group, for example, has in the past two years partnered with the American theme park brand Six Flags to build a massive complex in Haiyan, near Shanghai. The two have agreed to build another one in Chongqing.
Zhang Xiaomei, CEO of Riverside, said:"In the old days developers could earn big simply by selling flats. But the needs of the people living in the flats were ignored.
"Today, when Riverside plans a project, the first question we ask ourselves is, who is our customer? What's their consumer habit?"
Having identified its consumer group, Riverside is able to transform a land bloc - usually an inexpensive one, away from the city centre - into a tourism hub, a departure from the traditional business model of acquiring an expensive plot in an urban area, according to Zhang.
Wanda Group has also adopted this strategy, rapidly replicating its Wanda City theme parks across China.
Many developers, including Landsea Green Properties and China Jinmao Holdings Group, differentiate their products by incorporating "green" elements, such as smog purifiers, noise reduction and energy-saving systems. By featuring its green technologies, Modern Land for example, is able to charge a 13 to 20 per cent premium over 'ordinary' homes nearby.
China Vanke is ramping up its investment in the green field too. In a recent product launch conference, Vanke's managers touted several new innovations in their residential properties designed to cut humidity in the summer and increase it in winter - a solution to a common problem in northern China.
Some firms have gone further still, abandoning home sales and moving entirely to the property management business.
Greentown Service Group, a spin-off of Greentown Holdings, was listed in Hong Kong in July with a market cap of 7.25 billion yuan. Colour Life Services, a subsidiary of Fantasia Holdings, in 2014 became the first mainland property management firm to list in Hong Kong.
The renewed focus on specialisation has emerged as profit margins in traditional homebuilding have fallen to a record low. The gross margins of listed developers fell to 29.9 per cent in the first nine months of this year, down from 33.8 per cent in 2013, according to Wind Info.
"'Property' is just a physical space. What developers should think about is how to provide added value to customers through the space," Zhong said.
This article appeared in the South China Morning Post print edition as: developers turn to niche productsDevelopers turning to niche products