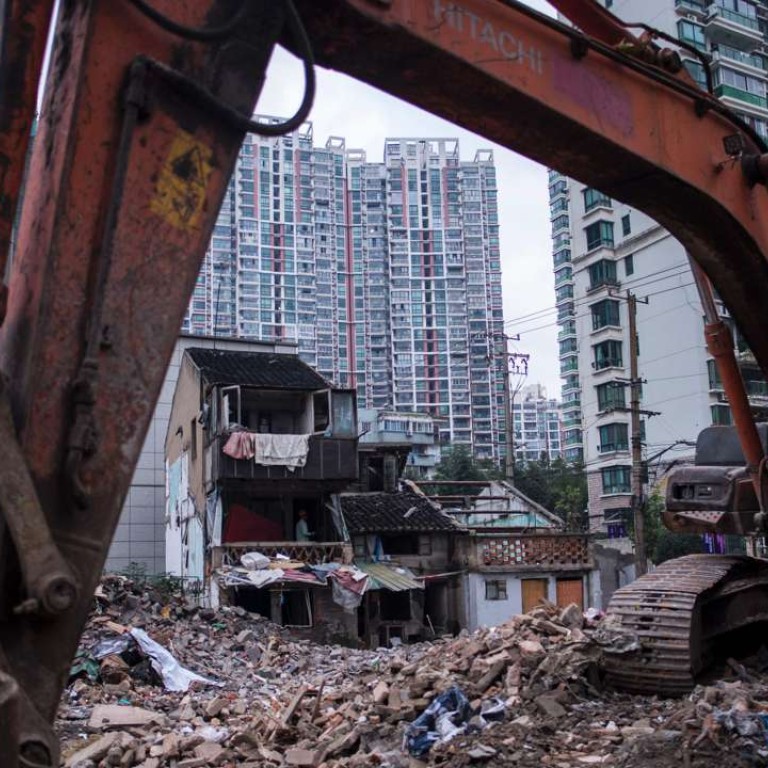 Tough 2017 looms as China builders face record wall of debt
For China's highly leveraged real estate developers, 2017 could be the year that the borrowing binge finally catches up with them.
Regulators have choked off a key source of funding, with the Shanghai Stock Exchange raising the threshold for property firms to sell bonds on their platform in October. Since then, builders haven't sold any notes in a market that played host to about 40 per cent of their onshore debentures over the past two years, data compiled by Bloomberg show. The curbs couldn't have come at a worse time, with a record US$17.3 billion of developer bonds due next year, and another $27.9 billion in 2018.
China's government is treading a fine line with the curbs on debt issuance as it tries to gently deflate the real-estate bubble while avoiding wider fallout in an industry that accounts for as much as 20 per cent of Asia's largest economy, according to Bloomberg Intelligence estimates. The sector is also threatened by a broader increase in funding costs, with the yield premium on AAA-rated domestic corporate notes reaching the widest since July 2015, amid a global pullback in bonds and targeted central bank steps to stem leverage.
Smaller developers will be the hardest hit, with bigger players still able to sell exchange-regulated bonds, according to NN Investment Partners.
"Overall, funding conditions will become more challenging in 2017," said Clement Chong, senior credit analyst in Singapore at NN Investment. "Only stronger developers can issue onshore bonds, subject to a number of conditions. But smaller builders will be forced to come to the offshore market to issue bonds, which will be subject to regulatory approval."
But even outside of China, the environment is becoming more challenging.
The average yield on dollar-denominated bonds from Chinese developers and other Asian high-yield issuers jumped by 30 basis points last month to 6.84 per cent, the steepest increase since September 2015, JPMorgan Chase & Co. indexes show. Banks are charging more to lend to builders offshore, with their average loan margins this year climbing seven basis points to a three-year high of 355 basis points, Bloomberg-compiled data show.
Government efforts to thwart capital outflows also make it more difficult for Chinese developers to get money offshore to make overseas bond repayments, said Sun Binbin, a fixed income analyst at TF Securities Co. in Shanghai.
"The curb in refinancing will certainly increase Chinese developers' debt burden," he said. "It's hard to predict when China's exchanges will resume property bond sales."
The yuan's 6 per cent retreat this year has made both China-focused developers and regulators nervous about offshore debt. Approval from the foreign-exchange watchdog is now required for early pre-payment of overseas loans, even for amounts less than $5 million, the European Union Chamber of Commerce said in an e-mail Thursday.
These restrictions come just as Chinese builders need to repay $14 billion of offshore loans next year, the most in five years, data compiled by Bloomberg show.
While house prices continue to rise in many big Chinese cities, government buying curbs are starting to bite. That's contributed to 143 bankruptcy filings by real estate companies, according to an official website set up in August, the worst of any industry.
Regulators have also limited the ability of wealthy individuals to channel money into overheated property markets. Issuance of trust investments for real-estate projects slid 45 per cent from September to 11.5 billion yuan ($1.7 billion) in October, the most since February, according to research firm Use Trust.
"The property market was so strong for much of this year, so from the liquidity standpoint developers are in decent shape," said Karl Choi, head of Greater China real estate research at Bank of America Merrill Lynch in Hong Kong.
"It also depends on how long the funding window continues to be shut," he said. "The longer this window remains closed, the more it favours financially stronger players."