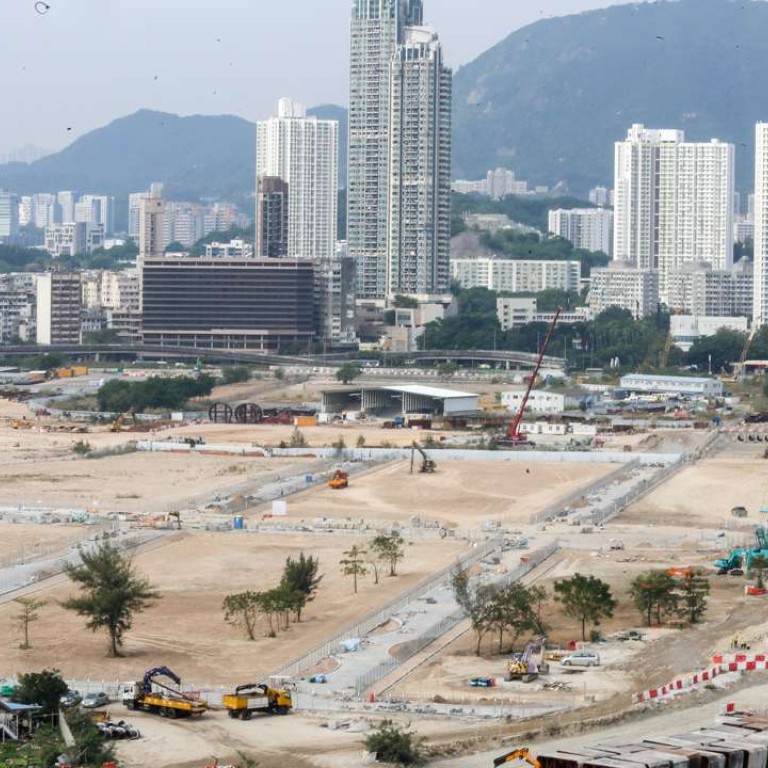 New

|
Latest Kai Tak residential land plot attracts record 21 bids
'Area 1L Site 3', potentially overlooking Kai Tak Sports Park, valued at HK$2.98-4.38 billion
A parcel of residential land at the site of Hong Kong's former Kai Tak airport has emerged as the most sought after in the area among developers, shrugging off the impact of the long-awaited interest rate increase by the US Federal and Hong Kong Monetary Authority.
The Lands Department said it had received 21 bids for the plot, adjacent to a Kai Tak site that sold for a record HK$8.84 billion in November, which could yield 397,967 square feet of gross floor area.
The response surpassed the previous record of 20 bids submitted for another residential site early last month. That site sold to HNA Group for HK$8.84 billion.
Surveyors are projecting the site, known as Kai Tak Area 1L Site 3, could be worth between HK$2.98 billion to HK$4.38 billion, or HK$7,500 to HK$11,000 per square feet.
Knight Frank's senior director Thomas Lam said Hong Kong's developers are not expected to slow their bidding for prime sites, because they need to continuously replenish their land bank to keep up with an active construction pipeline of apartments and other buildings.
"But they will be more cautious in submitting bids in the wake of higher borrowing cost, while the government's new stamp duty has dampened home buying demand," he said.
The tremendous response comes in the wake of Hong Kong home price rising to near-record highs from a low in March.
"The site, near the proposed Kai Tak MTR station, is attractive to bidders," said James Cheung, a director at Centaline Surveyors.
"It also enjoys one of the best views in the area," potentially commanding an overview of the Kai Tak Sports Park.
Centaline Property Agency said its Centa-City Leading Index, which tracks secondary home prices at 100 housing estates, edged up 0.18 per cent to 145.17 for the week to December 11. The latest price index is just 1.21 per cent lower than the previous peak of 146.92 in September last year
Friday's tender closed a day after the Hong Kong Monetary Authority raised the city's base rate by 25 basis points to 1 per cent, the first interest rate increase since December 2015, taking the lead from a similar move by the US central bank.
Hong Kong's commercial banks did not match the move, with HSBC, Bank of China (Hong Kong), Hang Seng Bank, Bank of East Asia and Dah Sing Bank all announcing that they would leave their deposit and loan rates unchanged.
The valuation of 1L Site 3 could be bolstered by the record price fetched last month in the adjacent plot, said Midland Surveyors' director Alvin Lam.
On November 3, HNA paid HK$8.84 billion for a site in Kai Tak, more than double the market's expected price, translating into a per-square-foot price of HK$13,500.
The Kai Tak area, the location of Hong Kong's old civilian airport, has been earmarked for redevelopment since the building of Chep Lak Kok airport on Lantau Island. Since 2013, the government has sold seven residential sites and one commercial plot in Kai Tak.