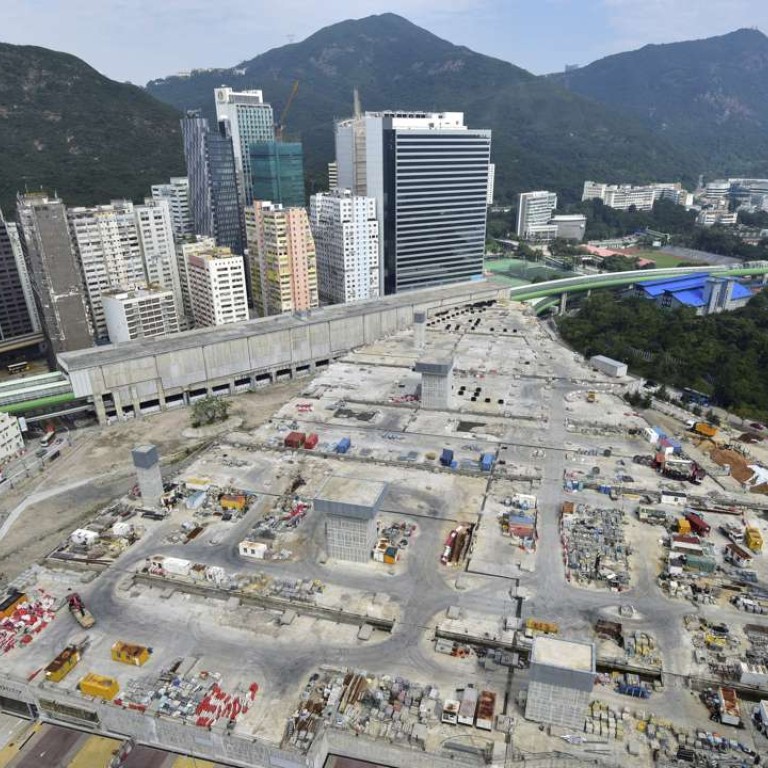 Plot of MTR Corp land next to Wong Chuk Hang station on Hong Kong island draws 14 bids
The site is estimated to be worth HK$8-9.8 billion, or HK$14,000 to HK$17,000 per square foot
Fourteen developers have submitted bids for a plot of MTR Corp land next to Wong Chuk Hang station and the old Wong Chuk Hang Estate on Hong Kong island, the tender for which closed at 2pm on Monday .
MTR Corp said it was the highest number of bids they have ever received for property tenders at stations along rail lines.
The site, which could potentially provide a total floor area of 576,950 square feet, has been estimated to be worth HK$8 billion to HK$9.8 billion, or HK$14,000 to HK$17,000 per square foot.
With strong interest from mainland Chinese and Hong Kong developers for residential sites in Hong Kong, some property analysts like Thomas Lam, head of Valuation and Consultancy at Knight Frank, have revised up the estimated value of the plot by 10 per cent.
Lam, who had expected the site could be valued at HK$14,000 to HK$15,000 per square foot, is now forecasting as much as HK$16,000 per sq ft – taking into the recent buoyant market sentiment after the government awarded the Ap Lei Chau residential site to a joint venture formed by Logan and
KWG Property Holding
for a record HK$16.86 billion, almost 50 per cent higher than the top end market estimations.
Lam said he didn't expect developers to offer "too aggressive" prices for the property because of its development restrictions.
"Developers have less flexibility in developing in a joint venture project with the government-controlled MTR Corp," said Lam.
The master layout plan of the entire development at Wong Chuk Hang station has been approved by the government. Developers need to get the government's and the MTR Corp's approval for any changes in design, said Lam.
Its valuable is calculated on the basis of the land premium and the upfront costs to MTR Corp. The winning developer is required to pay a land premium for the site, which is said to be about HK$4.68 billion, or HK$8,119 per sq ft.
Additionally it will have to pay a lump-sum price to MTR Corp, and share 35 per cent of the profits with the transport company, according to developers. Phase one of the development involves 800 flats in two towers and has a target completion date of 2022.
The site is located atop the Wong Chuk Hang Depot and adjacent to Wong Chuk Hang station an is bounded by Heung Yip Road, Police School Road and Nam Long Shan Road.
This article appeared in the South China Morning Post print edition as: Land plot next to Wong Chuk Hang station gets 14 bids