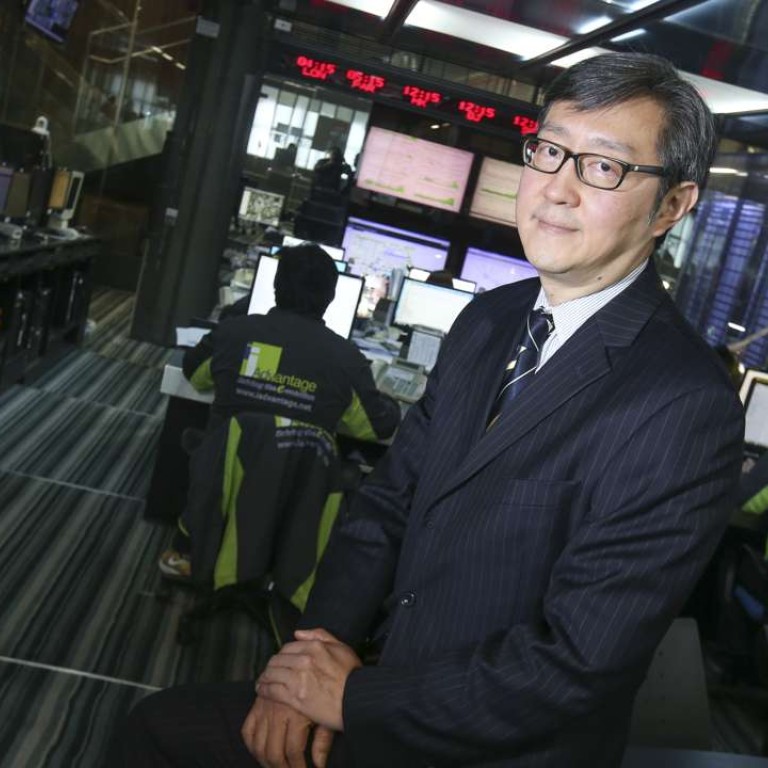 Data centre operator decries rivals' subletting of government subsided space as unfair
Peter Yan, chief executive of Hong Kong-based technology services firm SuneVision, awaits the challenges that lie ahead
Peter Yan King-shun, who joined SuneVision as chief executive in 2013, has more than 31 years of experience in the information and technology industry. Yan was an executive director and group chief executive of Computer And Technologies Holdings. Prior to joining C&T in April 2000, he had held senior management positions in consulting and information technology services companies including Accenture and Tradelink Electronic Commerce.
"The scope of SuneVision is bigger than the companies I worked at before. It is not just an IT firm, but also a property-related company as it involves physical spaces for data centres," Yan said. While enjoying the nature of the job, Yan said there were still many challenges ahead.
Companies in Tseung Kwan O Industrial Estate have violated the rules by subletting data centre spaces to tenants to make a profit. How do they affect SuneVision?
This is unfair to us. These data centre operators obtained the sites at subsidised rates, allowing them to offer their tenants rates that are much lower than ours. (SuneVision's premises are not in the estate.) The government stated clearly that subletting of the premises to other parties was not allowed, but I don't see that the problem has been solved.
There are companies subletting spaces for a profit. I am not saying all operators in the estate are subletting spaces. The data centres of HSBC and the Hong Kong exchange are for their own use.
The government will be selling two data centre sites outside the industrial estate in Tseung Kwan O in the future. But who will submit a bid if the subletting problem cannot be solved?
Is this one reason why SuneVision reported a declining operating profit margin? (Operating profit margin fell from 63.98 per cent in 2015 to 60.91 per cent in 2016.)
This is not a reason. We have been expanding over the past few years. But these new developments – such as the new data centre – have not yet brought in profits. We also invested a lot in recruiting people. Will this situation continue this year? I'm not going to answer that but I do not see a big decline or big jump in profit margin in the near future.
Why is Hong Kong well positioned to develop as a prime location for data centres?
The overall need for data centres is on the rise due to strong demand from media content and cloud companies. Hong Kong is an attractive choice because its established infrastructure – nine regional and transpacific submarine cable systems, and abundant and stable power supply – is seen as one reason to make the city suitable for data centre development.
Data centres consume a huge amount of energy to power the extensive banks of servers. Measured in megawatts, consumption is comparable to that of a small town in the United States.
The "one country, two systems" principle has played an important role in making Hong Kong an attractive place. China is so big that many international companies want to go in. But they prefer Hong Kong as a starting point. Some people may say that Hong Kong's independence and legal system are not as good as before. But relatively speaking, Hong Kong is very good compared with many other countries.
What is the future land supply situation for data centres in Hong Kong?
The government will offer two sites in Tseung Kwan O suitable for data centres for public sale this or next year. It also encourages revitalisation of industrial buildings into data centres. We have one in Fo Tan. However, supply for data centres will be fine in the coming years.
But there are some challenges ahead. For example, cloud companies prefer to move to blocks of industrial buildings that have already been converted into data centres because they are worried about their neighbours. If a neighbour upstairs is a restaurant, cloud companies might be concerned about potential water leakages affecting their data storage facilities. As an operator, we need to wait for the entire building to become empty before we can rent it out.
The government has no experience in converting industrial buildings into data centres, so we also need time to communicate.
For example, the government requires a toilet for the disabled be installed on each floor of a revitalised industrial building. But as we don't have many staff operating the data centres, we have suggested cutting the number of toilets.