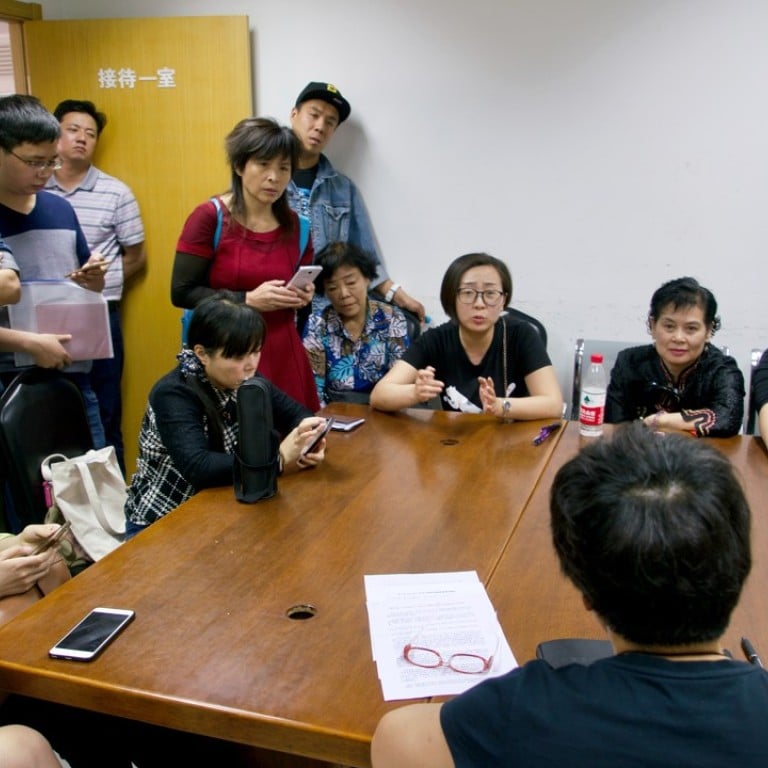 New
Owners' angry protests show why Beijing must tip toe in curbing the property market
Hundreds of thousands of Beijing apartments become illiquid assets after city government cracks down on sale of units built on commercial or office land
Scores of Beijing homebuyers staged a protest outside the city's housing authority on Wednesday, highlighting rising social tensions sparked by the local government's unprecedented home purchase tightening policies that protesters say trample on their property rights.
On Wednesday morning, about 40 buyers of apartments gathered outside the Beijing Municipal Commission of Housing and Urban-rural Development to demand the government ease a restriction that crippled the value of their assets.
Hundreds of thousands of property owners have been hit by the restrictions and several protests and ongoing negotiations between them and developers have taken place in the past month without results.
Zhang Fanfan, a Beijing artist and artwork dealer, was one of them – shocked to see the value of her assets cut in half overnight.
The 37-year-old started living in Beijing in 1998, and since then has used her income from selling her Chinese paintings and other artists' works to buy seven such apartments in the capital. On March 19, she paid 1.08 million yuan (US$156,700) for her eighth apartment, this one in Liangxiang, 40 kilometres southwest of downtown Beijing. A week later, she was told the apartment was "not recognised" under law.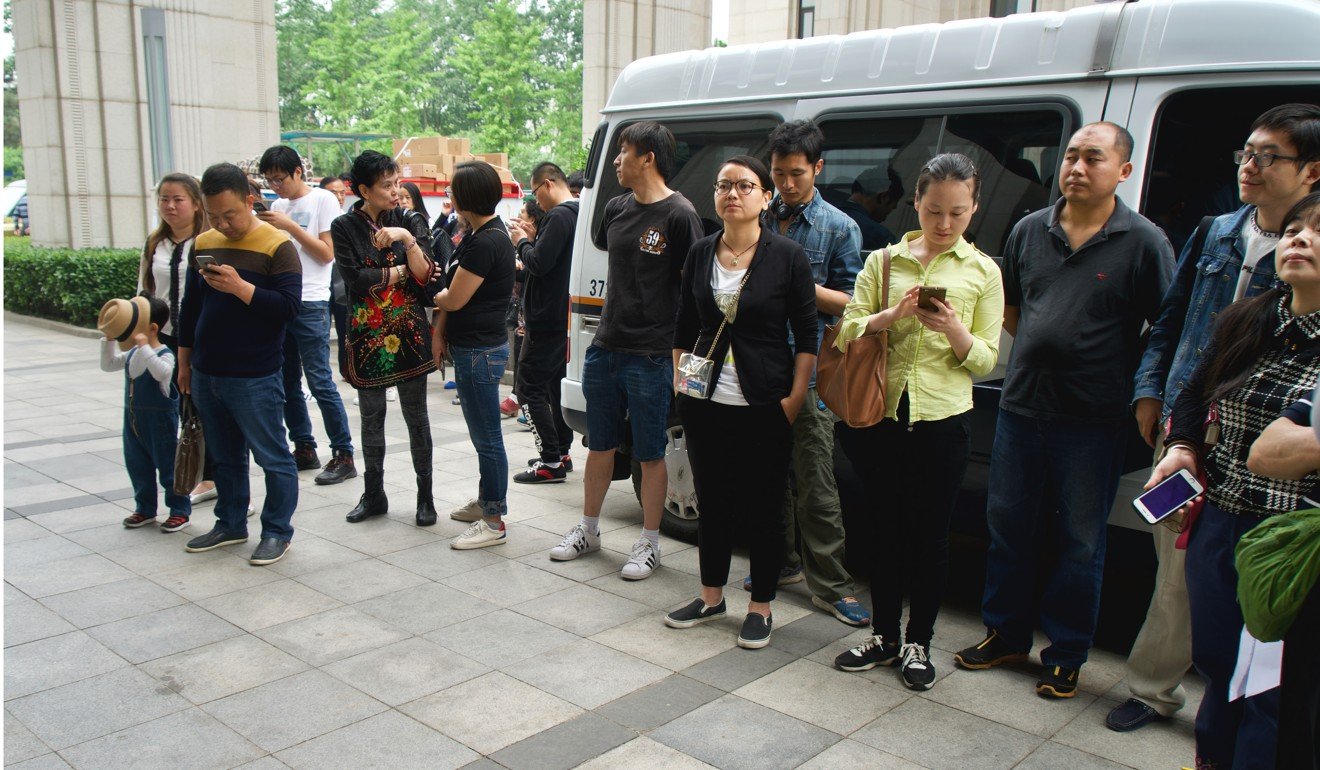 On March 26, as part of a broader campaign to curb frenetic home purchases and skyrocketing prices in the capital, Beijing authorities banned sales to individuals of new "apartments" built on plots that were originally acquired as commercial or office land.
For existing apartments built on such land, only those with Beijing hukou – and non-hukou holders who have paid social security for five consecutive years and do not already own a home – can buy such property.
Banks were also banned from extending loans for the purchase of such apartments, which means buyers have use their own cash.
For years, such apartments existed in China's so-called grey zonesand had become increasingly popular as the dwindling supply of new residential land boosted the price of ordinary residential homes, making these types of apartments a more affordable alternative option, particularly among young buyers.
In fact, Beijing's purchase restrictions imposed since 2010 made such units the only buying option for people like Zhang who do not have a Beijing hukouas such units were not subject to purchase restrictions and non-locals were able to buy multiple units.
Until the March 26 crackdown, sales of such units accounted for 60 per cent of the city's new home market, up from 29 per cent in 2015, according to Centaline data. More than 90 per cent were sold to individuals.
In a move that exacerbated the situation for buyers like Zhang, authorities have asked all property agents in the city to withdraw these apartments, estimated at 250,000 in number, off their books. That means owners can neither sell or lease their properties through agents, literally making the units "dead assets". Governments even went a step further by banning owners from pledging such units as collaterals to obtain bank loans.
Subsequently, sales of such apartments ground to a halt, tumbling from 2,264 units in the week before the restriction to just 24 in the past week, according to Centaline.
Many agents located near communities of such apartments have closed in the past month due to a dearth of business, with sales agents sacked or diverted to other parts of the city.
"I estimate my properties have lost at least half their value," Zhang said. "One of my apartments' rent has fallen from 6,500 yuan before the policy to 4,000 yuan now. It's very difficult to lease them without agents. I rent it out by pasting a notice on the door."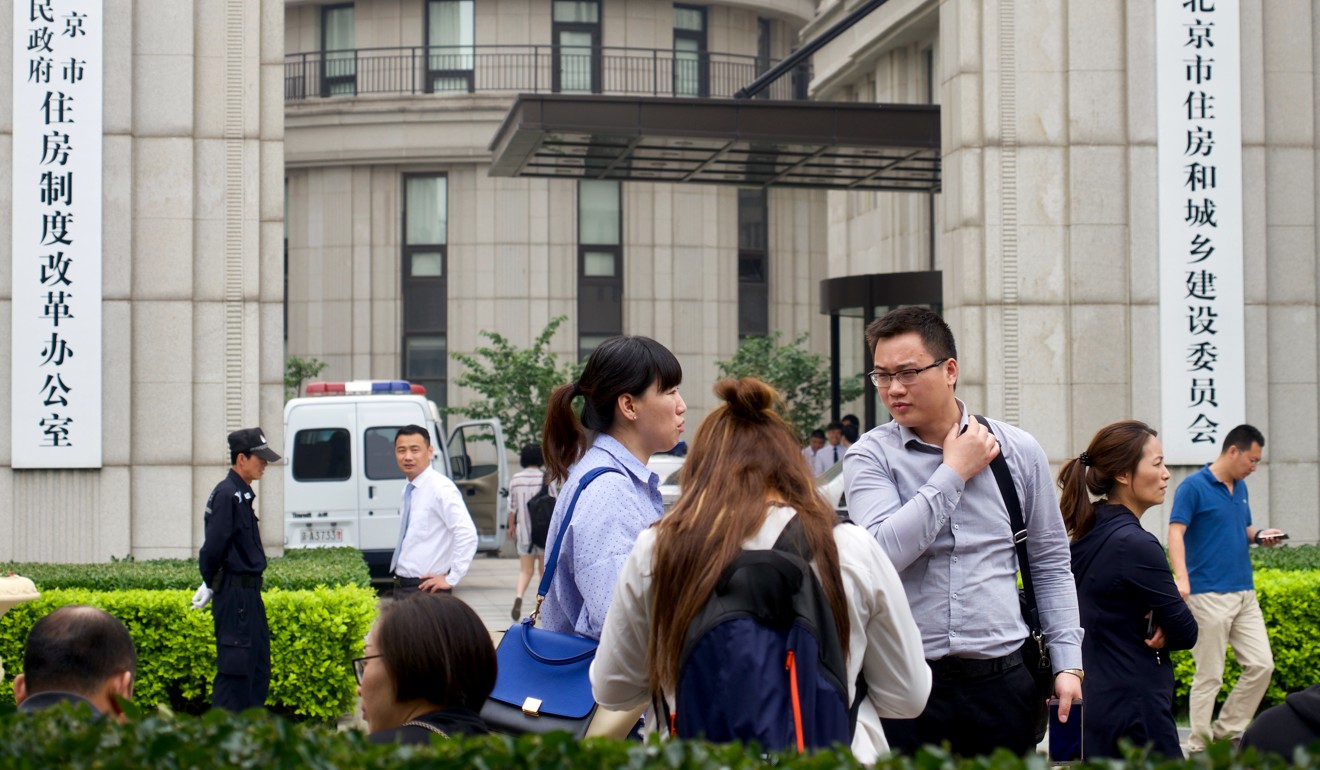 To buy the ninth apartment, Zhang borrowed 540,000 yuan from a bank, but so far the bank has not issued the funds so she cannot pay the developer the remaining money. Nor can she get a refund because the contract was signed before March 26.
She wrote a letter to the city's "mayor mailbox", asking the government to ease the ban. She got a brief reply saying the new rule applied to contracts signed before March 26 – offering no hope of relief.
"I spent almost all of my hard-earned money on apartments. Now their value has plummeted overnight. I didn't buy ordinary homes because I don't have a local hukou. I bought multiple apartments because I have few other investment options, and I have to protect my wealth from depreciation," Zhang said.
She joined a WeChat group where 500 owners of such apartments vented their anger. Unlike Zhang, most just own one or two apartments bought a few months ago, but they are unable to obtain loans to pay off the remaining money due. Nor can they get their down payment back. Some had sold homes in their home towns just to be able to buy a unit in Beijing.
Pang Bingxin, who last year bought an apartment developed by CIFI Holdings, said he along with other buyers had negotiated with CIFI many times, but without result. CIFI only agreed to refund unconditionally if the buyers had not signed a contract and registered with the government by March 26, but those who signed contracts before that date want a full refund without having to pay 20 per cent compensation for breaching the contract.
In a reply to questions from the South China Morning Post, CIFI said it would deal with the issue according to contracts and laws, noting that the affected apartments accounted for a tiny part of the Hong Kong-listed developer's national portfolio.
CIFI, Thaihot and China Vanke are among the largest sellers of such apartments in Beijing. Thaihot told the Post that it had negotiated with several rounds of buyers and would adhere to contracts and laws and keep communicating with them.
Vanke said it "resolutely" implemented Beijing's policies.
Back at the protest site on Wednesday, protesters are blocked by five security guards at the front door. An official guided the group to a nearby office, but after an hour's talks, no clear answers were given.
"The government says 'you knew they are not meant for living, why did you buy them in the first place?' I say 'why did you keep a blind eye to this for seven years?' " one WeChat member surnamed Li said.
"Whatever its name is, it's our private property, enshrined with constitutional rights. How can the government just remove our property rights in this way?" one buyer named Camy said.
This article appeared in the South China Morning Post print edition as: beijing flat owners say new curbs create 'dead assets'