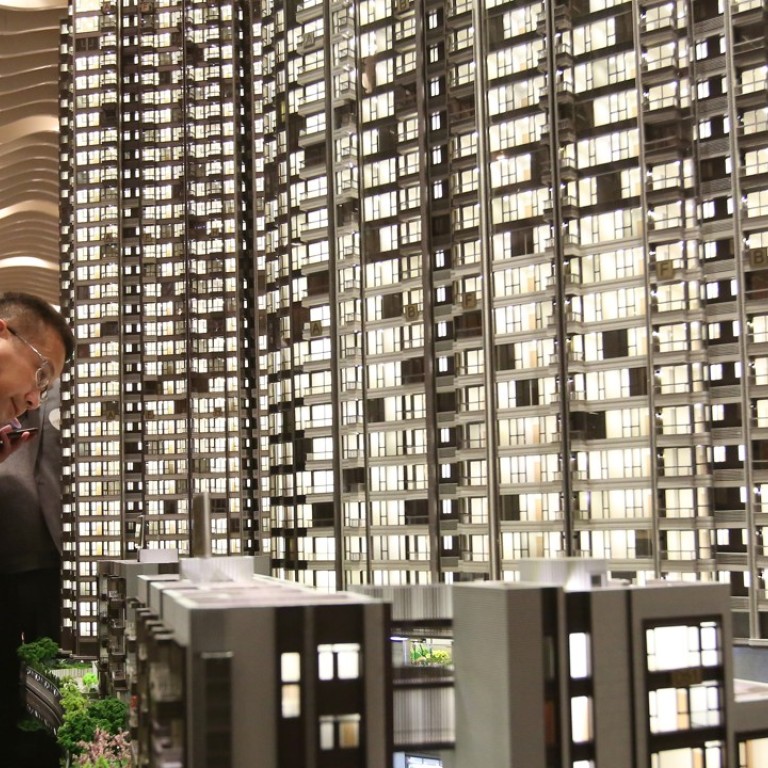 Hong Kong homebuyers turn to finance companies as banks tighten mortgage lending
Buyers of new flats seeking to minimise their down payments are increasingly choosing home loans from finance companies, which are beyond the reach of the banking regulator, according to a survey.
Centaline Property Agency found that nearly 18 per cent, or HK$2.6 billion, of the estimated HK$14.7 billion in approved mortgage loans for new flats due to be delivered in 2018 came from finance firms rather than banks. That compared with 16.4 per cent for new developments scheduled for completion in 2017, and 11.6 per cent for projects delivered last year.
"The trend of seeking loans from finance companies will continue to increase as developers are just starting to pre-sell flats due to be completed in 2018. Those projects completed in 2016 were being offered for pre-sale as early as 2014," Wong Leung-sing, associate director of research at Centaline, said on Monday.
Buyers are tapping financing alternatives as standard bank loans are capped at 60 per cent of the value of homes between HK$6 million and HK$10 million, and 50 per cent for homes above HK$10 million.
In response to the tightening of credit restrictions by the Hong Kong Monetary Authority, Wong said cash-rich developers have been offering first-time mortgages of up to 90 per cent of a flat's value through their financing arm to entice buyers.
The finance firms are beyond the jurisdiction of the authority. They are regulated by the Money Lender Ordinance, which is enforced by the Commissioner of Police.
"Interest rates may be higher than banks but applicants stand higher chances of getting bigger loans," said Wong.
Such loans are not limited to home buyers on a budget. They are also being tapped by investors in super deluxe properties.
A corporate buyer, Giant Victory Holdings, bought House No. 1 at Mount Nicholson on The Peak for HK$1.08 billion in January, according to data from the Lands Registry. The buyer obtained a loan of HK$600 million, or 60 per cent of the flat value, through Grand Harbour Finance on April 13.

Mortgage broker mReferral Mortgage said the proportion of home loans being offered through developers' finance companies jumped to 20 per cent of the total in March, up from 16.38 per cent in February and 15.17 per cent in January.
"It reflects surging demand for higher loan-to-value financing plans as home prices soar,"said Sharmaine Lau, chief marketing officer of mReferral Mortgage Brokerage Services.
She said most new flats coming on the market have prices starting from HK$6 million, which means buyers need to fork out an initial down payment of HK$2.4 million under current bank regulations.
To boost home sales, she said developers offering first mortgages of 80 or 85 per cent of the unit's value has become the norm.
Given low borrowing costs and ample liquidity, Lau expects developers and finance companies will continue to provide home loans.
"It is bound to intensify the competition in the mortgage loan industry," she said.
A spokesperson for HKMA said: "The HKMA observes that many property developers are offering high loan-to-value mortgages to attract buyers to purchase their properties. The accumulation of these high LTV mortgages may change the risk profiles of these property developers to which banks may have exposures.
"The HKMA will continue to monitor the situation closely and consider whether there is a need for banks to strengthen their risk management in respect of their lending to property developers."