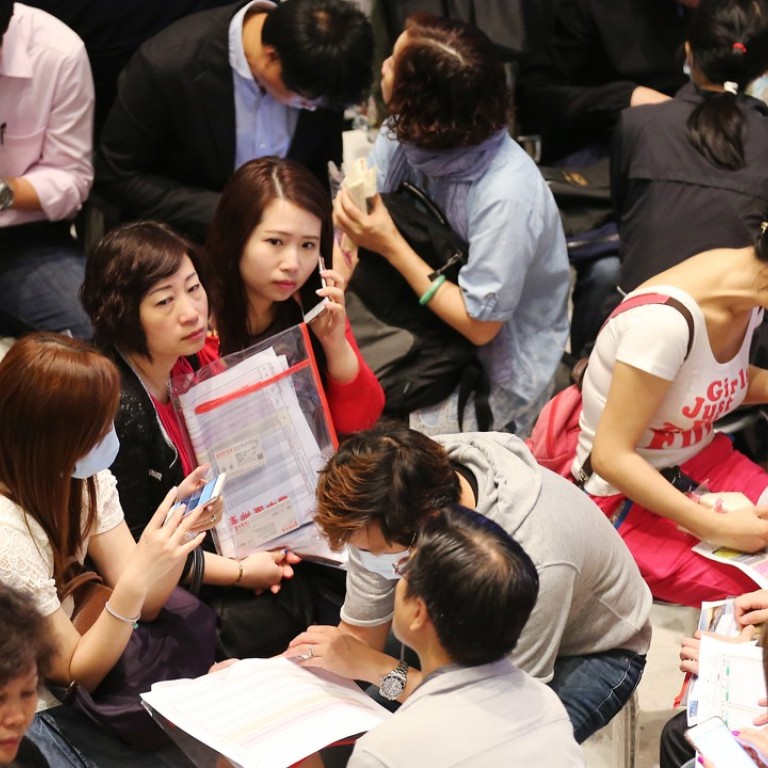 Hong Kong home prices rise for 13th month to surpass 2015 record
Buyers are still turning up in droves for new property launches, despite the government's efforts to curb prices
Hong Kong's residential property prices, already the world's highest based on square footage, rose in April for the 13th straight month to a record, surpassing the market's previous peak of 2015, further underscoring the imperative on the city's government and monetary authority to deflate the bubble.
The monthly home price index, which represents movements in the second-hand property market, rose 2.1 per cent to 327.4 in April, compared with 320.6 in March, according to the Rating & Valuation Department's data. Year on year, home prices jumped 19.8 per cent in April
The Hong Kong Monetary Authority (HKMA)
on May 19 ordered banks to cut
the amount of allowable loans on residential property by 10 percentage points, taking aim at the owners of multiple homes in the second set of measures in a week to deflate prices.
The HKMA was concerned about the ability of Hong Kong's financial system to cope with any possible downturn in the property market. Following the HKMA's move, four of Hong Kong's largest banks raised their mortgage rates by 10 basis points, and cut the ratio of allowable loans.
Those measures are likely to show their effects, putting a ceiling on transactions and apartment prices that have thus far defied gravity, said Knight Frank's senior director Thomas Lam.
"Home price growth will slow in coming months as mortgage lending curbs could dampen buying desire," he said. "The government has sent a clear signal that further cooling measures may be rolled out if home prices continue to rise."
Some anecdotal evidence can already be seen, agents said. Transactions at Taikoo Shing in Quarry Bay, one of the city's most actively traded housing estates, fell by half to 13 in May, from 27 in April, said Ricacorp Properties' senior sales manager Terence Wong.
"The mortgage curbs, coupled with ample supply of new flats, have lured potential buyers away from the secondary market," he said.
In the second-hand market, average transactions have already fallen below 4,000 deals per month, compared with 8,000 deals in a typical month as recently as in 2011, said Midland Realty.
In response, property developers are pulling out all the stops to offer discounts and other incentives to attract customers.
At mReferral Mortgage Brokerage Services, loans equivalent to as much as 80 per cent of a property's value are on offer, albeit at more than double the prevailing interest rate.
That's attracted enough buyers that Cheung Kong Property Holdings was able to sell all 346 units of its Ocean Pride apartments in Tsuen Wan. Hundreds of people thronged its sales offices over two days, allowing the developer to finish selling 842 apartment units.
This article appeared in the South China Morning Post print edition as: Hong Kong home prices hit record high in April