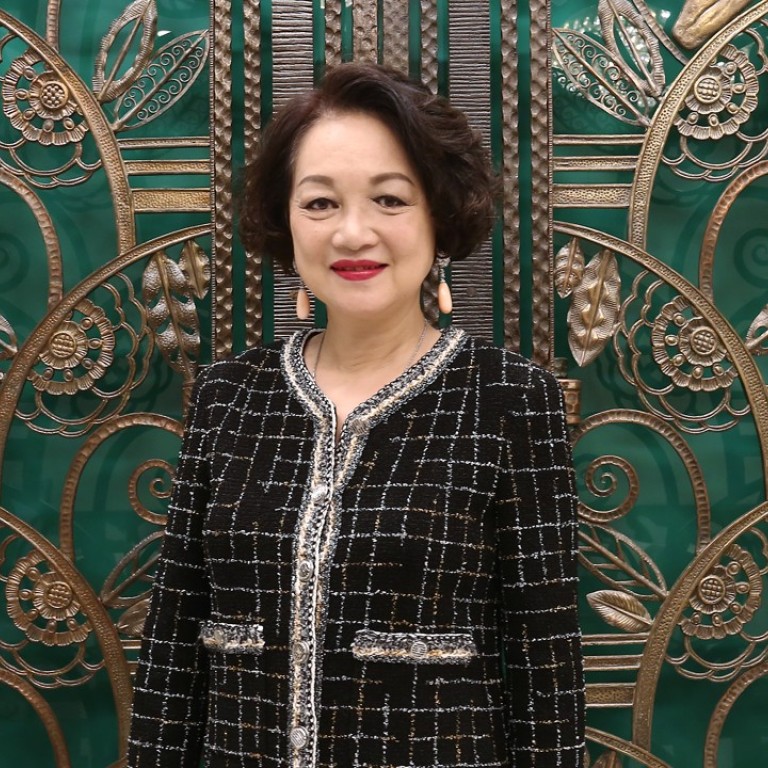 Vivien Chan 'queen' of service apartments, says timing is key to successful property investing
Property developer Vivien Chan has managed to flourish as an independent in Hong Kong since founding her company in 1994
When it comes to property investing, the most important variable to keep in mind is timing, even as intangibles such as the government's ability to apply cooling measures have complicated the task, according to Vivien Chan, founder and chairman of V Group.
Chan, who is also the former chairman of Estate Agents Authority, said investors can benefit from sensing when the government will lean against what they perceive as an overheated property market by applying cooling measures such as a special buyer's tax or tighter restrictions on mortgage lending.
"Anybody can do real estate when they have ample funds. But the secret of success a real estate player must be getting the timing right, You have got to anticipate and pre-empt cooling measures now," she said.
She added that those pursuing property development after a long period of rising prices in the city were at a disadvantage.
"Irrespective of how good the location of the project is, if your timing is not right, you'll get it at a price which is too expensive. You will not be competitive enough in setting the terms of the project as a business proposition," Chan said.
Chan, who is known as "the Queen" of serviced apartments, founded real estate company V Group in 1994 and opened V Serviced Apartments in 2006, which launched five serviced apartments, offering more than 226 rooms or apartments at four locations in the city.
This year she set up V Residences and launched Castle One by V, the group's first non-serviced leasing project. Chan also plans to begin marketing activities early next year to promote four detached houses in a project known as Mansion on The Peak by V.
Chan said when she acquired the Castle Road site for Castle One by V in 2009, her original intention was to develop the project for a strata title sale. However, she began to have second thoughts as the project took shape, opting to retain ownership but offer the 112 units for long term lease.
"It turned out to be such a quality premium product that I wanted it to remain as a benchmark of the brand," Chan said. "You will no longer in Mid-Levels find an entire block decked up to this standard. I made a conscious decision to keep Castle One By V for long-term investment although the property market was red hot in the first half of this year."
Chan said she was comfortable retaining ownership of the project, even as signs of softness were emerging in the residential leasing market amid staff cuts at major financial institutions.
"I don't know whether the rental uptrend will continue. But definitely the demand will always be there," she said. "I don't think Hong Kong's housing rental market is particularly more expensive than other major financial centres."
She added that prices in Hong Kong's upscale residential market was on par with New York, yet slightly more affordable than London, but conceded that "nicer areas" were well above levels for comparable property in Tokyo.
Chan said that she was not optimistic on the prospects for shopping malls and other retail-related property assets as consumers turn more to online shopping.
"E-commerce challenges shopping malls, shops and retail outlets. As a result, the rents and growth for the retail industry has entered a new dimension," she said.
She added that retail property owners can only face challenging times ahead. Among the exceptions, she said food and beverage outlets would likely thrive, while offices, although under pressure as more people work from home, were "better placed than retail".
"One thing that's never going to be challenged is where you live. So I think residential is the most bankable," she said.
Chan said it was difficult to compete with the major developers in Hong Kong, describing the existing structure as an oligopoly. She added that by focusing on unique property developements, she was able to carve out a niche that wasn't filled by large developers.
"You've got to be very creative, in order to be able to make a difference," Chan said. "There are four major players, and when you are not one of them, or already established 30 years ago like those people, it's hard."
Reflecting back on the issue of timing, she urged investors to stick to a strategic plan when buying and eventually exiting a property holding.
"You must never be sentimental," she said. "It doesn't matter if whoever takes it from you makes a lot of money as well, because that's a good thing. It's more important that once you have your profit, you reinvest or deploy it properly."
This article appeared in the South China Morning Post print edition as: Timing key to successful investmentTiming key to successful investment