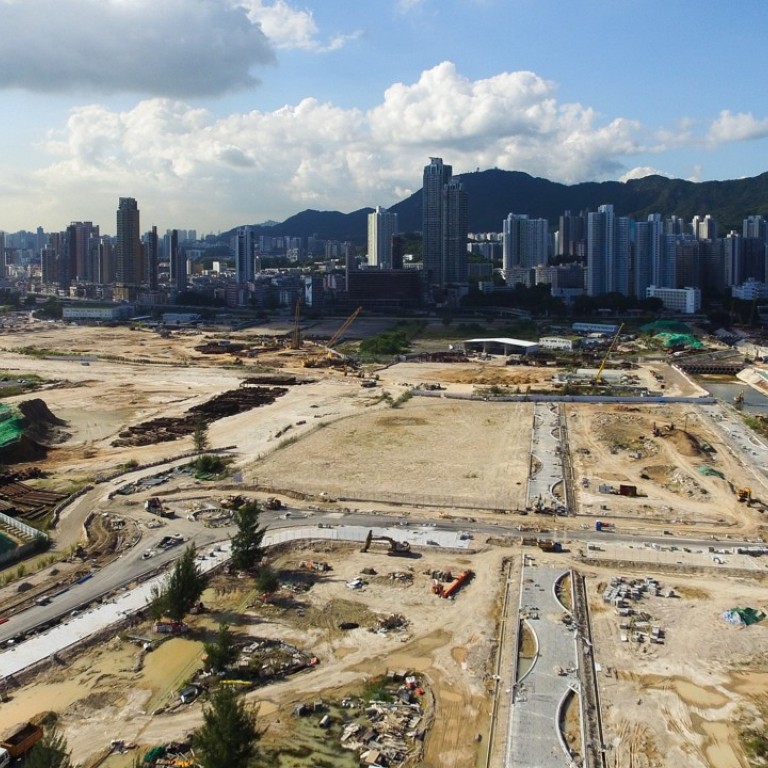 China firms lose appetite for Hong Kong assets after Beijing tightens capital controls
Beijing's tighter capital controls on overseas investments will create headwinds for property prices in the city over medium term
Mainland Chinese companies, the big money behind Hong Kong's real estate market since 2015, will see a decline in their investment appetite for the city's assets following Beijing's tighter capital controls on overseas investments, pushing down property prices over the medium term, say analysts.
Even though individual mainland Chinese buyers accounted for only 4 per cent of total residential transaction volumes in the last 12 months, the biggest impact of the tighter policy would be on Hong Kong's land market, and that could gradually affect sentiment on residential prices, investment bank Morgan Stanley predicts.
"Chinese buyers have been a major factor pushing up property prices in the past 12-18 months. Once it reverses, we estimate a 20 per cent downside risk for prices," said Alfred Lau, a property analyst at Bocom International.
On Friday the State Council said Chinese investors will need special approval from Beijing to put their money in overseas property, sports clubs and hotels. The film industry and other forms of entertainment are also on Beijing's new formal restricted list, while similar restrictions apply for companies setting up overseas equity funds or investment vehicles not tied to specific projects.
Property is the largest sector on the list and has seen the fastest growth.
"We expect a slowdown of outbound buying activities from Chinese buyers on the back of this announcement," said Alan Jin, property analyst at Mizuho Securities.
"Given the fact that mainland buyers have been the main price-setters for big-ticket transactions in the property market over last few years, the expected slowdown would highly likely dampen the expectation of potential sellers, as well as other bidders in the market. I think we will see record-setting transactions less frequently," said Jin.
Since 2015 mainland companies have invested a total of HK$39 billion to buy en-bloc office buildings in Hong Kong and they have substantially increased their presence in the city's land market since the third quarter 2016.
So far in 2017, mainland developers have invested US$6 billion to win 80 per cent of all residential land tenders in the city, a 65 per cent premium over the US$3.7 billion paid for all of last year, according to data complied by Morgan Stanley.
The high land prices paid by mainland companies boosted residential market sentiment and hence prices.
For example, when HNA group, the highly acquisitive conglomerate which owns Hainan Airlines and controls Hilton Worldwide, purchased its first Kai Tak residential sites in November 2016, it paid double the amount offered in previous land tenders in the area in 2014. Consequently, the deal pushed up land prices and residential prices in the area.
Daniel Shih, director of research at Colliers International, said mainland investment in big-ticket Hong Kong properties has been slowing down since the last quarter of 2016, reflecting the fact that the central government is more concerned about overseas real estate investments by mainland companies when real estate does not constitute part of their main business.
With the tighter capital control restrictions and Beijing's scrutiny on companies which have made significant overseas investments, it is less likely that Hong Kong will see another large investment deal by mainland companies this year.
JLL head of research Denis Ma said mainland investment demand into Hong Kong's property market has already fallen sharply since the government tightened capital controls in November 2016, accounting for just 7.2 per cent of total investment in the city's office market in the first half of the year compared with 31 per cent in the same period in 2016.
"In this regard, we do not expect the latest announcement to have any material impact on the current investment market situation," he said.
There are currently three major properties for sale that will find it difficult to secure mainland buyers.
The Excelsior Hotel in Causeway Bay, owned by Mandarin Oriental International, was offered for sale to be converted to an office tower. Separately, the Lo family, in the middle of a bitter dispute over their late patriarch's estate, put the Great Eagle Group's Langham Place office tower in Mong Kok up for sale, as did Nan Fung Group with the Octa Tower in Kowloon Bay. The three properties could each fetch between HK$50 billion and HK$65 billion, agents and valuers estimate.
Amid the raft of new capital control restrictions announced Friday, Beijing signalled strong backing for its Belt and Road Initiative and pursuit of high technology.
Jin of Mizuho Securities said industries related to the Belt and Road Initiative would obviously receive more favourable consideration than conventional industries such as property investment. Among the various subsectors in the real estate market, the Belt and Road policy would be more positive for R&D related properties such as science parks and data centres, said Jin.
The new policies are seen as part of wider efforts to further reduce the pressure of capital outflows and currency depreciation ahead of US Federal Reserve interest rate increases.
Separately, Chinese authorities earlier launched a campaign to curb "irrational overseas investment", which has seen aggressive dealmakers such as Anbang Insurance Group, Fosun International, Dalian Wanda Group and HNA Group come under greater scrutiny.