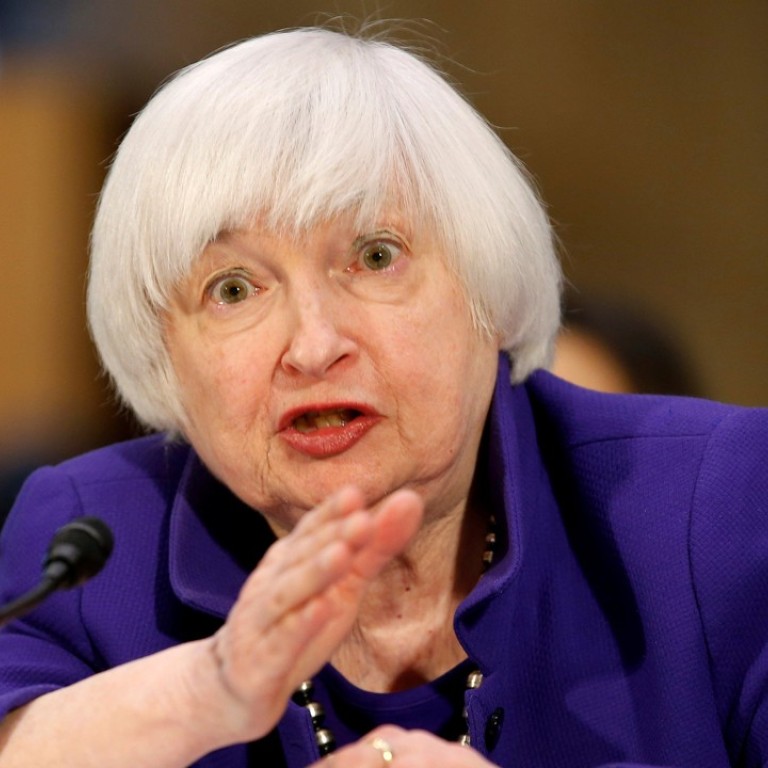 Opinion
Jake's View
by Jake Van Der Kamp
Jake's View
by Jake Van Der Kamp
Need a scapegoat for Hong Kong's property woes? Look west to US Fed policies, not China
Our housing woes are not due to a land shortage, slow building pace, developers' greed, or to Chinese hot money. The root of the problem is that we are tied to US interest rates through our currency's peg to the US dollar.
Beijing's new rules on outbound investment could bring benefits for Hong Kong, possibly driving down land prices. --SCMP, August 23
This is all very well, but it does not mean much for homebuyers if home prices continue to go up. All it would mean then is that developers make bigger profits.
Sellers charge buyers what they think the market will bear. If there is a disconnect between the influences driving land prices and the influences driving home prices, then a drop in land prices will not necessary lead to a drop in home prices.
And in this case, there is a definite disconnect. While mainland money has been hot on the heels chasing land purchases here for several years, it has not gone into the purchase of completed homes.
My evidence lies in the first chart. The latest data releases show that, since the beginning of 2008, prices for flats with a floor area of 40 square metres (430 square feet) or less have rocketed by 212 per cent, while those for flats with a floor area of 160 square metres or more have gone up by only 60 per cent.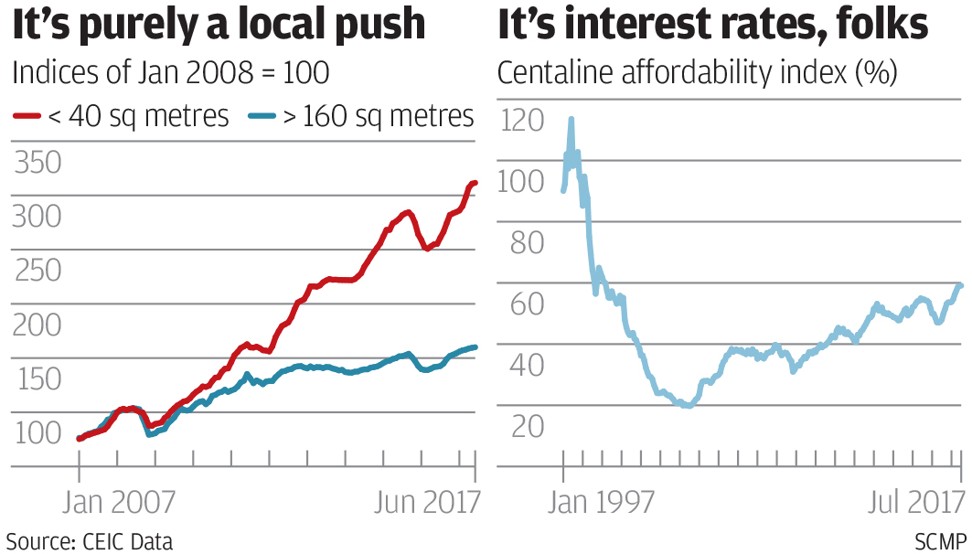 This was a reversal of the trend of the previous 10 years and I think it clearly indicates a shift in buyer identity. Mainland buyers purchasing for investments concentrate on the luxury side of the market and became less active starting about 10 years ago.
Contributing to this trend was a change in the Capital Investment Entrance Scheme, a government attempt to drive up economic growth by encouraging capital inflows with the carrot of a Hong Kong identity card. Starting in 2010 property was removed from the list of eligible investments.
But the market for the smallest shoebox flats is driven almost exclusively by local demand. Small flats account for by far the largest bulk of the market and mainlanders do not play there.
Thus, price trends in this dominant sector of the market are unlikely to be influenced by the most recent capital outflow restrictions that Beijing has imposed.
The single biggest influence on home prices has long been, and continues to be interest rates. We have a fevered housing market because the Hong Kong dollar is linked to the US dollar, and the US monetary watchdog, the Federal Reserve Board, has driven interest rates down to unprecedented levels for nine years. We have had to match this trend in Hong Kong.
The result, as the Centaline Property Agency's Affordability Index shows in the second chart, is that servicing a mortgage for an average small-to-medium size flat now absorbs about only half as much of household income as in the previous property peak in 1997. Yet prices for small-to-medium size flats have doubled over this period.
The difference is entirely down to much lower interest rates than in 1997.
Our housing problems are not due to a shortage of land, or to too slow a pace of building, or to developers' greed, or to inflows and outflows of hot money from the mainland.
All of these things may exist, but the root of the problem is that we are tied to US interest rates through our currency's peg to the US dollar.
And there is nothing we can do about it.
This article appeared in the South China Morning Post print edition as: HK's currency peg main reason for housing problems