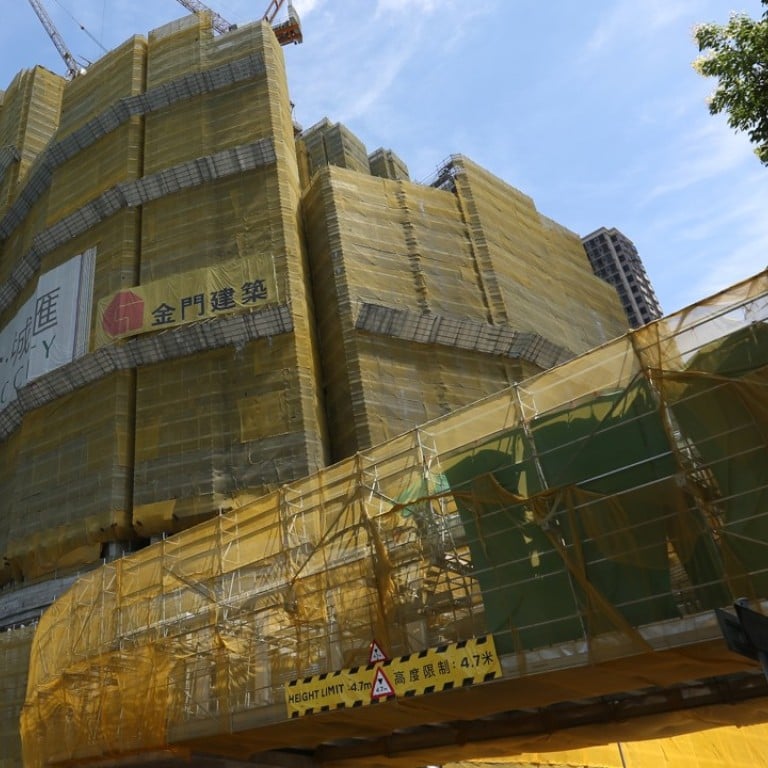 Buyer frenzy over Chinachem's Parc City project a sign that Hong Kong flats still in high demand
Nearly a thousand prospective buyers turned out for a new residental project in Tsuen Wan on Friday morning, despite home prices in Hong Kong rising to a new record high, maintaining the city's position as the world's most expensive urban centre to live in.
Long queues were seen at Nina Tower in Tsuen Wan before developer Chinachem Group kicked off the sale of its Parc City project at 9am. There were 22,500 would-be purchasers registered to buy the first batch of the 521 units, the largest number of subscribers for a new project since 1997. The developer said all 521 units worth HK$5 billion had been sold around 10 pm on Friday.
Sammy Po Siu-ming, chief executive of Midland Realty's residential department, said the attractive price of Parc City drew many buyers.
"It is the king of demand among post-1997 properties. About 80 per cent of Midland's customers turned out today. Some buyers spent HK$30 million for a couple of flats," Po said.
"Parc City is close to West Rail with good neighbouring facilities and great potential," Po added.
Centaline Property Agency's latest Centa-City Leading Index, which reflects sales at 100 large housing estates across the city, edged up 0.66 points to 160.8 in the week ending August 20 from a week earlier. It broke the previous record set three weeks ago. Hong Kong home prices have surged 11 per cent since January.
The unexpected response to Parc City will put more pressure on Hong Kong Chief Executive Carrie Lam to address the housing shortage and review current cooling measures and the city's long term land and housing supply, according to Thomas Lam, head of valuation at Knight Frank.
"Potential buyers would like to go for a first hand project due to the cooling measures and Hong Kong Monetary Authority's requirements, such as the loan-to-value and stress test. If the unit price is attractive, it will attract potential buyers who are end-users and investors," Lam said.
Among the eager buyers was a Tsing Yi resident surnamed Cheung, looking for a two bedroom flat for his 26-year-old son. They both arrived at the sales office at 10am with plans to buy a two bedroom flat below HK$6 million.
"We can only afford to buy flats priced below HK$6 million. I will contribute 40 per cent of the initial down payment," he said. "We will give up if flats within this price range are sold out."
Cheung said his son can't afford to buy a flat without parental support given that Hong Kong's home price continue growing.
"We see the launch price of Parc City is lower than other nearby new project launches, but so many people are queuing up today. Our chance to buy one will be low," he said.
Local artist Uny Chiu said her sister planned to buy a three bedroom unit for rental.
Chiu, who owns a flat at the nearby City Point development in Tsuen Wan, said her 22-year-old sister doesn't own any property so will qualify for the first home buyer's stamp duty exemption.
"I believe home prices will continue to rise and the prospect of the market outlook is promising," Chiu said.
As the project is next to West Rail's Tsuen Wan West Station, Chiu expects the development will be more resilient should there be any abrupt change in market sentiment.
A female buyer surnamed Cheng bought a three-bedroom flats for HK$16 million for her own use .
"The price is fine," she said on Friday.
Chinachem launched the first batch of units at Parc City at HK$14,449 per sq ft, about 10 per cent lower than the first batch offered by nearby rival CK Property's Ocean Supreme.
Lam of Knight Frank said new properties account for about 31 per cent of total residential transaction volumes, or more than 50 per cent of total residential sales value, due to the cooling measures and HKMA's requirements which make it harder for buyers of second hand homes.
"I expect the first hand market will continue to dominate the market in the rest of this year," Lam added.
Louis Chan, Asia-Pacific vice chairman and managing director for residential sales at Centaline, said the huge buyer registration turnout for Parc City was partly driven by the larger mortgage loan offered by the developer. "Buyers are only required to fork out 20 per cent of the flat's value instead of 40 per cent to 50 per cent for homes in the secondary market," he said.
In addition, he said the fact that the launch price was 20 per cent lower than the secondary market also contributed to the strong response.
"People will buy as long as they can afford. The sale is largely driven by end users," he said.
This article appeared in the South China Morning Post print edition as: Flats draw largest number of potential buyers since 1997