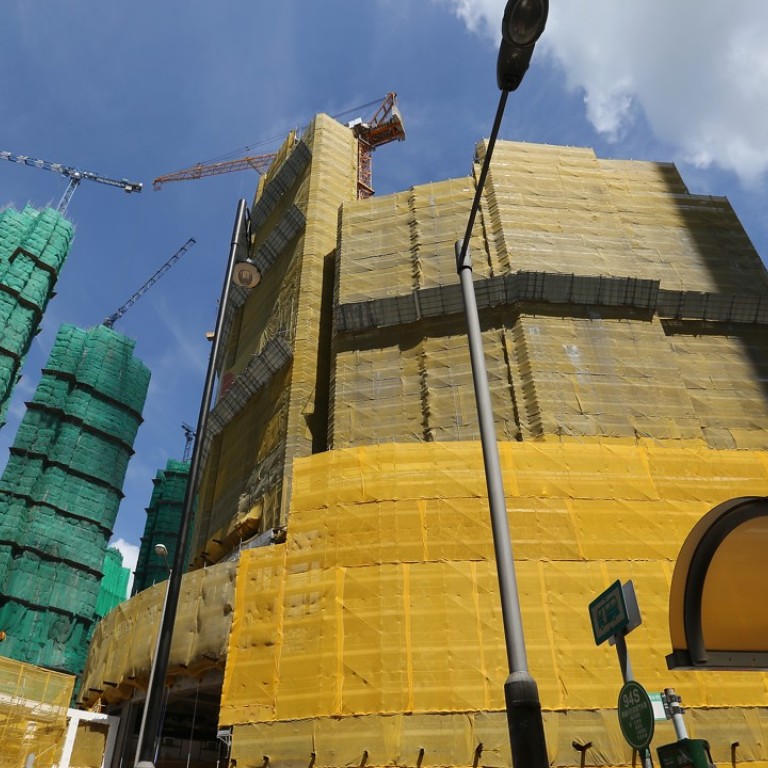 Why prices of Tsuen Wan's one-bedroom flats have dived the most in 3 months
Buyers have snapped up close to 4,000 new flats in Tsuen Wan to date this year, allowing developers to pocket more than US$5.3 billion
Prices for one-bedroom new flats in Hong Kong's Tsuen Wan district – which at one point shot up to a jaw-dropping HK$10 million (US$1.28 million) – have tumbled the most after ChinaChem Group adopted a reverse sales tactic of offloading its latest project at this year's lowest prices for the area.
One-bedroom flats at Parc City, located next to the West Rail's Tsuen Wan West station,were sold at an average transaction price of HK$14,900 per square foot, or 16 per cent lower than those at the adjacent development, Ocean Pride built by Cheung Kong Property (Holdings) in May, according to property data provider Dataelements, which tracked the sales in Hong Kong's primary residential market.
Ocean Pride's one bedroom flat had fetched an average of HK$17,800 per sq ft then, while similar unitsat New World Development's joint venture project, Pavilia Bay, were sold at an average price of HK$16,300 per sq ft in January.
The survey also showed that average transaction price for the entire Parc City project was HK$15,800 per square foot, which was the lowest price for all new flats so far this year.

"It is very obvious that ChinaChem is in a hurry to sell their new flats because they understand that there will be a huge new supply in the next three to four years," said Jacinto Tong, vice-chairman of private real estate investment firm Gale Well Group and a veteran investor.
But Louis Chan, Asia-Pacific vice-chairman and managing director for residential sales at Centaline Property Agency pointed out that it was more a case of different developers adopting different strategies.
"Chinachem's fast sales allow it to fetch more than HK$9 billion in sales revenue. With a strong financial position, it could bid for prime land when opportunities arise," he said.
Parc City's average price of HK$15,800 per sq ft was eight per cent below the average HK$17,200 per sq ft selling price for Ocean Supreme – also developed by CK Property – that launched in June, and six per cent lower than the HK$16,800 per sq ft at Ocean Pride put on sale in May, Dataelements data showed.
But it is still 48 per cent higher than the HK$10,700 per sq ft being achieved by City Point, another CK Property project, in April 2014.
So far this year, buyers have snapped up close to 4,000 new flats in Tsuen Wan, allowing developers to pocket more than HK$41 billion (US$5.3 billion).
Joseph Tsang, JLL managing director and head of capital markets for Hong Kong argued that the price differences among the developments were largely due to the units with sea view at Ocean Pride, which was located adjacent to the waterfront.
"It is normal for units at Parc City to be priced less expensive as the development has limited sea view," he said.
Chris Tam, sales director at Ricacorp Properties's Tsuen Wan branch said the land cost of Parc City, which was the lowest among the four projects on sale this year, provided greater flexibility for its pricing strategy amid a highly competitive industry as the market is being flooded with new supply.
In January 2012, MTR Corp awarded the current Parc City site to Chinachem for HK$2.6 billion, or HK$2,600 per sq ft.
It compared with CK Property's HK$4,309 per sq ft for the lot for Ocean Pride, and New World Development's HK$5,088 per sq ft for the site of Pavilia Bay.
This article appeared in the South China Morning Post print edition as: Why prices for Tsuen Wan small flats suffer slide