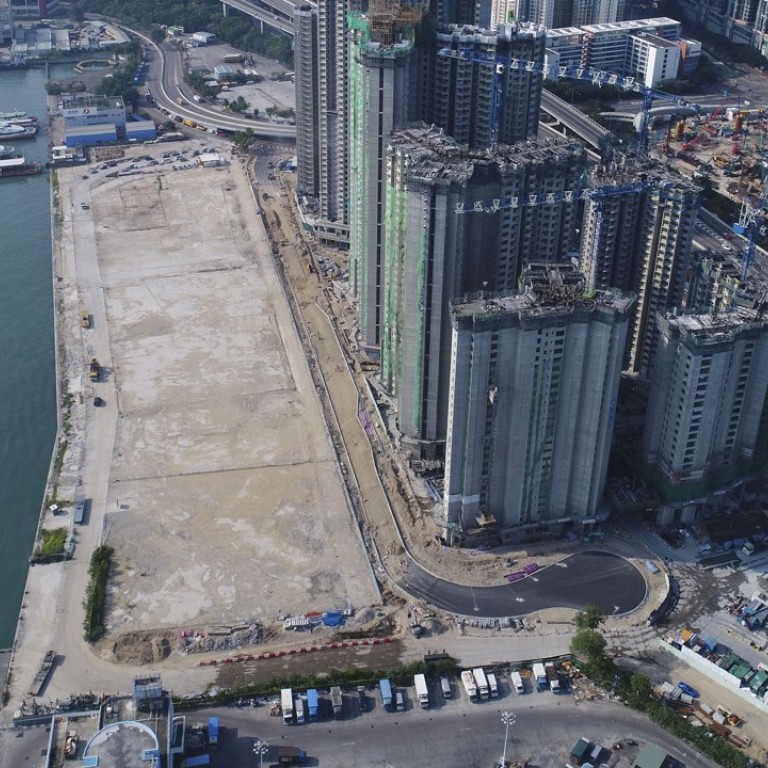 Waterfront residential site in former industrial area of Cheung Sha Wan sells for record HK$17.28b
A waterfront site in the former industrial area of Cheung Sha Wan was sold to a consortium of five companies from Hong Kong and the mainland for HK$17.28 billion (US$2.21 billion) on Wednesday, making it the city's most expensive residential plot.
The transaction broke the previous record for a government land sale set in February when another waterfront residential site in Ap Lei Chau was sold to a joint venture between Logan Property and KWG Property for HK$16.8 billion.
The price for the site, off Hing Wah Street West and near a public housing estate, came in at the high end of the market's expectation of between HK$14.8 billion to HK$17.8 billion.
With a total gross floor area of 986,789 square feet, which translates to HK$17,500 per square foot, the developers could potentially supply more than 1,200 housing units.
Lands Department awarded the site to Sky Asia Properties, which is owned by a consortium comprising Sino Land, Shimao Property Holdings, Wheelock Properties, K Wah International and SEA Holdings. The consortium beat 10 other developers to secure the plot.
"The winning bid by the consortium of five companies indicates that developers themselves want to reduce their investment risk at a time when Hong Kong land prices show no sign of falling," said Victor Lai Kin-fai, chief executive of Centaline Professionals.
To alleviate the scarce supply of land and sky-high prices, a government-appointed committee unveiled plans this month to create a 1,000-hectare artificial island to the east of Lantau.
The Task Force on Land Supply approved six sites for reclamation to meet the need for at least 1,200 hectares of space by 2030 and beyond. It also discussed developing 140 hectares of idle government land, but concluded that 921 sites were too small.
"Undoubtedly, reclamation to increase land supply will be needed in Hong Kong," said Lai.
The high price of HK$17,500 per sq ft reflects Cheung Sha Wan's growth on the property curve as more grade A office projects and a five-star hotel will be built in the area, he said.
Last month, Sun Hung Kai Properties paid HK$5 billion, or HK$13,520 per square foot for a hotel site in Hong Wah Street, near the plot sold on Wednesday.
Stewart Leung Chi-kin, chairman of Wheelock Properties, said the site would require a total investment of HK$25 billion.
The number is in the vicinity of what Thomas Lam, senior director at Knight Frank, had in mind for developing the site, who expects the developers to spend at least HK$22 billion.
The consortium would need to offer the flats that will come up near Nam Cheong station for at least HK$27,000 per sq ft when it comes up for pre-sale, he said.
The average transaction price at Cullinan West, above Nam Cheong station was HK$22,500 per sq ft, according to property information provider Dataelements, which tracks sales in the primary residential market in Hong Kong.
Property agents now expect Wednesday's sale to boost home prices in the area. They said Sun Hung Kai Properties (SHKP) would now price units at its upcoming Cullinan West II project even higher.
"Existing owners are likely to increase asking prices in anticipation of a further rise in home value,"
said Derek Chan, head of research at Ricacorp Properties.
Daryl Ng, deputy chairman of Sino Group, the parent of consortium partner Sino Land, said the plot commands a coveted urban waterfront location enjoying panoramic harbour views while having the West Kowloon Cultural District and XRL Terminus in the vicinity.
"We plan to build a premium residential development to make the most of the panoramic harbour views, complete with green architectural features and smart home designs," he said.
Separately, SHKP announced yesterday it has paid the government HK$3,319 per sq ft for converting farmland near Sai Kung for residential use.
SHKP has paid a premium of HK$15.9 billion to convert the 4.97 million sq ft of land at Shap Sze Heung, the most ever in the city.
This article appeared in the South China Morning Post print edition as: homes site sells for a record HK$17b Record HK$17b sale of residential site likely to push prices even higher