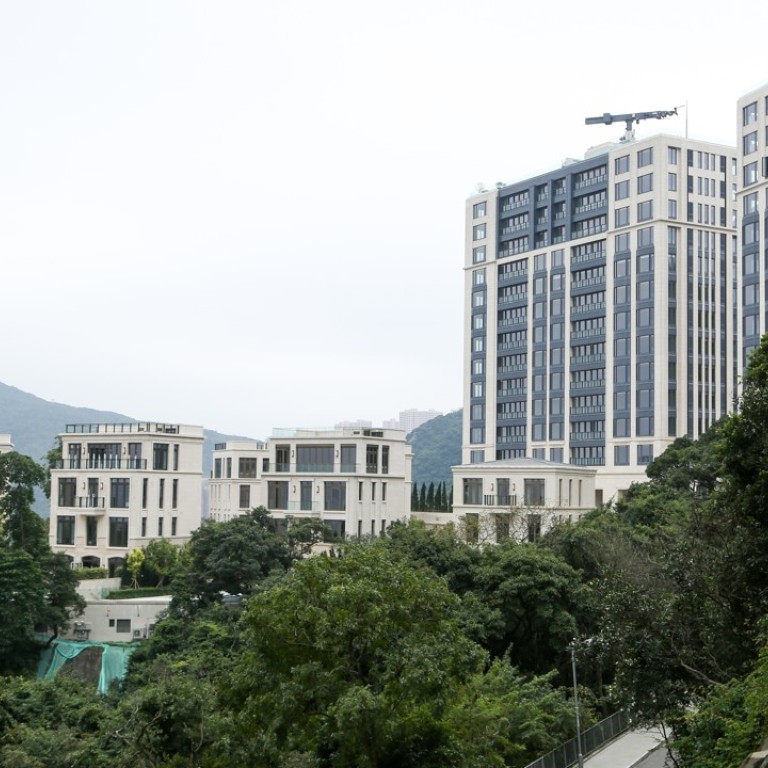 Hong Kong's US$149 million Mount Nicholson flats grab the crown as Asia's priciest address
Two apartment units at Mount Nicholson just sold for a combined HK$1.16 billion, making them Asia's most expensive residences in square footage terms.
Mount Nicholson, the luxury housing development atop Hong Kong's highest elevation, has clinched the crown as the priciest address in the most expensive residential market on earth, selling two apartment units for HK$1.16 billion (US$149 million) to a single buyer.
A buyer paid HK$600 million, or HK$131,000 per square foot, for a property measuring 4,579 square feet at Mount Nicholson, according to Wheelock Properties, which oversees sales of the joint project between Wheelock & Co. and Nan Fung Development, without divulging the buyer's identity.
The same buyer splurged another HK$560 million on the same day on a second flat measuring 4,242 sq ft, or about HK$132,000 per sq ft. In square footage terms, the second property is the most expensive residence in Asia.
"From the perspective of an ordinary Hong Kong resident, we'll never understand why" the city's wealthiest people pay such sums for homes, said Knight Frank's head of valuation and consultancy Thomas Lam.
The prices of Hong Kong's private housing advanced in September for the 18th consecutive month to a record, underscoring the challenges facing Chief Executive Carrie Lam Cheng Yuet-ngor, as she puts housing front and centre as the most important policy priority in her four-month-old administration. In her maiden policy address to the city, she pledged to create a "Starter Home" scheme to increase home ownership in the city for first-time buyers.
The transactions at Mount Nicholson, comprising 19 detached houses and 48 flats over three phases, broke the city's previous price record, when a buyer paid HK$105,000 per sq ft for a HK$522 million duplex penthouse at Henderson Land Development's 39 Conduit Road project at the Mid-Levels.
Hong Kong's private home prices have increased by 430 per cent since 2003, making it the world's most expensive urban centre among 406 cities to buy a home in, according to the Demographia International Housing Affordability Survey.
Home prices have gained 10 per cent since January this year, according to the latest data released by the Rating and Valuation Department.
Outsize property purchases aren't unheard of in Hong Kong among the city's wealthiest residents, with home prices breaking frequent records among Asian cities.
At Mount Nicholson, average prices had soared 26 per cent in a year, even at such lofty price points. Wheelock sold two flats measuring a combined 8,702 sq ft in November last year for an average of HK$104,803 per sq ft, holding the price record for 10 months before being surpassed by Henderson's sale.
The latest transaction comes at the highest per square foot price for flats and condominiums in Hong Kong, Singapore and Tokyo, three of Asia's most mature real estate markets, said JLL's director of research Ingrid Cheh.
The Park Mansion apartments at Hinokicho Park in Tokyo's Roppongi district was pre-sold recently at 879,320 yen (US$7,845) per sq ft this year, making it Japan's most expensive residential building, Cheh said.
The most expensive residence in Singapore is a S$6,840 (US$5,045) per sq ft unit at The Marq on Paterson complex, which changed hands in November 2011.
The record deal came as Hong Kong government has been tightening rules on bank lending and the Hong Kong Monetary Authority chief executive Norman Chan Tak-lam repeatedly warned of potential risks in the real estate market amid upward pressure on interest rates hike.
Wheelock said the sold units were furnished apartments excluding car parking spaces.
This article appeared in the South China Morning Post print edition as: luxury peak flat sets record as the priciest home in Asia