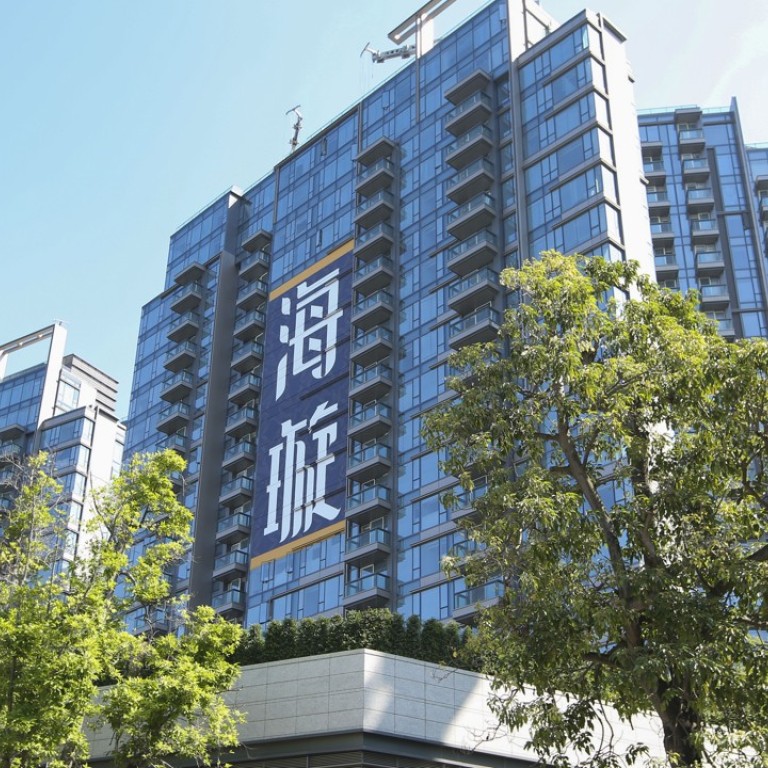 US interest rate rise may slow Hong Kong home price growth but 'will not cause a crash'
Strong demand, a shortage of supply and ample investment cash will keep prices high in the world's most expensive urban centre
Any rise in interest rates in the United Statescould slow growth in Hong Kong property prices, but is unlikely to reverse the long-term upward trend in a city that is already the most expensive urban centre to live in, according to market watchers.
The US Federal Reserve is widely expected to raise rates this month, which would mean higher rates for Hong Kong borrowers because the city's monetary authority is obliged to follow US interest rate changes since Hong Kong's currency is pegged to the US dollar.
Analysts and property consultants said any increase in local mortgage rates may slow price growth, but would be insufficient to trigger a slump as demand for homes still outstrips supply.
"The growth momentum will not move as fast as previously as home prices are already high. In Hong Kong, we have seen sell-through rates at some major new projects turn slower as developers raised prices aggressively," said David Ng, a property analyst at Macquarie.
"But it doesn't mean home prices will stop rising. We should note that high prices are supported by family wealth accumulation rather than by salary increases," he said. Ng forecast home prices would rise a further 10 per cent in 2018.
Buoyed by low interest rates and excess liquidity, Hong Kong home prices have advanced 11 per cent so far this year and have surged 430 per cent in the past 14 years to record highs. They have outstripped other markets since the end of the financial crisis in 2008, rising 198 per cent from November of that year, compared to 101 per cent in the Canadian city of Vancouver and 88 per cent in London, according to data from Knight Frank.
A 25 basis point increase in Hong Kong interest rates would add an extra HK$127 a month, or HK$1,524 a year, for every HK$1 million (US$128,000) of a 30-year mortgage, according to data from mReferral Corp, a mortgage broker. At present, most Hong Kong banks offer home loans at 2.85 to 3.1 percentage points below the prime rate, which stands at 5 or 5.25 per cent, depending on the bank.
However interbank rates in Hong Kong have already begun rising in anticipation of a Fed move. The one-month Hong Kong interbank offered rate (Hibor) has risen to 1.01 per cent, from 0.367 per cent in June.
Cathie Chung, national director of the research department at JLL, said that in Hong Kong over 90 per cent of the new home loans approved in the 12 months from September 2016 were Hibor-based mortgages.
"We believe this will affect housing market sentiment, however it will not trigger a market crash or fire sale," she said.
Other analysts noted that strong demand for property in Hong Kong, both for residential and investment purposes, would keep prices high.
"Overall the market has been expecting a rate rise for some time so any impact is going to be absorbed quickly. Meanwhile there is still a lot of liquidity in the market, so the overall demand for residential property, both from end users and investors, is still high," said David Ji, head of research and consultancy for Greater China at Knight Frank.
Also likely to support prices is the fact that not all Hong Kong banks elect to follow the monetary authority and raise mortgage rates.
"While we expect there may be some [banks] who may do so in coming months, rates in Hong Kong remain quite affordable. Meanwhile, many developers are continuing to offer attractive financing that is supporting strong sales of new units in the market," said Reed Hatcher, head of research at Cushman & Wakefield, who sees strong demand pushing up prices in 2018.
Still, there are potential problems for the market. An International Monetary Fund (IMF) report on Wednesday said that Hong Kong home prices may be increasingly overvalued.
It calculated Hong Kong property prices saw a year-on-year 15 per cent rise in September, despite a series of measures introduced by the government aimed at addressing the imbalance of supply and demand in the market.
"IMF staff analysis suggests that the degree of overvaluation has increased. The sensitivity of household debt to interest-rate changes remains high as a significant portion of new mortgages are on floating rates and indexed to the Hibor.
"In addition, a disorderly housing market adjustment could have a significant impact on private consumption through negative wealth effects," it said.
.