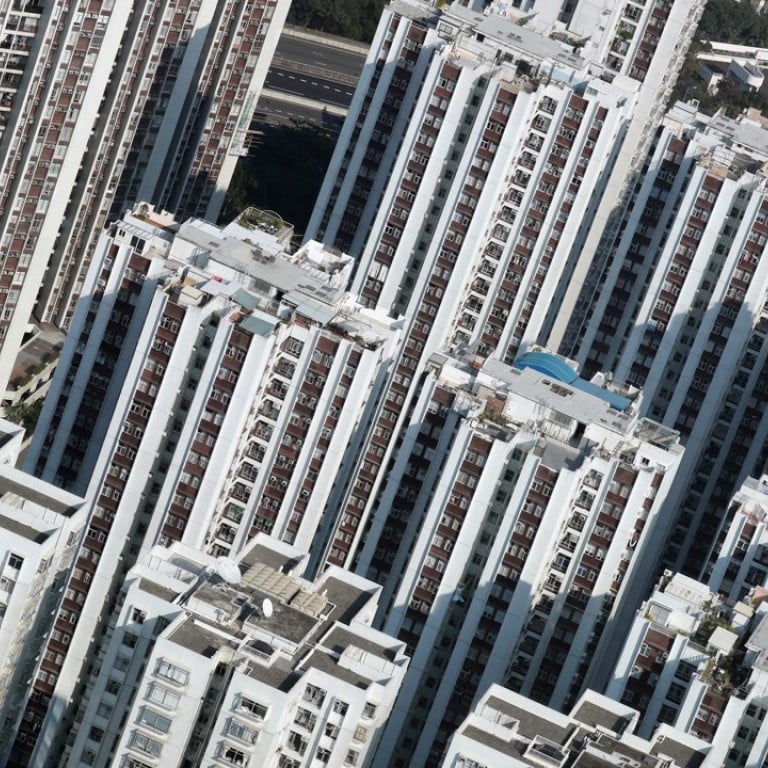 Increase in Hong Kong mortgage rate will make renting cheaper in seven out of 10 housing estates
Jump to 3 per cent might also cool housing prices, according to research conducted exclusively for South China Morning Post
Seven out of 10 housing estates might find buyers discouraged as renting will become cheaper than mortgage payments when the mortgage rate increases to 3 per cent, which might also finally cool housing prices in the world's least affordable urban centre to live in, according to research conducted exclusively for the South China Morning Post.
Monthly mortgage instalments will exceed rents in 70 per cent, or 37 out of 50 housing estates, if the mortgage rate increases from the current 2.15 per cent to 3 per cent, said Derek Chan, head of research at Ricacorp Properties.
"At present, this phenomenon only occurs in 11 housing estates. But if the mortgage rate tops 3 per cent, the current trend of buying flats may reverse. Potential buyers may choose to rent instead," he said.
These 11 housing estates include Park Avenue in Tai Kok Tsui and Yoho Town in Yuen Long. When the mortgage rate tops 3 per cent, Taikoo Shing, Whampoa Garden and Tai Po Centre will be among the 37 housing estates where renting will be cheaper than paying towards a mortgage.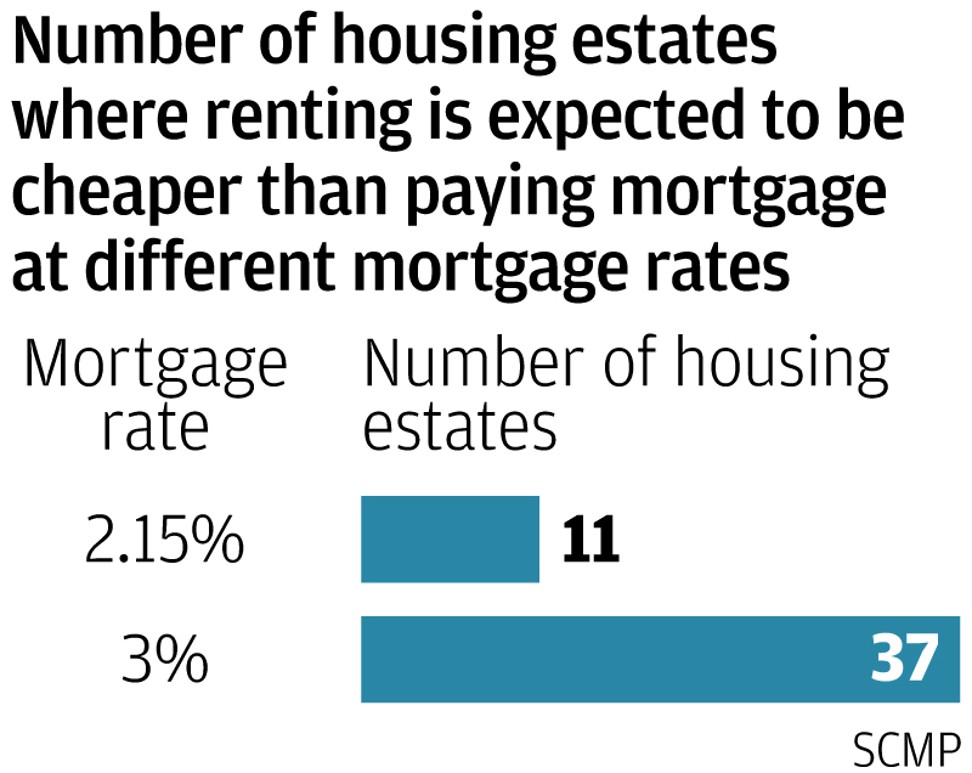 Yearly additional monthly mortgage payments among the 50 estates will range from HK$14,880 for Tin Shui Wai's Kingswood Villas, to HK$34,776 for Sai Wan Ho's Grand Promenade, once the rate increases.
Among the 26 additions to the list, Taikoo Shing's monthly mortgage instalment will increase by an extra HK$2,459 to HK$23,334, which will be HK$1,997 more than the monthly rent of HK$21,337, according to the survey.
One reason for this big increase in monthly mortgage instalments in Taikoo Shing flats, which outperformed Hong Kong's general housing price increase in 2017, is their large price tag.
The price per square foot at the estate stood at HK$18,379 in December, rising by 18 per cent last year, compared with the 14 per cent increase in overall home prices. A 503 sq ft flat at the estate's Yiu Sing Mansion changed hands for HK$10.58 million last month, according to Centaline Property Agency.
Calculations were based on the 30-year mortgages with 60 per cent loans for units of 500 square feet. The prices and rents were assumed to have remained unchanged at their level in November.
"Still, this reversion will not happen this year as local banks will probably only raise the Hibor [Hong Kong Interbank Offered Rate] twice, by 0.5 per cent in total," he said.
The market currently expects the US Federal Reserve to raise interest rates three to four times this year, and banks in Hong Kong will face more pressure to lift their prime rate.
"Hong Kong's property market displayed the behaviour of a bubble last year. Such rises may send shocks to the local property market if the magnitude exceeds expectations," said John White, senior portfolio manager at property investor Heitman.
White is not alone. On Monday, Hong Kong's financial secretary, Paul Chan Mo-po, told lawmakers that mortgage instalments amounted to 68 per cent of median household income in the third quarter last year, up from the 20-year average of 45 per cent from 1997 to 2016.
"If the interest rate increases by three percentage points, the ratio will increase to 88 per cent," he said.
Some market observers, however, believe such interest rate increases were unlikely to have a material impact on existing homeowners.
"The mortgage rate still remains at a low level albeit a higher US rate hike, unless it hits 4 per cent or above," said Raymond Cheng, a property analyst at CIMB Securities.