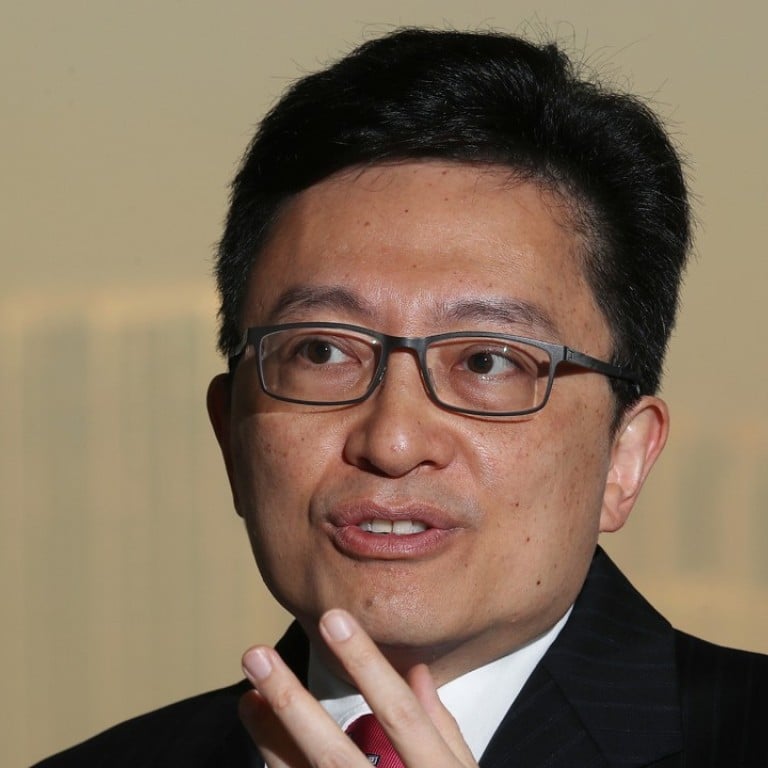 Global property market is entering the last stage of cycle, warns veteran investor
Collin Lau, founder of Bei Capital, says it's time to exercise caution and adopt an asset-light approach
With Hong Kong retaining the dubious accolade of world's most expensive housing market for an eighth consecutive year, veteran institutional investor Collin Lau believes it is time to deleverage as the global property industry enters the late stage of its current cycle.
"This up-and-down cycle will last longer than the average 10-year duration of each cycle in the past 30 years," said Lau, the founder of Bei Capital, a Hong Kong-based global real estate and alternative investment firm which manages a US$2 billion asset portfolio.
Hong Kong home prices climbed 128 per cent to an average HK$12,382 per square foot as of January this year from September 2008, when the collapse of Lehman Brothers triggered the global financial crisis.
"I cannot tell when [the bubble] will burst but the risk factor is definitely increasing," he said. "At the late stage of a real estate cycle, you have to be cautious. Deleveraging and adopting a light-asset approach is needed."
Lau, formerly managing director, head of global real estate and head of European private equity at China's sovereign wealth fund, China Investment Corporation (CIC), said developers and investors will need an innovative concept if they want to survive the late stage of the cycle.
"Instead of being a conventional build-to-sell developer, you have to add value and turn real estate into consumer services amid such a challenging market," he said.
Bei Capital has partnered with the owner of two existing buildings in the heart of Beijing and San Francisco to convert them into "creative hospitality" projects.
The two soon-to-be opened developments will offer living, working, spending and leisure options under one roof as part of Bei's global expansion into the creative hospitality segment. 
"Our guests can go down to our round-the-clock office floors for work or networking at the cafe. At night they go to their hotel room on the upper floors. They can do shopping in the same building," he said. "Millennials like convenience and networking opportunities, and their spending pattern is changing constantly. Traditional shopping centres and office spaces no longer satisfy them."
The buildings have attracted interest from numerous hi-tech firms.
"The two cities have been flooded with new-economy companies and attract a lot of mobile professionals, who are our target customers," he said.
The Beijing project, close to Sanlitun and slated to open in May 2019, will have 300 rooms on the upper floors, two office floors of around 10,000 to 20,000 square feet on the lower levels, and shops and cafes on the ground floor.
The 380-room project in San Francisco, a stone's throw from the headquarters of Uber and Twitter, will open in the second quarter of next year, said Lau.
"At the late stage of the property cycle, such asset-management investments will reduce risk exposure," he said. 
The capital expenditure for the two projects is about 10 per cent of the total asset value. The refurbishment cost for each is just HK$200 million to HK$300 million.
"We plan to do three to five projects a year. Lots of different partners have expressed interest in teaming up with us," he said.
Lau said his preferred locations for such developments are first-tier Chinese cities like Shanghai, Guangzhou and Shenzhen and gateway cities like New York and Singapore.
During his three years at the world's third-largest sovereign wealth fund, he participated in a variety of overseas property acquisitions.
In 2009, CIC was one of the major investors in an £880 million bail-out of the heavily indebted Songbird Estates, a majority owner of London's Canary Wharf Group.
In the same year, it invested A$500 million in an 18.2 per cent stake in Goodman Group, becoming the largest shareholder of the Australian-listed logistics developer. CIC later reduced its stake in Goodman to 9.9 per cent.
"We foresaw e-commerce being a fast-developing sector and CIC strategically increased its exposure the to logistics and warehouse segment to tap the growing demand," he recalled.
More importantly, Goodman owned a lot of freehold land which it could apply to rezone for residential or commercial use later.
"In Australia and Europe, the conversion of land use did not require payment. At that time, only a few people were interested in investing in logistics. The majority of US and European pension funds preferred office and retail properties," he said.