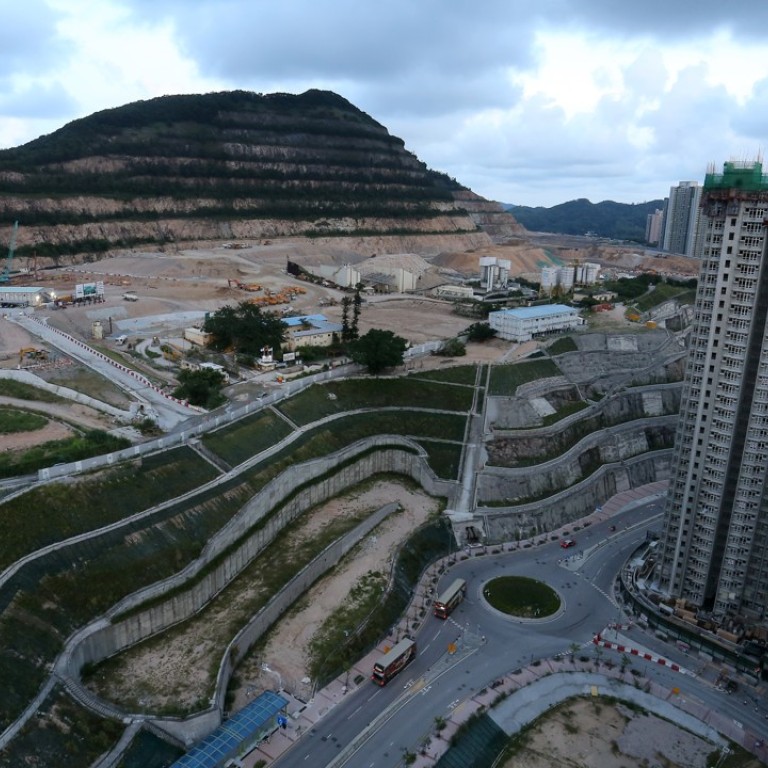 Chinese developers adopt low-profile approach to land buys
Chinese developers are changing the way they acquire land in Hong Kong, shying away from headline-grabbing public land auctions in favour of private sales, amid continuing scrutiny by mainland authorities on overseas property investments.
Last year China's 12 biggest developers generated 2.55 trillion yuan (US$404.63 billion) in revenue from home sales, according to CMIB Securities.
"Less than 5 per cent of their sales proceeds would be enough to buy Hong Kong's entire land supply in 2017," said Raymond Cheng, a director of property equity research at CIMB Securities.
The Hong Kong government sold 23 residential, commercial and hotel sites for a combined HK$144.6 billion (US$18.5 billion) at public tender last year.
"But Chinese developers will adopt a low-key profile when they come to land acquisition [at auction] this year," he said.
He said it was unlikely Hong Kong would see a repeat of the heady days when mainland developers would pay huge prices for parcels of land.
"Their budget may scale down significantly," said Cheng.

He said mainland developers would prefer buying land through mergers and acquisitions in the private market, rather than competing with local rivals at government tender.
Vanke Property (Overseas) and China Overseas Land & Investment were the only two mainland developers taking part among 25 bidders for a residential site at Anderson Road, Kwun Tong at government tender on January 24.
The site went to Chinachem Group for HK$3.11 billion.
A separate tender for a luxury residential site in Kowloon Tong attracted eight bids from Hong Kong developers and only a single bid by mainland developer.
The site was awarded to Wharf Holdings for HK$12.45 billion on January 16.
In place of the public tendering system, mainland developers have been focusing on acquisitions through the private market as they seek to build up their presence in the city.
In January, mainland property juggernaut China Evergrande, which sold 500.8 billion yuan in new homes in 2017, acquired a waterfront residential site in Tuen Mun for HK$6.6 billion from Henderson Land Development.
Henderson Land appears to have reaped a profit of more than HK$2.8 billion on the site which it acquired at government auction in 2015 for HK$3.8 billion.
In September, Country Garden bought 60 per cent of a 387,500 square foot waterfront residential site in Ma On Shan for HK$2.44 billion from Wang On Properties. Country Garden reported 2017 revenue from home sales of 550.8 billion yuan last year.
Some analysts believe these private market acquisitions carry higher risk, as developers must meet tight development deadlines.
The Ma On Shan site must be completed by March 31, 2021, while the Tuen Mun lot must be completed by March 31, 2022.
"Buyers of these government sites are unlikely finish the developments within the deadline. They may need to pay penalties to extend the development deadline and this will increase development cost and reduce profit margins," said Vincent Cheung, a deputy managing director for Asia valuations and advisory services at Colliers International.
This article appeared in the South China Morning Post print edition as: Mainland developers alter tack for HK sites