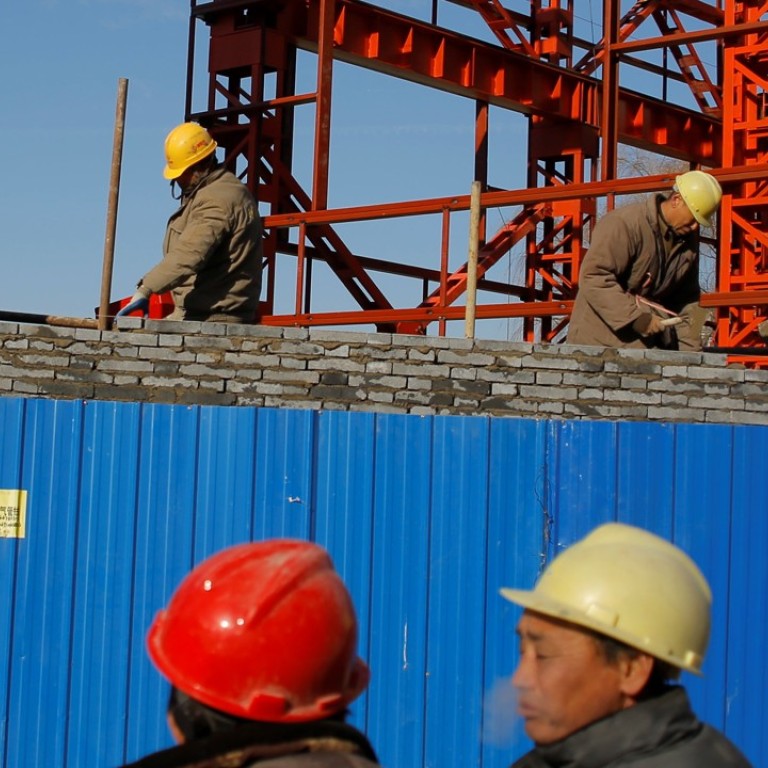 Chinese developers report strong profits but credit curbs could spell trouble
Mainland property developers have posted strong earnings for 2017, but liquidity remains a concern as Beijing keeps a tight lid on financing to cool the housing market. 
All four Chinese developers listed in Hong Kong that released their annual results on Tuesday reported strong growth in revenue and profits last year. By revenue, China Merchants Land came out on top with 49 per cent growth, while SOHO China reported the biggest increase in profit, up 420 per cent from the previous year. 
Country Garden, China's largest developer by sales, reported 550.8 billion yuan of contracted sales in 2017, up 78.3 per cent from a year ago and beating the 400 billion yuan target it set itself at the beginning of last year. Profit grew 126 per cent to 26 billion yuan.
The firm expects to see sales increase again this year although it has set no specific sales target for 2018, instead choosing to "adjust sales strategies depending on the market," according to Cheng Guangyu, vice-president of Country Garden.
China Resources Land recorded contracted sales of 152.12 billion yuan, up 40.8 per cent, while China Merchant's "profit attributable to the owners" doubled thanks to a 51 per cent increase in its contracted sales to 24.16 billion yuan. 
"National property sales are slowing down, but for big listed developers it is not a problem," said Toni Ho, an analyst at RHB OSK Securities Hong Kong. "The optimism comes from the robust contracted sales they registered during 2016-17, which can support revenue in 2018-19."
Developers' financial results usually lag one or two years behind their current contracted sales, so the impressive 2017 results reflect strong contracted sales in 2015-16. In the past year, the 10 biggest Chinese developers by market capitalisation posted an average of 56 per cent growth in contracted home sales, according to Bloomberg data, which bodes well for their earnings prospect in 2018. 
"Developers who have earned a large sum of money in the past couple years are generally quite optimistic about the market," said Alan Jin, a property analyst at Mizuho Securities Asia. 
But Jin believes developers may start to feel the strain from tighter policy constraints later in the year.
China's government has introduced a string of measures since last year to cool the property market, including restrictions on house-purchase eligibility, loans and selling prices.
Ho said the prospect of further policy curbs and credit tightening are a big concern for the sector. Some developers are reporting difficulty in obtaining bank loans, and mortgage rates have kept rising; a year ago most banks in China offered a 10 per cent discount for first-time home buyers, whereas now most are asking for a 10 per cent premium over the benchmark interest rate. 
Yan Yuejin, research director at Shanghai-based E-house China R&D Institute, agreed that further restrictions on credit are the main challenge facing developers. He does not, therefore, expect to see a huge jump in their financial results for 2018. 
David Hong, head of research at Chinese real estate information provider CRIC, said despite the heavy curbs, he doesn't see much chance of developers cutting selling prices in first-tier cities. He is concerned about the sustainability of the sales surge that has been seen in third- and fourth-tier cities in 2017. They now make up three fifths of China's total home sales.
But analysts said even if sales slowed this year, the impact will not be seen in the company results until after 2018.
As well as measures specifically aimed at taming the domestic housing market, developers involved in overseas projects have also had to contend with Beijing's aggressive crackdown on capital outflows.
Country Garden was forced to halt sales of units at its Malaysian project, Forest City, to mainland Chinese buyers last year as investors who had made down payments later found it difficult to transfer the remaining funds because of the curbs on getting money out of the country.
Country Garden pledged last year to refund those mainland investors affected.
At a results briefing on Tuesday, Mo Bin, the company's president, said: "We always abide by the rules and regulations" but did not disclose further details about the refunds process.