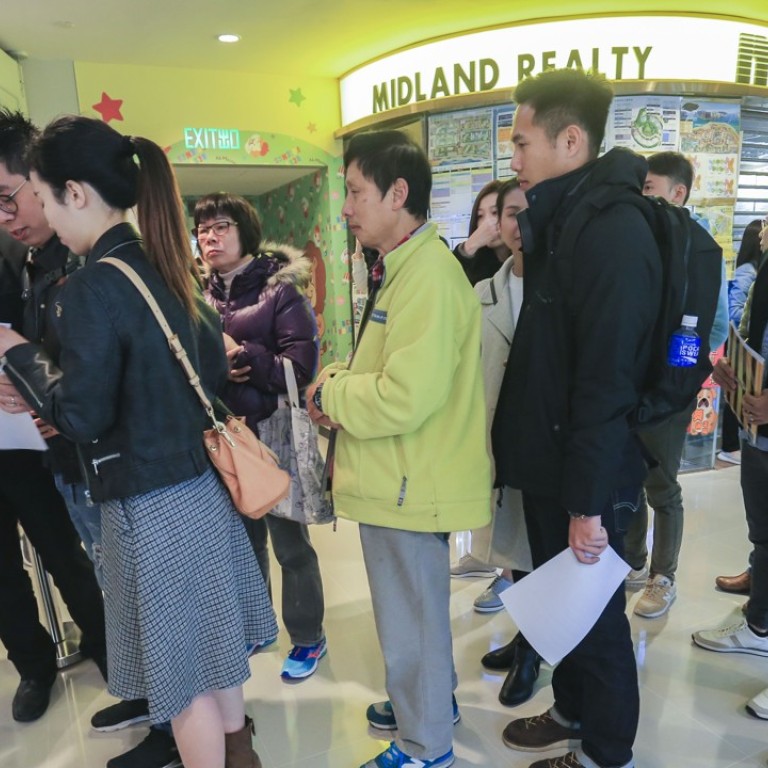 Hong Kong home prices soar to new high as shortfall points to further rises this year
The number of private flats being completed in the city is unlikely to meet the government's target of 20,000 units until 2019
Hong Kong home prices rose nearly two per cent in a week to a record high as data showed the number of private flats being completed in the city would not meet the government's target of 20,000 units until 2019, further evidence that home prices are likely to continue to trend higher, at least this year.
The number of completed flats is expected to rise 1.9 per cent to 18,130 this year, and reach 20,370 in 2019, according to preliminary data released by the Rating and Valuation Department in its annual review on the local property market on Friday. In 2017, the number of units completed was 17,790, while 14,600 were finished in 2016.
"The progress of construction work is beyond the government's control as developers will adjust the completion of flats within the required deadline set in the land sale document," said Thomas Lam, a senior director of Knight Frank.
"So far, I don't see any reason for home prices to decline as interest rates are still low in Hong Kong," he said.
According to the Centa-City Leading Index, a gauge of the secondary housing market, prices for used homes in Hong Kong soared 1.75 per cent week-on-week to 175.25 points for the week ended March 18, a record high. Home prices have risen 5 per cent since January.
A survey by Australia-based property data compiler REA on Tuesday showed one in four residents in the world's most expensive the city said they had no hope of ever being able to afford a local home.
Still, the estimated completion figure this year would be the highest since 2005, according to Ricacorp Properties.
In terms of location, 54 per cent of new home completions this year will be in the New Territories, 38 per cent in Kowloon and 8 per cent on Hong Kong Island.
In January, there were only 334 private units completed, down 80 per cent from 3,189 units completed in December, according to figures released by the Buildings Department on Thursday. Yuen Long, Kowloon City and Sai Kung accounted for 58 per cent of the month's completions, the department said.
The vacancy rate stood at 3.7 per cent of total stock, or 42,940 units in 2017, reflecting a decline of 0.1 per cent from 2016.
"Despite a 22 per cent year-on-year increase in supply in 2017, the number of vacant units in the overall market has actually decreased by 1.6 per cent year-on-year, suggesting strong levels of take-up in the city," said Ingrid Cheh, associate director of research at JLL.
Vacancy rates are likely to remain largely stable this year, she said, assuming sustained demand.
"With anticipated interest-rate rises being largely factored into purchase decisions, capital values in the city are expected to grow by another 5 to 10 per cent in 2018, with luxury properties expected to outperform," she said.
This article appeared in the South China Morning Post print edition as: Home costs rise 2pc in week to hit record high