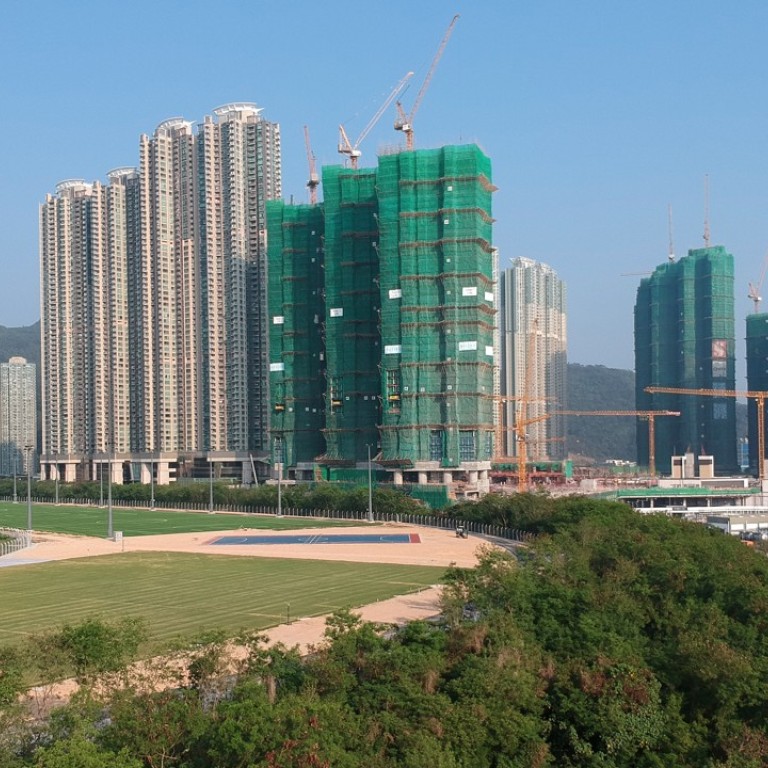 Average price of used homes in Hong Kong soar to a record US$1.28m in first quarter
Prices are expected to rise further as buying sentiment remains strong, says Ricacorp Properties
The average price of used homes in Hong Kong rose 4.2 per cent to a record of HK$8.08 million (US$1.28 million) in the first quarter, extending a trend for four straight quarters, according to data from Ricacorp Properties on Wednesday.
"It is the highest since we started the study in 1996, smashing the previous record of HK$7.75 million per home in the secondary market set in the fourth quarter of 2017," said Derek Chan, head of research at Ricacorp.
He added that the rising trend will continue as buying sentiment remains strong.
The latest data came a day after Ricacorp said new home prices rose by 18 per cent to an average of HK$16.08 million for the three months ending March.
In the fourth quarter of 2017, the average unit price was HK$13.6 million, the second-highest quarterly figure since Ricacorp started keeping records.
The highest average unit price recorded was HK$16.98 million, in the third quarter of 2011.
"These home prices are definitely beyond the general public's reach," said Raymond Cheng, a director at CIMB Securities' Hong Kong and China property equity division.
Cheng said he believed that home prices in the city would continue to grow, but at a slower pace, in the next several months. He forecast Hong Kong home prices to increase by 10 per cent this year and five per cent each in 2019 and 2010.
"Strong sales have encouraged developers to adopt more aggressive pricing strategies, with some new projects able to raise prices by 10 to 20 per cent within weeks," he said.
For instance, the prices at Malibu in Lohas Park have risen by close to 20 per cent, to HK$17,000 per square foot, in three weeks. Its builder, Wheelock Properties, said it had earned HK$12.89 billion from the sale of 1,440 units. Malibu will have 1,600 units for sale in total.
Meanwhile, developers are offering an array of flexible financing schemes to help prospective buyers, which could accelerate sales even at higher prices.
"Compared with the secondary market, buyers require a smaller cash outlay if they buy from developers, who will provide mortgage loans of up to 80 per cent," said Cheng. "It means buyers only require a 20 per cent down payment against a 40 to 50 per cent down payment in the secondary market."
Among the new projects on sale in the first quarter this year, Ricacorp said Ocean Supreme, built by Cheung Kong Asset Holdings next to the Tsuen Wan West Station, fetched the highest unit prices.
Its average unit price was HK$20 million, followed by HK$19.35 million at Island Garden, built by Nan Fung Development in Shau Kei Wan, and HK$19.25 million at Wings At Sea, built by Sun Hung Kai Properties in Tseung Kwan O.
"Most units at Ocean Supreme were large-sized flats, with an area ranging from 800 sq ft to more than 1,000 sq ft. Large flats will push up the lump sum amount," said Ricacorp's Chan.
Chan said the data provided by Ricacorp was based on the transaction prices of the 10 most active new projects in the first quarter. It did not include super deluxe projects such as Mount Nicholson on The Peak, which has
Asia's three most expensive apartments
with prices as high as HK$560 million, or HK$132,060 per square foot, he said.
Chan said average unit prices could also be affected by the product mix that developers launch in the quarter.
"If more mass homes in the New Territories are released in the next quarter, the average unit price will decline," he said.
This article appeared in the South China Morning Post print edition as: Average unit price rises 18pc to top HK$16m in city