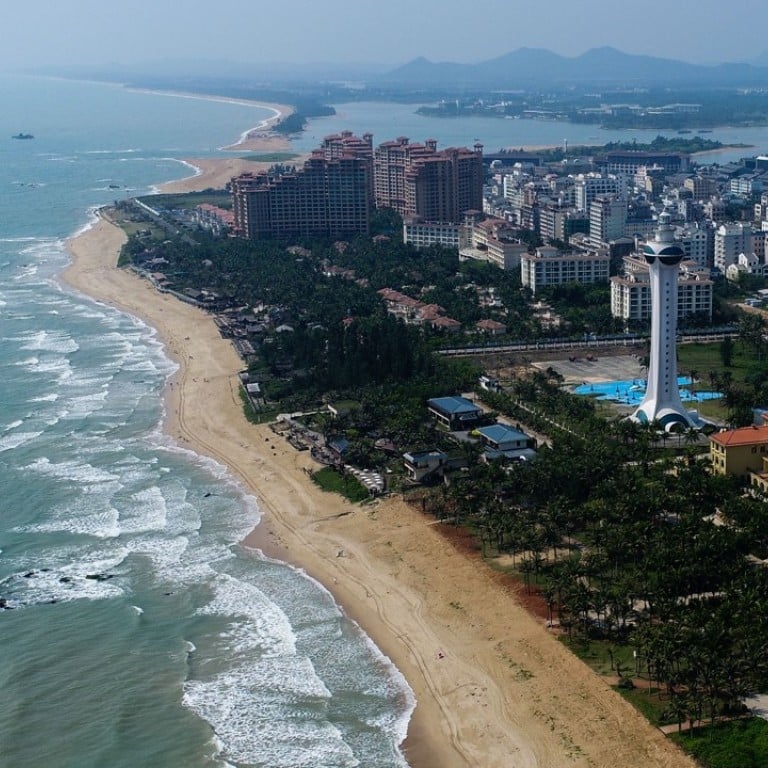 Heavy hand chokes Hainan's real estate, even as 'China's Hawaii' woos visitors with visa-free entry
Hainan, China's tropical island that has been chosen as a free-trade zone, saw sentiment toward its property market swing from hot to cold this past week after authorities closed the door for purchases by non-locals.
In a move that suggests zero tolerance for speculation, the provincial government has stipulated that non-locals cannot buy homes in Hainan unless they have paid into the local social security fund for 24 months. In cities like Haikou and Sanya, buyers must prove they have paid social security for 60 months. In the central mountainous region, non-local buyers are banned altogether.
Although curbs on non-local buyers were already in place before the free-trade zone plan was announced by President Xi Jinping earlier this month, observers were surprised at the tightened restrictions.
"In a market that mainly relies on non-local buyers, the consequences are devastating. A plunge in home sales and prices is expected," said Yang Hongxu, deputy head of E-house China R&D Institute.
Non-local buyers accounted for 88 per cent of Hainan's home sales in the first half of 2017, according to property agency Homelink. Pre-existing policies to curb speculation stipulated that homes could not be resold within five years of purchase.
Shares of Hong Kong-listed Agile Group Holdings, a top builder in Hainan with 20 per cent of sales in the province, slid as much as 8.4 per cent on Monday, after the curbs were announced. The stock touched a record on April 16, the first trading day since the free-trade zone was officially announced.
HNA Infrastructure Company, a unit of the HNA Group, soared by 14.6 per cent after the free-trade zone announcement, but fell by 3.8 per cent on Monday. Meanwhile, China Evergrande Group, another major developer in Hainan, lost as much as 3 per cent on Monday.
Evergrande is the largest land holder in Hainan with 17 million square metres, followed by Agile's 11.6 million sq m reserve. 
Other property groups also have heavy foothold in the island, though the asset value as a portion of their national portfolios is small. Country Garden, China's biggest developer, has a total of 5.12 million sq m of space, and China Sunac Holdings has 4 million sq m, according to their 2017 earnings results.
Li Zhanjun, chief analyst with China Real Estate Research Association (CRERA), said local developers held crisis management meetings after the curbs were announced.
Li said there was no simple solution to their problem, although purchasing homes through companies could circumnavigate some restrictions, even as these purchases were subject to heavier taxes.  
Government authorities have stepped up efforts to close ownership loopholes. On Tuesday, two days after the curbs were announced, authorities began screening for fake marriages designed to enable non locals to gain purchasing rights.
"In the past few years the volume of property in the supply pipeline was very big, and that was mainly targeted towards non-locals. Hainan locals basically have enough housing and the demand is very limited," said a CRERA report.
However, Beijing Youth Daily downplayed the impact, citing one industry source as saying that property developers exaggerated the size of their land reserve. Many "contracts" are just letters of intent without actual payment, and developers usually build and sell homes in phases, so they can just halt further development, the report said.
Philip Tse, a property analyst with Bocom International, forecast Agile's 2018 earnings would drop by less than 5 per cent as a result of the measures. He noted that Agile achieved half of its 2018 sales target in the first quarter.
"We believe the policy will have a negative impact on its share price in the short run, but Agile's earnings and growth profile remain intact with high margins, a high dividend payout and strong sales growth," he said in a note.
Property investment in Hainan last year totalled 205.3 billion yuan (US$32.38 billion), accounting for half of total fixed-asset investment, according to government statistics. Property sales surged 82 per cent to 271.3 billion yuan, while average transaction prices jumped 58 per cent. 
Party chief Liu Cigui said in March that Hainan should have the courage to "cut off its own wrist"- referring to the island's reliance on property. Governor Shen Xiaoming said Hainan can no longer be the "factory floor of properties".
Developers have also been accused of benefiting at the expenses of the environment. In 2016, as many as 11 major reclamation projects were underway to make room for resorts and homes, including projects by Evergrande and Sunac. 
However, in January a crackdown on halted all ongoing reclamation projects. Michelle Gao, a resident of Wanning, where the Riyue Bay reclamation project is located, said the project was damaging to the environment, yet the unfinished work also had a negative ecological impact.
"The Riyue Bay is an ideal place for surfing and for years the local government wanted to transform it into a surfing hub. Without development of hotels and facilities, you can't have a big surfing festival that can accommodate thousands of visitors," she said.
Govinda Singh, executive director, valuation and advisory services, Colliers Asia, said opportunities remain for non-residential real estate geared towards non residents, such as hotels, resorts, as well as medical service, senior care and rehab.
He added that companies such as Fosun and Wanda were favoured by local governments because they had the resources for "hi-end industrial, resorts and leisure".
Meanwhile, Li said better supervision was needed rather than a ban on development.
"Developers have deeply shaped Hainan's landscape. Without them and without non-locals there is no future for the island," he said.